Yamaha Fascino Darknight Edition Launched In India
Modified On Jun 3, 2020 By Praveen M. for Yamaha Fascino 125
Costs Rs 1500 more than the standard variant
The Darknight edition is priced at Rs 56,793, ex-showroom Delhi.
It is essentially a black colour variant with black and silver stickers.
There are no mechanical changes from the standard variant.

Yamaha India has launched the Darknight edition of its popular scooter, the Fascino, at Rs 56,793, ex-showroom Delhi. Compared to the standard edition, this new variant commands a premium of Rs 1500, thanks to the black colour scheme with black and silver sticker work. Other than these aesthetic changes, the scooter remains unchanged.
Just last month Yamaha updated its entire scooter portfolio with UBS, and the Fascino additionally received a new colour, 'Season Green,' as well. For the uninitiated, UBS stands for Unified Braking System, which is Yamaha's jargon for Combined Braking System (CBS). This feature automatically applies the front brake partially when the rear brake is applied. With the introduction of the Darknight edition, the total colour choices for the Fascino stand at seven. The scooter is powered by a 113cc air-cooled engine with 7.2PS and 8.1Nm on tap.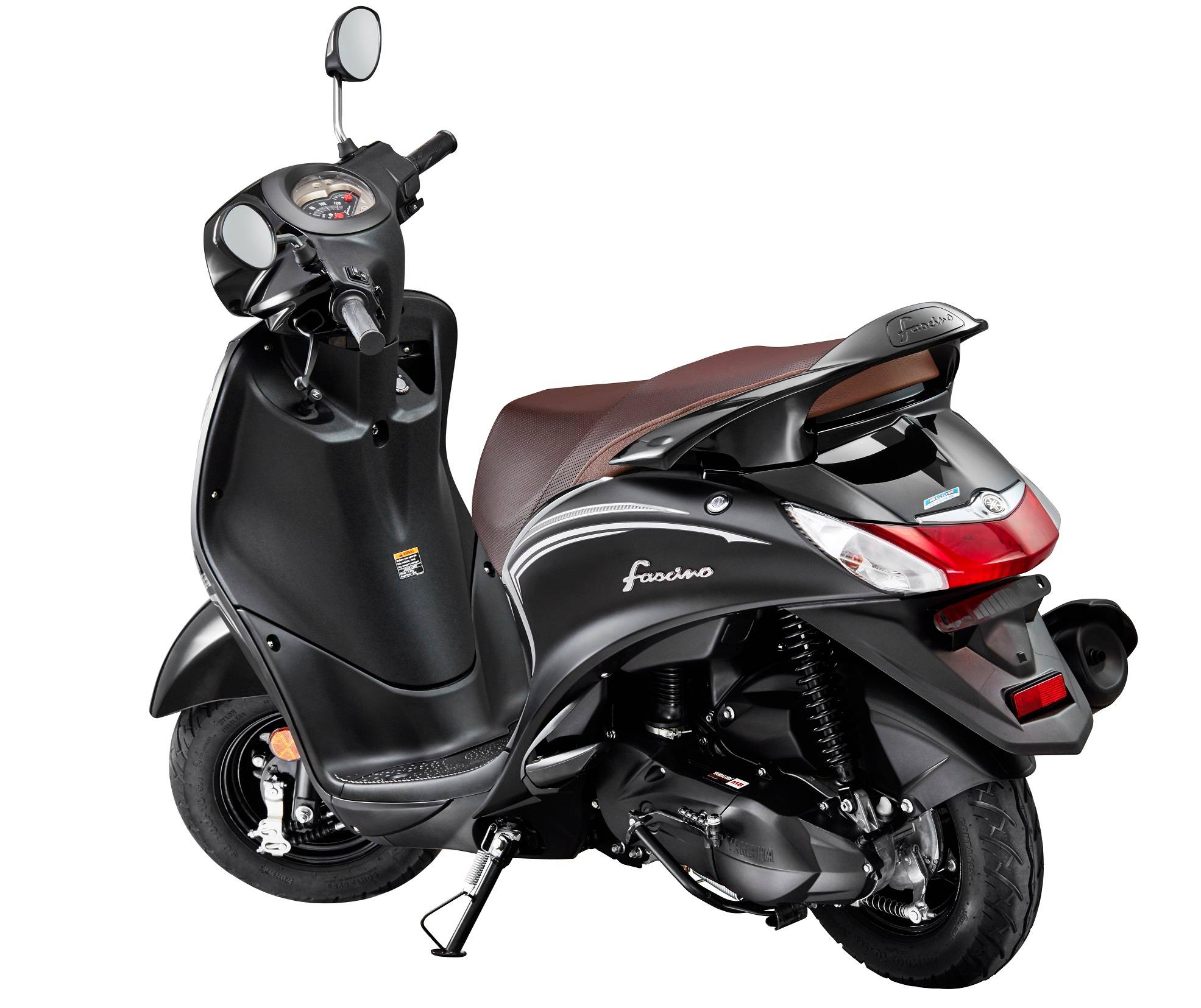 Interestingly, Yamaha's motorcycles - the YZF-R15 Version 3.0, SZ-RR, and Saluto RX also have 'Darknight' editions on offer currently, and Yamaha intends to introduce this colour variant to their other products as well. Here's the Japanese brand's official statement regarding the launch:
Press Release:
Yamaha Fascino Revs Up Excitement With Darknight Edition
Yamaha's Fascino styles up in Darknight edition along with UBS and maintenance-free battery
New Delhi, March 11, 2019: India Yamaha Motor (IYM) Pvt Ltd. has announced a new DARKNIGHT edition for the stylish scooter Fascino, enabled with Unified Braking System (UBS) along with additional feature like maintenance free battery. In 2019, the company in line with its commitment of offering exciting, stylish and sporty mobility products in India, has introduced the ABS enabled YZF-R15 Version 3.0 (155 cc), the new FZ FI (149 cc), FZS FI (149 cc), FZ 25 (249 cc), Fazer 25 (249 cc) and scooters with UBS and maintenance free battery in exciting colours.
Yamaha's new strategic campaign "The Call of the Blue" which parasols the overall product and marketing initiatives including motorcycles and scooters now brings excitement into the 113 cc scooter category with the Yamaha Fascino adding up an exciting DARKNIGHT edition powered by Unified Braking system (UBS), thus adding to the overall impact of the brand's excitement.
Yamaha Fascino has considerably earned its name about being unique in styling since its launch in 2015. In 2019, Yamaha has further jazzed up the unisex appeal of Yamaha Fascino (113 cc) by introducing a modish colour "Season green" with UBS, maintenance free battery followed by today's launch of the DARKNIGHT edition. The price of the new Fascino Darknight edition is Rs. 56,793 (Ex showroom Delhi).
Mr. Motofumi Shitara, Chairman, Yamaha Motor India group of companies said on the occasion, "Yamaha is committed to establish its uniqueness through exciting, stylish and sporty products and experiences. Yamaha Fascino has already gone up and about its unique style and excitement in the market. The new DARKNIGHT edition will further create an urbane style which is in line with Yamaha's efforts to add DARKNIGHT editions in many other two wheelers."