Royal Enfield Meteor 350: Accessories Revealed
Published On Nov 9, 2020 01:53 PM By Zaran Mody for Royal Enfield Meteor 350
Exhausts, luggage, crash protection and more, all from the factory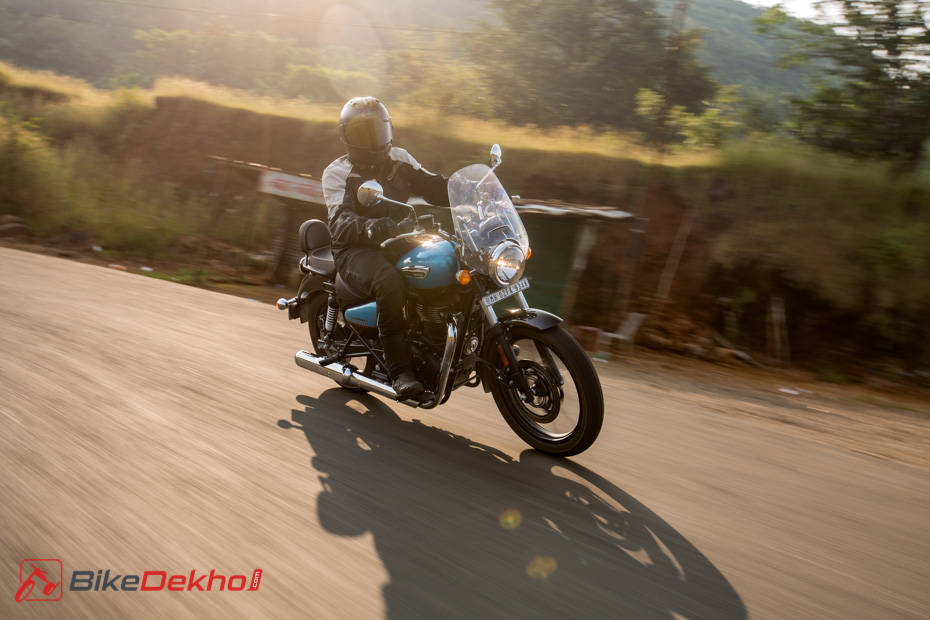 Yesterday, we broke down the three variants that the new Royal Enfield Meteor 350 is being offered in. But in addition to the basic variants, RE is also offering a whole host of accessories for the Meteor that will come fitted straight from the factory itself. Using the 'Make It Yours' app, you can spec out your Meteor at the time of booking, and it will reach the dealership in exactly that form. Here are all your options, along with prices:
Fireball Variant
The accessories available differ from variant to variant, so we're going to start with the entry-level Fireball version.
Colours

In addition to the two standard colour options on the Fireball variant (red, yellow and white), RE is also offering four more 'custom' paint schemes that cost an extra Rs 2,073. For a full breakup of all the colour options available on the Meteor, head here.
Exhaust

If the stock exhaust isn't quite to your liking, RE is also offering two accessory exhausts: a straight cut and a taper cut. This being the Fireball variant, they will both come finished in black, and at Rs 3,450, they're actually quite reasonable.
Bar-end Mirrors

It isn't really a cafe racer but that hasn't stopped RE from offering bar-end mirrors as an accessory on the Meteor. The round mirrors will cost you a significant Rs 3,600 for a set, and then you'll also have to shell out another Rs 395 for adapters to fix them.
Screen

You can't have the great big touring screen of the Supernova on this Fireball variant, but RE will sell you a smaller tinted flyscreen for Rs 1,750, similar to the design of the accessory flyscreen on the 650 twins.
Low Seat

If even the standard and already-low 765mm seat height proves to be too much for you, you can go for the accessory low seat that perches you just 745mm off the ground. The price for this convenience? Rs 1,365.
Backrest

The Fireball is the only variant of the Meteor to come without a pillion backrest, but if you do want your S.O. to be comfy, buy the backrest as an accessory for Rs 1,155. It doesn't end there, though, because you have to buy the backrest cushion pad separately for another Rs 665.
Stellar Variant
Colour

Once again, there's a custom black colour scheme available for an extra Rs 2,075, in addition to the Stellar variant's three standard colour options.
Exhausts

The same straight-cut and taper-cut end cans are available on the Stellar too, but on this variant, they can be had in black, chrome, or even a combination of the two. Irrespective of the finish, the price remains the same at Rs 3,450.
Mirrors

In addition to the bar-end mirrors like on the Fireball, the Stellar can also be had with a set of touring mirrors, which feature a sturdier construction. They're similar to the touring mirrors offered on the 650 twins and Classic 350, and the price is a hefty Rs 4,000.
Screen

Yes, you can get the flyscreen on the Stellar too, for the same Rs 1,750, but here you also have the option of going for the bigger touring screen seen on the Supernova variant. It will set you back by a sizeable Rs 3,100 though.
Seats

The 745mm low seat option is offered on the Stellar too in a couple of different colours, but in addition to this, you also have the choice of a touring seat, with a raised lip at the rear that should provide lower back support. This also comes in both black and brown and is priced at Rs 1,820.
Supernova Variant
The top-spec variant comes with most of the bells and whistles as standard, but there are still a few optional extras that you can slap on.
Colours

Two standard colours (blue and brown) are supplemented by two extra custom colour options (silver and beige) that can be had for an extra Rs 2,074.
Exhausts
The Supernova gets the same exhaust options as the Stellar variant.
Mirrors
You can only fit the touring mirrors as to the Supernova, the bar-end design is not offered as an accessory on this variant.
Seats
Like the Stellar, you can have either a low seat or a touring seat. Prices are identical to those for the Stellar.
Common Accessories
In addition to the variant-wise accessories, there are certain add-ons that can be had across the entire range.
Engine Guards

There are a total of four crash guard designs ranging from slender and stylish to pretty huge and obnoxious, and each one can be had in either black or chrome. Prices range from Rs 2,400 to Rs 3,800.
Footpegs

For added comfort, you can get 'Deluxe' footpegs which feature a flat design and larger surface area. They are available for both rider and pillion, at Rs 1,800 a pair.
Luggage

For such a highway-oriented motorcycle, the luggage options are pretty sparse, unfortunately. There's only a single right-hand side box available, made from ABS plastic and costing Rs 1,550. But to install it, you need to shell out an additional Rs 1,400 for a pannier mount. The box isn't waterproof, though. Want it to be waterproof? Shell out an extra Rs 1,500 for a waterproof inner bag.