KTM RC 125 vs Yamaha R15 V3.0: Road Test Comparison
Published On Jul 14, 2019 By Benjamin Noel Gracias for KTM RC 125
The new KTM is quite disappointing on paper, especially in the presence of the Yamaha. But is it a different story in the real world?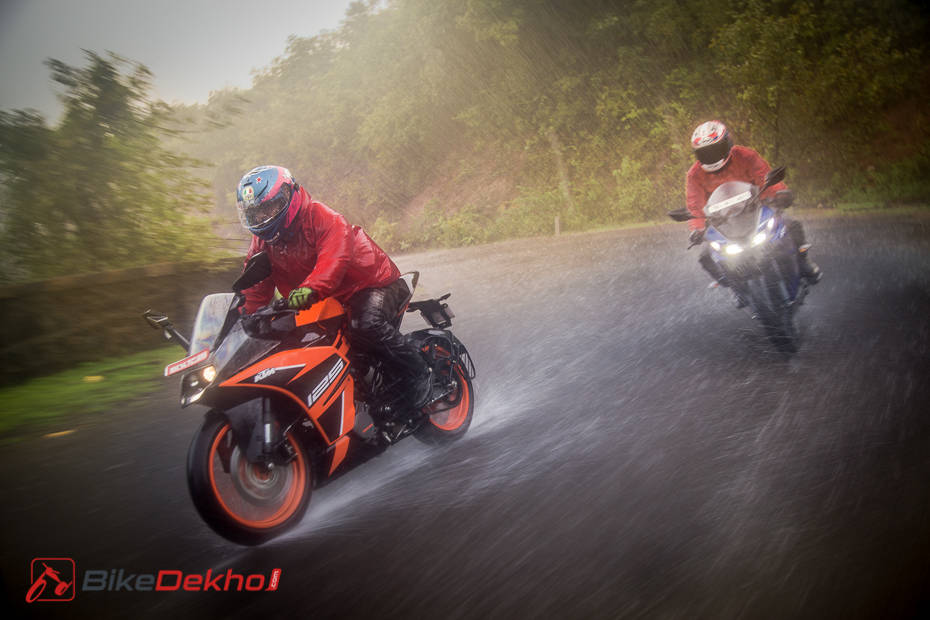 Words by: Benjamin Gracias
Photography by: Vikrant Date
The launch of the new KTM RC 125 has garnered more negative than positive reactions. A look at the spec sheet reveals it's 13.3kg heavier than the Duke 125. So given the heavier weight, performance should be lukewarm right? Also, at Rs 1.47 lakh (ex-showroom, Delhi), it is Rs 17,000 more expensive than the Duke 125 and Rs 7,000 more than Yamaha's more powerful entry-level supersport, the R15 V3.0. The Yamaha had already proved itself to be a better beginners motorcycle than the Duke 125 in our comparison video. So can the more dynamic KTM RC prove itself to be a better bike and justify its premium pricing? Should you go spend the extra dough and go for Team Orange or plonk yourself with Team Blue?
Also read: KTM RC 125: Track Ride Review

Design:
Both the RC 125 and R15 look striking. The KTM RC 125 might have the same bodywork as the RC 200 and RC 390, but is the better looking of the three. Its black and orange livery grabs attention but looks tasteful.
The Yamaha R15 V3.0 has been around for a while now but still manages to turn heads. Compared to the KTM's edgy design, the Yamaha has a curvier profile with a more rounded front. When placed next to each other, the R15 looks the larger of the two, while the RC 125 is more compact.


In terms of quality, surprisingly, it is the KTM that feels better put together, with Yamaha missing out on the build quality aspect it has been known for in the past; a fact clearly observed in the large, tacky looking welds and inconsistent panel gaps
| | | |
| --- | --- | --- |
| | KTM RC 125 | Yamaha R15 V3.0 |
| Length | 1977 mm | 1990mm |
| Width | NA | 725mm |
| Height | NA | 1135mm |
| Seat height | 835 mm | 815mm |
| Fuel tank capacity | 9.5-litres | 11-litres |
| Ground clearance | 157mm | 170mm |
| Kerb weight | 154.2kg | 142kg |

Ergonomics:
Both bikes here ascribe to the committed supersport riding position. You sit higher on the KTM. Compared to the Yamaha, the clip-ons are placed higher and closer to the rider so you are more comfortable. Well, not that comfortable - it is an entry-level supersport after all. The mirrors offer better visibility than those on the R15. Compared to the Yamaha, the footpegs on the RC are more rearset and placed higher and can feel cramped for taller riders. The RC 125 gets extra cushioning on the rider's seat, which makes it quite comfortable. It is an update that will feature on the RC 200 and RC 390 as well.


In comparison, the Yamaha R15 has its clip-ons placed lower and further out. This means any riding position other than the crouched down one will put a lot of pressure on your wrists. This anomaly makes the R15 a pain to ride in traffic. It is a hoot to ride on track though. Compared to the RC, you have more place to move around and change your riding position with ease. Its larger screen offers better wind protection when tucked in.
Make no mistake, in any riding condition other than the racetrack, both bikes will be uncomfortable to ride. On the KTM, you will be cursing less though.


Technology and features:
The RC 125 gets a twin halogen projector headlamp setup that offers bright and focussed illumination. Other than that it gets an LED tail lamp and nifty looking LED turn indicators. Its digital instrument console is a small unit and information like the engine revs is difficult to read on the move. On display are the gear position, fuel level, engine temperature and average fuel efficiency, average speed and time. It gets a single-channel ABS unit, which is disappointing given that the R15 gets a dual-channel setup as standard.


While the R15 V3.0 gets more modern LED headlamps, it lacks the intensity of the KTM's projector units. The bike gets LED tail lamps but bulb type turn indicators. Its large digital instrument console is easy to read. It includes a gear position indicator, fuel gauge, average speed and average fuel efficiency. When it comes to technology, the Yamaha has a trick up its sleeve. The 155cc motor gets Variable Valve Actuation that gives it enough grunt throughout the rev range. It is also the most affordable bike sold in India to get this technology.

When it comes to features, the mere fact that Yamaha offers dual-channel ABS helps it win.
| | | |
| --- | --- | --- |
| | KTM RC 125 | Yamaha R15 V3.0 |
| Headlamp | Twin halogen projector | Twin LED |
| LED tail lamp | Yes | Yes |
| LED turn indicators | Yes | No |
| Digital instrument console | Yes | Yes |
| ABS | Single-channel | Dual-channel |
Variants:
Both the KTM RC 125 and Yamaha R15 V3.0 are available in just one variant each.


Engine and performance:
| | | |
| --- | --- | --- |
| | KTM RC 125 | Yamaha R15 V3.0 |
| Engine capacity | 124.7, liquid-cooled, 4-valve, DOHC | 155cc, liquid-cooled, 4-valve, SOHC |
| Power | 14.5PS at 9250rpm | 19.3PS at 10,000rpm |
| Torque | 12Nm at 8000rpm | 14.7Nm at 8500rpm |
| Slipper clutch | No | Yes |
| 0-60kmph | 6.14 seconds | 3.40 seconds |
| 0-100kmph | 18.24 seconds | 11.42 seconds |
| 30-70kmph in 3rd gear | 7.22 seconds | 5.71 seconds |
| 40-80kmph in 4th gear | 10.18 seconds | 6.65 seconds |
| City FE | 44.95kmpl | 48.75kmpl |
| Highway FE | 45.87kmpl | 47.92kmpl |

The KTM RC 125 features the smallest motor in KTM India's RC lineup. It shares its 124.7cc liquid-cooled powerplant with the Duke 125. However, the fact that it weighs substantially more than the Duke makes this RC 0.49 seconds slower to 60kmph and almost a second slower to 100kmph. This motor has a linear power delivery with tepid performance low down in the rev band. As you rev higher, you do feel a mild jump post 6500rpm, which feels energetic up to 9500rpm. Out on the highway, the lack of cubic capacity is telling, especially at speeds post 75kmph where the motor starts to feel strained. Its 6-speed gearbox is a joy to use especially while downshifting a couple of gears in a hurry even though there's no slipper clutch at play here. In the city, you have to keep the motor on the boil to get things moving quicker. Where the motor impresses is with its refinement. It is vibration-free with just a mild buzz creeping in on the footpeg and handlebars post 6500rpm.

The Yamaha R15 has a gem of a motor. This 155c powerplant revs all the way to 12,000rpm and makes its peak power higher up. However, thanks to VVA technology, it's supremely tractable in low to mid revs as well, putting it in a different league when it comes to performance. The other benefit of VVA is fantastic fuel efficiency in city riding conditions. While the motor might not rev as freely as the KTM, refinement levels are almost on par with the RC 125. The motor has a linear nature and performance jumps up a notch post 7500rpm - the point where the VVA kicks in and switches to a hotter cam profile. The gearbox has that slick Japanese feel as well. In terms of performance and driveability, the R15 wins by a mile.

Ride and handling:
KTM RC 125

Yamaha R15 v3.0

Chassis

Tubular steel trellis frame

Deltabox chassis

Front suspension

43mm WP USD

41mm conventional forks

Rear suspension

10-step adjustable monoshock with a die-cast aluminium swingarm

Link-type preload adjustable monoshock with a die-cast aluminium swingarm

Brakes

F: 300mm disc with four-pot Bybre radial caliper

R: 230mm disc with single-piston Bybre caliper

F: 282mm disc with twin-piston caliper

R: 220mm with single-piston caliper

ABS system

Bosch single-channel ABS unit

Dual-channel ABS unit

Wheels

F: 110/70 R17

R: 150/70 R17

F: 100/80 - 17

R: 140/70 - 17

Tyres

MRF Revz radials

MRF Nylogrip Zapper bias-ply (Optional rear Metzeler Sportec M5)
Here is where the KTM impresses and partly justifies its hefty pricing. It comes loaded with top-spec components - most of which are shared with the larger RC 200 and RC 390. Given its sporty nature, the ride is on the firmer side. The quick-reacting suspension with its quicker rebound means at slow speeds your teeth do chatter over rumble strips. However, as speeds increase, ride quality gets better. Fun fact: you will be more comfortable riding an RC 125 quicker down a bad road than the R15 V3.0. Another benefit of the top-spec suspension is the incredible composure that's mostly reserved for larger motorcycles. While the front end is not as sharp as the R15 V3.0, the RC 125 feels agile and stable, giving you more confidence in attacking corners with gusto. The RC 125 feels fun to chuck around corners too and given the motor's lower performance, there is a very slim chance you will get into trouble.


In comparison, the R15 V3.0 feels like a focussed instrument. Its sharp front end takes some getting used to but makes it a precise weapon on the racetrack. While it misses out on high-end suspension components, the R15 feels quite agile, reactive even. It is quick to change directions and is quite stable around corners. On the road though, in the company of the RC 125, the R15 V3.0's suspension feels a tad softer. As a result, taking corners on uneven roads on the R15 does not feel as reassuring as the RC. Where the R15 V3.0 shines is in the ride department. Its suspension is pliant enough to sail through small potholes and speed breakers. Sharp ridges filter through the rear suspension though, sending a jolt to your tailbone.
| | | |
| --- | --- | --- |
| Braking | KTM RC 125 | Yamaha R15 v3.0 |
| 100-0kmph | 57.57m | 51.67m (non-ABS) |
| 60-0kmph | 18.75m | 19.93m (non-ABS) |
While the new R15 gets dual-channel ABS, the bike we tested came sans ABS. We will be testing the ABS-equipped bike soon and updating these numbers. That said, despite missing out on ABS, the R15 posts better braking figures than the KTM. The R15's ByBre brakes offer a sharp initial bite but could do with more feedback through the lever. Now the RC 125 gets better brakes in the form of ByBre radially mounted callipers and larger discs. It posts disappointing braking figures owing to the single-channel ABS cutting in early and the fact that the brakes have to slow down a substantially heavier bike.

Verdict:

Like the KTM Duke 125, the RC 125 has the potential to be a good bike for college goers. It looks fantastic and given its not-so-intimidating power output, it should be easy to convince the parents to buy one. What might not be easy to digest is the hefty price that comes attached to the RC 125.

For the rest of us track noobs, the KTM RC 125 might disappoint with its performance but it posses excellent dynamics, which makes it a fun-to-ride package. It will be a good bike for novice riders who want to hone their skills on the racetrack.
| | | |
| --- | --- | --- |
| | KTM RC 125 | Yamaha R15 v3.0 |
| Price (ex-showroom Delhi) | Rs 1.47 lakh | Rs1.4 lakh |
That brings us to the Yamaha R15 V3.0. This 150cc supersport has been a fantastic value for money package and feels even more so with the arrival of the baby RC. It is a highly focussed machine and you will need a fair amount of skill to extract its performance and an equal amount of fortitude to endure its ergonomics in city traffic.

So if you are someone looking to learn the ropes of track riding and need a motorcycle that won't catch you out or scare you silly, head to the orange corner. If you are looking for something focussed to further improve your skill set and will be spending more time on the track than the road, team blue is the one to go for.