Royal Enfield Thunderbird 350 Review
Published On Sep 23, 2015 By Naveen Soni for Royal Enfield Thunderbird 350
The Pros: Retro style cruiser houses with advanced features, reliable & efficient engine, comfortable and superb handling. 

The Cons: Plastic rear view mirror on the handlebars, braking power is nice but fails to provide that bite of a performance braking action.

The Crux: This bike is good package, for those who like to travel on motorcycle. Moreover it has classy looks, decent performance and fuel efficiency.
Rating


Royal Enfield, the name associated with two wheelers for more than a century, is the oldest motorcycle brand in continuous production. The company manufactures retro style motorcycles, however, they are better used for touring or cruising purpose in India. RE was not having any real cruiser in its fleet before the year 2000. Then arrived the first generation Thunderbird, which was based on the existing Royal Enfields of that time and powered by the AVL lean burn engine. It was one of the best-looking motorcycles made in India, however, having lots of mechanical drawbacks before the update.





In 2009, the AVL motor on the Thunderbird 350 was replaced with a new 346cc Unit Construction Engine (UCE), which is more reliable and efficient. This motor has seen many updates with the time like twinspark technology and improved fuel supply system. After that, the bike received a major visual update in 2012 and we get to see an all new motorcycle with the name Thunderbird. The new model looks more stylish, premium and practical as well, and it is the same motorcycle that the company offers today with its new badging and logos. So, let's checkout the actual performance, handling and other details of the latest Thunderbird 350.

Styling: Royal Enfield Thunderbird is one of the most beautiful machines manufactured in India till now. Although, it doesn't look as long as a common cruiser motorcycle, it has that charm and style to be called one of them. Along with a modern design, it has some retro elements like round headlight, bullet turn indicators and twin-pod console, all with nice chrome finishing. It has a decent LED tail lamp, which looks perfect on the bike.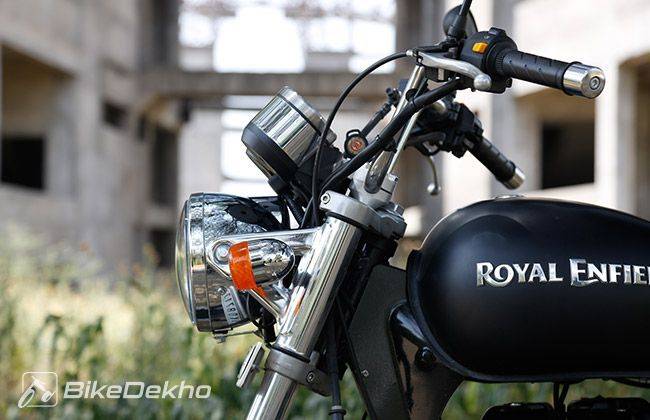 The conventional style wide teardrop fuel tank with chrome finished fuel cap and metallic 3D brand logo gives a conventional cruiser identity to the new Thunderbird 350. Its side panels, mudguards and other body panels are just well crafted to gel with its overall styling. The engine gets matte black and gunmetal finish and the long straight muffler again comes with chrome finish.





The shiney spoke wheels suit the Thunderbird's profile and the bike looks perfect in Matte Black paint scheme. However, I didn't like the plastic rear view mirrors on the handlebar, which was the only major drawback in its styling. Apart from the Matte Black (Stone), it is also available in Metallic Blue (Marine), Metallic Grey (Lightning) and Glossy Black (Flicker) colour options.

Switchgear and Ergonomics: The upgraded Royal Enfield Thunderbird 350 not only looks more stylish, but it feels better as well. Ergonomically, it is one of the most comfortable motorcycles to ride on the Indian road conditions. The seat height of the bike is just 775mm, which makes it easy to ride for a short person, while the upraised handlebars and forward-set footpegs gives enough space to a long rider as well.





Rider's seat on the bike has been specially designed for long rides and its shape is just perfect to sit comfortably while riding. It is well cushioned and you will not feel sore bums even during the long rides you are planning with this Enfield. The pillion seat is effectively cushioned as well and it also gets a backrest for your ride mate's comfort.




The bike comes with classic looking twin-pod instrument cluster with chrome finish. However, its functionality is modern and it gets an LCD screen in the analog speedo-box, which features fuel gauge, odometer and tripmeter. The telltale light have been placed in the analog rev-box (tachometer) and all the information is easy to read on this console.





The classic round headlamp of the bike features a DRL ring, which just looks like a fancy element and don't solve its purpose. However, its projector light works well and gives proper illumination.






If we talk about the switchgear of the new Thunderbird 350, it is almost like any common motorcycle. It has engine kill, electric start and headlight switches on the right handle, while the low/high beam, turn indicator and horn switches on the left handle. All the switches are easily accessible and plastic quality of their units is quite satisfactory.

Engine and Performance: The torque mill on the new Royal Enfield Thunderbird 350 is more advanced than its previous generation. It is the same 346cc, air-cooled, single-cylinder, twinspark engine, which is shared by all the 350cc Enfields. However, you can feel the improved performance of the motor and better mounting, resulting in lesser vibrations. I'm sure that RE fans will miss that thumping note and feel of the old gen motorcycle as the new muffler sounds much different.





According to the company, it delivers power up to 19.8bhp at 5,250rpm and torque up to 28Nm at just 4,000rpm. This much high torque output is just enough to take a motorcycle on long rides. As you twist the throttle you can feel that punch coming from its heart and twisting its rear wheel harder. Low and mid range torque of the bike is quite impressive and  provides a good acceleration. The bike goes up to 80-90 kmph with ease, and you can take it over 120kmph with some more efforts.





The engine on the Thunderbird 350 comes mated with a 5-speed constant mesh gearbox, via a wet multi-plate type clutch assembly. The gearbox features taller gear ratios, which reduces the need of gear changing, resulting in better cruising experience. The clutch system is mechanical, which needs to be a little softer.

Riding and Handling: No doubt, the latest model of the Royal Enfield Thunderbird is one of the best handling motorcycles I have ever ridden. As it is a cruiser machine, the bike has been specially made for highway riding. However, the 20mm shorter wheelbase of the new generation model has increased its maneuverability in the urban traffic as well. Definitely, the turning radius of the bike is not as smaller as your daily commuter motorcycle, but yes it is very close. As I have already mentioned that it has a nice low range torque, which also aids in the stop-and-go type riding conditions.





Coming to the highway riding experience, stability of a motorcycle plays a great role in cruising, and you can say that the new Thunderbird 350 is a cruiser. It's large 19" spoke wheel with 90/90 section MRF Zapper FM rubber and wide handlebar plays a great role in the stability you feel on highways. On the rear, it gets an 18" spoke wheel with 120/80 MRF Zapper C tyre, providing nice grip on the tarmac.





The bike comes with 41mm telescopic forks at the front and 5-step adjustable gas-charged shock absorbers at the rear. The suspension system has been kept on a little softer side, which gives a pretty good cruising experience on Indian roads. However, sometimes it fails to manage with its 140mm ground clearance while taking some extra weight through some giant Indian speed breakers.





The performance of the Thunderbird 350's dual disc brake system is decent, but I was still missing that bite of a performance braking action. It combines of a 280mm disc at the front with a two-piston caliper and a 240mm disc at the rear with a single-piston caliper.

Verdict: Overall, Royal Enfield Thunderbird 350 is a good package, specially for those who like to travel on a motorcycle. The bike is easy to use for daily commuting and it is one of the most comfortable motorcycles for long weekend rides as well. It has a premium look, decent performance and fuel economy.





Thunderbird has always been a great motorcycle for highway cruising, however, its new version has been made more practical to be used in the city traffic as well. Now the question is, what should be the price of this motorcycle? The new Royal Enfield Thunderbird 350 comes with an ex-showroom price tag of around Rs. 1.37 lac (Delhi), which is not much for the complete package.