MS Dhoni And Hardik Pandya Seen Striking A Pose On A Vintage BMW Bike
Modified On Jan 28, 2023 04:56 PM By Bernard Mascarenhas for Yamaha RX100
The duo recreate an iconic Sholay moment at Dhoni's garage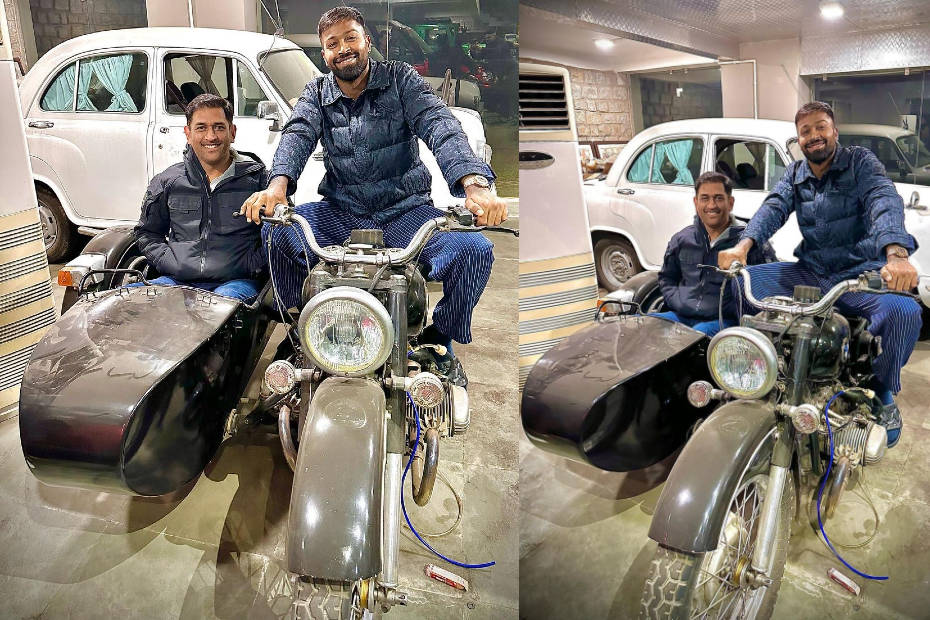 Here's a photograph that will bring a smile to your face: Indian Cricket Team's newest T20 captain Hardik Pandya casually posing with former captain MS Dhoni on the latter's vintage BMW R71 with a sidecar.
Clicked at MS Dhoni's massive garage at his farmhouse in Ranchi, the duo are seen recreating the iconic Sholay moment, as Pandya poses at the saddle of the vintage Beemer while Dhoni is seen sitting in the sidecar. The caption, posted by the current T20 captain on his Instagram, states 'Sholay 2 coming soon.'
View this post on Instagram
Sholay still stands as one of Bollywood's most decorated movies, where the lead actors Amitabh Bachchan and Dharmendra are seen showcasing their camaraderie on a 1942 BSA WM 500 with a sidecar. Here are some of the iconic bikes Amitabh Bachchan has ridden throughout his illustrious career.
MS Dhoni's love for motorcycles, both vintage and modern, is well-known, as he has a huge collection of bikes like restored Yamaha RD350s, and also modern screamers like the Kawasaki Ninja H2. Here's a video of the former Indian cricketer dealing with his RD350's tantrums.