Rynox Nomad v2.1 Saddlebags
Modified On Oct 30, 2018 By Rommel Albuquerque
Saddlebags are must for any rider who loves to travel with their motorcycle. It makes life a whole lot easier. On my recent ride to Goa for India Bike Week, I got a chance to test out these neat looking Rynox saddlebags - the Nomad.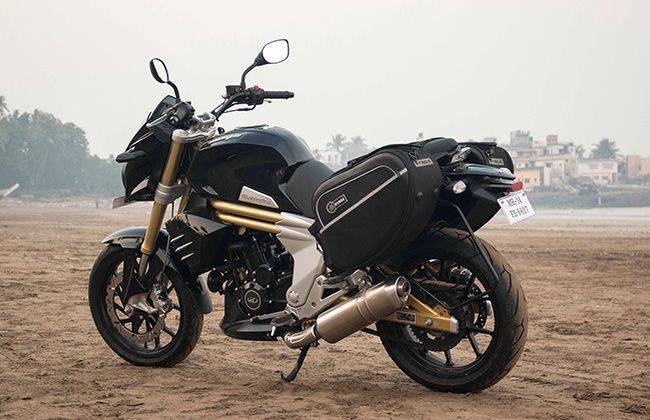 Now these are semi-hard saddlebags designed aerodynamically to reduce drag at high speeds. The quality is top notch and the bags look premium too.

The Nomad Saddlebags provide a whopping 64 Liters of storage capacity and even when filled to the brim they don't budge. That's because it's got three basic mounting points and even has three fastening straps.

This lets you adjust the straps so that no matter which motorcycle you ride, whether it has a straight or an upswept exhaust, the bags fit well and won't touch the silencer. These bags look really good on premium motorcycles like the Harley Davidsons, Triumphs, Kawasaki's, etc and they can store a lot of luggage if you pack properly.

It's got an easy access top loading main compartment and outer pockets for storing knick knacks. This comes in handy when you have to remove items from the bag while their still attached to the motorcycle.

You've also got pockets in front where you can keep a water bottle and the Nomad comes with rain covers too. Though we didn't get a chance to test out the rain covers, they look like they'll keep water at bay.

On the top of each bag, you have adjustable belts where you can strap on a tripod, tents or even your sleeping bag. So once you've fastened everything down tight, you're good to head out on the open road and do it in style too.
Where to Buy: http://www.rynoxgears.com
Price: Rs. 4,699