5 Motorcycles as Thrilling as Virat Kohli
Modified On Oct 28, 2018 By Sameer Sheikh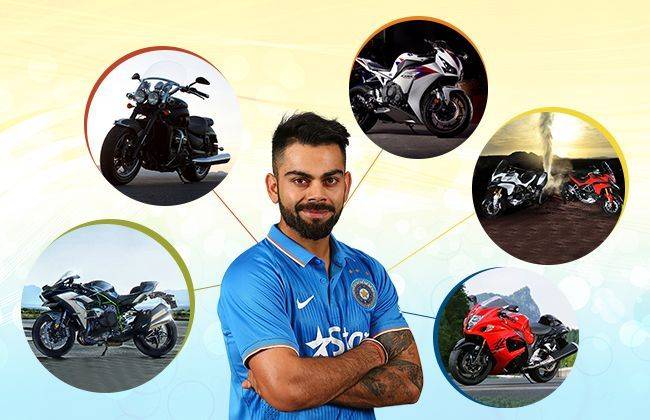 VIRAT", the word that foretells something that is humongous and unbeatable in every aspect, so is the No. 1 T20 batsman and the test captain of the Indian Cricket Team. Yes, we are talking about the heartthrob and most aggressive player in Team India, the one man army, Virat Kohli. Known for his aggression, consistency, daring, stamina and ability to change the result of a match, Virat Kohli has now become a backbone of the Indian national cricket team. For his match winning abilities and classy batting technique, people take him as a replacement for "God of Cricket", Sachin Ramesh Tendulkar. Virat and his love for cars is not unknown, but what if he would like to buy a superbike? We have listed down the 5 motorcycles that represent the personality of one of the most spectacular sportsmen and deserves to be in his garage. Let's find out the breakup of 'VIRAT'.
Valorous Kawasaki Ninja H2R:


There is no question about why Ninja H2R is in the list. Like Virat's courageous personality to overcome every hurdle, the Ninja H2R too has the ability to come as a winner every time when put into testing. With its immense 326 horses, the H2R has more power than any street-legal motorcycle.
Invincible Triumph Rocket III:


Similar to Virat Kohli's extraordinary, unique and legendary performances, everything you have heard about the Triumph Rocket III is true. With its sheer force of presence, the Rocket III uses the world's largest production motorcycle engine that delivers a simply stunning riding experience on two-wheels. The bike comes with a tagline 'Believe in Unbelievable' that defines Virat Kohli's personality to perform well in every challenging situation.
Reliable Suzuki Hayabusa:


The fastest motorcycle of the 20th century, the Suzuki Hayabusa when launched set the bar high for its rivals just like Virat is doing now. Its sensational power, speed, smooth ride is as reliable as Virat Kohli for Indian Cricket team. Like his amazing running between the wickets, the bike too has thrilling acceleration along with unmatched maneuverability to run smooth both on streets as well as on open roads.
Adamant Honda Fireblade:


Justifying its name, the Honda Fireblade creates fire when running on the road. Similarly, when Virat Kohli is on fire, there is nothing opposition can do. The aggression of both Virat and the Fireblade is unprecedented and are known for their dominance on the playing field. With an unmatched 700 MotoGP titles, Honda's winning heritage stands far above any other manufacturer, which is what Kohli does while chasing big targets.
Trailblazer Ducati Multistrada 1200:


Virat Kohli's love for adventure is a world known fact and this is what the Ducati Multistrada 1200 do best. Made its international debut 2 years after Virat Kohli, the bike was launched to seduce sportbike riders, promising brute torque, sharp handling and comfort. All-in-all, it is an all-round motorcycle that performs the same way in every situation. It is more than just an adventure bike like Kohli who is more than just a one-day or T20 batsman, a superb all-round performer while batting or fielding and he has got some wickets too!
Team BikeDekho wishes the Indian Cricket Team for its Semi-Final against West Indies. We believe, Virat Kohli will do the same in the remaining two World T20 2016 matches and will get us another Trophy. #BleedBlue