11 Biking Movies You Shouldn't Miss
Modified On Dec 22, 2015 By Sameer Sheikh
Biking culture in India is growing rapidly and the people have started taking it as a full-time profession. Every biker goes out and explores places around. So all you bikers, you have been riding all day long, now just want to relax, chill out with a drink and watch a movie. Here's a list of 11 motorcycle movies, which are worth taking a look at.
11.Easy Rider: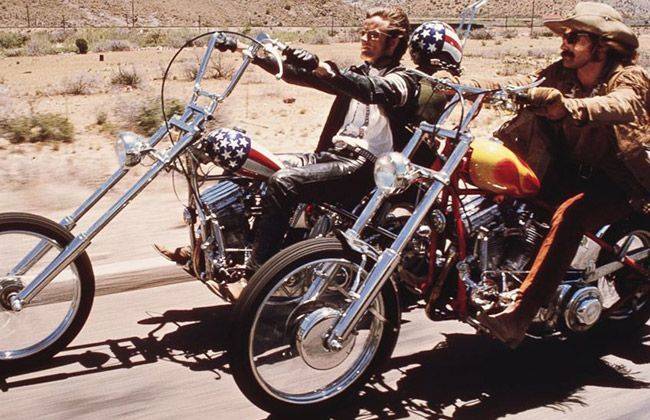 It is a 1969 American movie, which tells the story of two bikers who travel through the American Southwest and South. The movie explores the societal landscape, issues and tensions in the United States during 60's. The success of the movie sparked the New Hollywood phase of filmmaking and in the year 1998, the film was added to Library of Congress National Registry.
10.Electra Glide in Blue:

Electra Glide in a Blue is a 1973 movie Directed by James William Guercio. The movie is about Robert Blake and his partner Billy "Green" Bush, motorcycle cops of Arizona who patrols the highways of rural Arizona. This is a story of a good cop in a world of bad ones. I am sure, you will love it. The name of the movie comes from Harley-Davidson Electra Glide motorcycle issued to cops.
9.Hells Angels on Wheels:

Released in 1967, Hells Angels on Wheels is an American movie directed by Richard Rush. This is a story of a gas-station attendant with a bad attitude who finds his life more exciting after he allowed to hang out with the group of Hells Angels Outlaw Motorcycle Club.
8. Wild Angels:

The movie was made three years before the Easy Rider and was the first film to associate Peter Fonda with Harley-Davidson motorcycles and 60's counter culture. In the movie, Peter Fonda played the leader of Hells Angels in Venice and Bruce Dern played his buddy "loser" and the music of the film made it even better, at least, better during 60's. The movie is worth to watch a couple of times.
7.Rebel Rousers:

Released on August 1, 1970, Rebel Rousers is an independent biking film Starring Cameron Mitchell, Jack Nicholson, Diane Ladd, Bruce Dern and Harry Dean Stanton. The movie was shot in 1967 but held back for release until 1970. Watch it once, it is a kind of movie you can watch it anytime. 78 minutes are worth to spend on it.
6. Motorcycle Diaries:

Motorcycle Diaries is a biopic movie released in 2004. It is about the journey of a 23-year-old Ernesto Guevara, who later becomes the internationally known Che Guevara. The movie is initially centered on youthful hedonism and unfolds that Guevara discovers himself by observing the impoverished indigenous peasantry. The movie is based on Guevara's travelogue "Motorcycle Diaries".
5. Hell Ride:

Released as an homage to outlaw biker films of 60's and 70's, Hell Ride is a complete biker movie. The movie has everything to offer including gang wars, bad and good bikers, their lifestyles, hot chicks. The movie is for untamed biker within you. The movie was released on August 8, 2008, with running time of 83 minutes. It featured Larry Bishop, Michael Madsen, Vinnie Jones, David Carradine and Dennis Hopper in the lead cast.
4. Akira

It is one of the most iconic animation films ever made, which was released in 1988. The movie features a futuristic motorcycle based anti-hero called Tetsu who is hunted by police after becoming telekinetic. The movie depicts the story of teenage biker Tetsu and his psychic powers and the leader of his biking gang, Shotaro Kaneda. Kaneda tries to prevent Tetsu from releasing the imprisoned psychic Akira. When released, the film garnered a large following and created a landmark in Japanese animation.
3. Wild Hogs

Wild Hogs is biker comedy film released in 2007 and directed by Walt Becker. The movie explores the wild side of Biker's life. It is a story of three men who are looking for some adventure and spark in their lives. The movie is all about thrill, adventure and freedom of the roads. If you are fond of any of these things, a must watch for you.
2. Why We Ride

This documentary is about the motorcyclists who tries to bring out the true spirit of rider and their passion for motorcycling. The movie depicts about the bikers who love to ride and ride for a cause. If you are the one whose family isn't happy with your biking career, you must ask your parents to watch and let them feel what motorcycling is all about. It is a truly inspirational movie and a must watch for everybody.
1.The World's Fastest Indian

Based on a true story of a middle-aged but determined man from New Zealand, who brought his modified Indian Scout to Bonneville to set land speed records. The fantastic performance by Anthony Hopkins as Munro will make you inspire to do what you love. It is one of those films what you will want to watch again and again. Released in 2005, the movie quickly became the highest grossing local film in New Zealand.