Honda CB300R: Road Test Review
Published On Jun 1, 2019 By Benjamin Noel Gracias for Honda CB300R
Is the latest CKD from Japan a worthy option for those who want a sporty and premium, yet affordable sub-400cc motorcycle?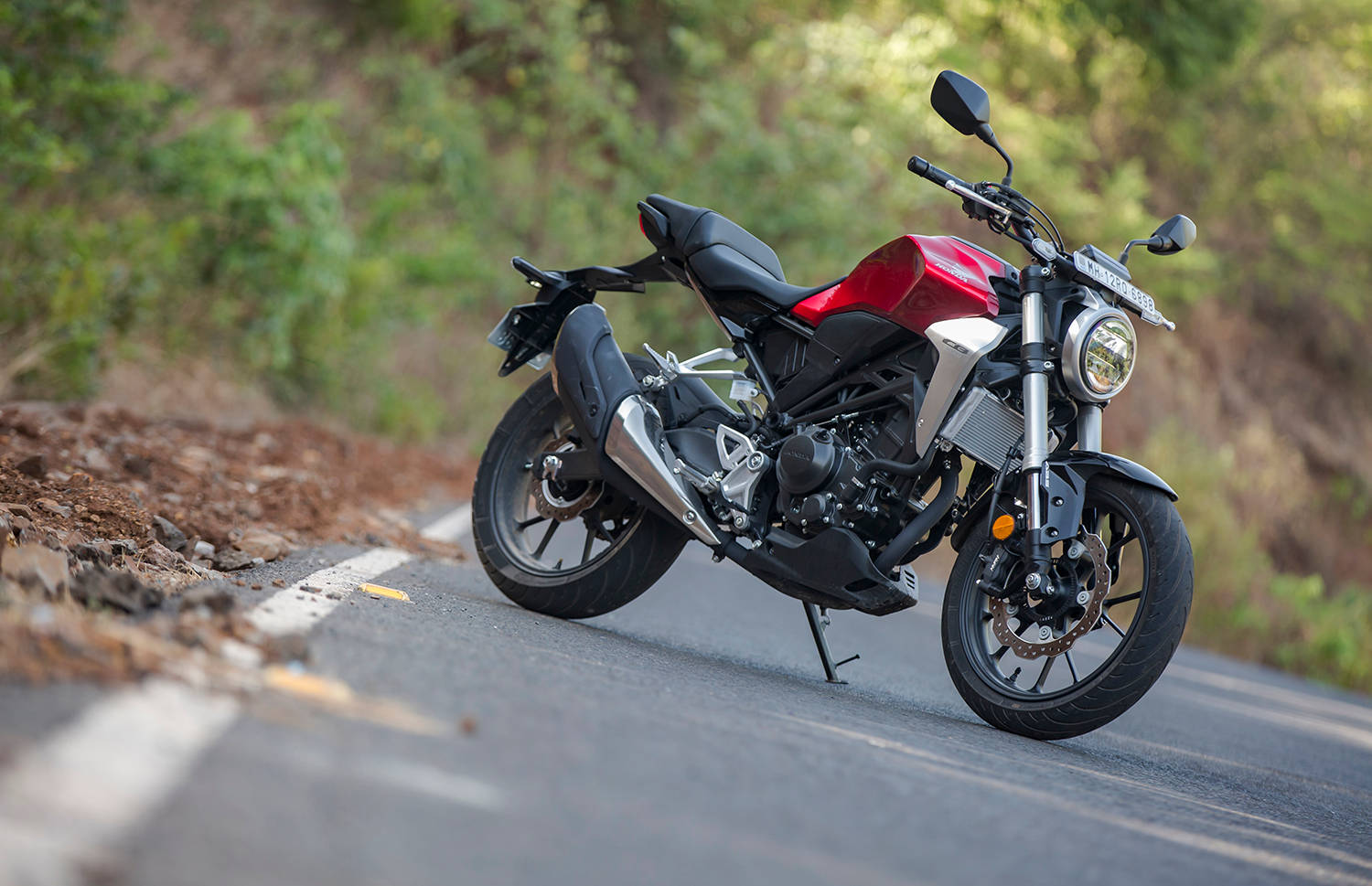 Pros:
Fantastic looks and premium feel.
Good low-to-midrange performance.
Low seat height and lightweight.
Fantastic fuel efficiency.
Cons:
ABS is too intrusive.
Compact dimensions; looks like a small 150cc bike.
Snatchy throttle response at low speeds.
Tiny pillion seat.
Standout features:
Fantastic quality. Parts like switchgear and handlebar feel lifted off from larger Hondas.
The torquey motor offers good performance and is frugal too.
Has nailed the neo-retro design theme.
Introduction:
Honda decided to enter the entry-level premium segment this year with the CB300R. Brought in as a CKD offering, the neo-retro roadster competes in the Rs 2 to 3 lakh segment against the KTM 390 Duke, Royal Enfield Interceptor and the BMW G 310 R. As far as desirability goes, the CB300R ticks all the right boxes of looks, premium feel and quality. However, this feels like a case of Honda being late to the entry-level sportbike party, especially when the competition has had enough time to carve their own niches and gain their own separate set of followers. Does the small Honda bring enough to the table to be able to create its own identity and fan following?
Also read: BMW G 310 R: Road Test Review

Design:
The Honda CB300R looks like a scaled-down CB1000R. It follows Honda's Neo Sports Cafe design language which seen on its new breed of naked bikes which also includes the Honda CB650R. Standout features on the bike include a round headlamp with LED lighting, sculpted tank, flat seat and a stubby tail section. On the side, you have a large exhaust end can to take care of emissions. While the quality of components like the switchgear, LED turn indicators and instrument console is top-notch, the mirror looks like it was lifted from the low-cost Honda parts bin. Also to keep weight low, most of the components are made of high-quality plastic and bolted using as few screws as possible. This means parts like the fuel tank extension and instrument console are not rigidly mounted. However, we rode the bike for more than 800km and no part came loose or rattled.
Also read: 2017 Honda CBR 650F: Road Test Review

Given the compact design, the CB300R gets a small 10-litre fuel tank. But its 151mm ground clearance is adequate enough to clear speed breakers with ease.
Also read: Suzuki Gixxer SF 250: Track Ride Review
| | | | |
| --- | --- | --- | --- |
| | Honda CB300R | KTM 390 Duke | BMW G310R |
| Length | 2028 mm | NA | 2.005 mm |
| Width | 888 mm | NA | 849mm |
| Height | 1053 mm | NA | 1.080 mm |
| Seat height | 800mm | 830mm | 785 mm |
| Ground clearance | 151mm | 185mm | NA |
| Fuel tank capacity | 10-litres | 13.4-litres | 11-litres |
| Kerb weight | 147kg | 155kg | 158.5kg |
Ergonomics:

The Honda CB300R is a very compact motorcycle which makes it accessible for even shorter riders. Its seat height, at 800mm, might be average, but the narrowness of the bike allows even shorter riders to place both feet on the ground. The seat is roomy and has a flat profile, which helps it accommodate riders of any size. But while it proved to be comfortable for slimmer and lighter riders, larger and heavier ones will not find the Honda's saddle so comfortable. The pillion seat is set slightly higher than the rider's and can accommodate skinny people at best. It might be low on space but impresses in terms of comfort thanks to the seat cushioning, lower placed pillion footpegs and useful pillion grab rails, but again for slimmer pillions only.

Given the CB300R's compact nature, the handlebar isn't much farther away from the seat. So, despite the flat and wide nature of the handlebar, you won't be stretching out your arms to use them. The rear set footpegs too are placed lower and have your knees and ankles bent at a relatively comfortable angle, so no aches over longer distance either. Overall, for my 5ft 8in frame, the CB300R fits like a glove. It should be comfortable for shorter riders as well.

Technology and features:
Given its neo-retro directive, the CB300R does not get fancy features like a colour TFT instrument console. What it does get is LED headlamp, LED tail lamp and LED turn indicators. But while the headlight looks cool and provides decent spread, it lacks in terms of reach and isn't too bright. This makes it a bit underwhelming in the dark. It gets a tiny instrument console with a dark blue-backlit LCD screen that looks rather premium. Despite the limited space, it is well laid out and has a speedometer, tachometer, fuel gauge, engine temperature, average fuel efficiency and average speed. It, however, misses out on a gear position indicator and side stand indicator. Those in our opinion, are big misses. Especially the lack of any kind of safety mechanism for the side stand.

For safety, the CB300R gets an IMU-based ABS which calculates the pitch movement of the bike and adjusts ABS intervention accordingly.
| | | | |
| --- | --- | --- | --- |
| | Honda CB300R | KTM 390 Duke | BMW G310R |
| LED headlamp | Yes | Yes | No |
| LED tail lamp | Yes | Yes | Yes |
| LED turn indicator | Yes | Yes | No |
| Colour TFT instrument console | No | Yes | No |
| IMU-based ABS | Yes | No | No |
| Switchable ABS | No | Yes | No |
Variants:
The Honda CB300R comes to India via the CKD route and is available in just one variant.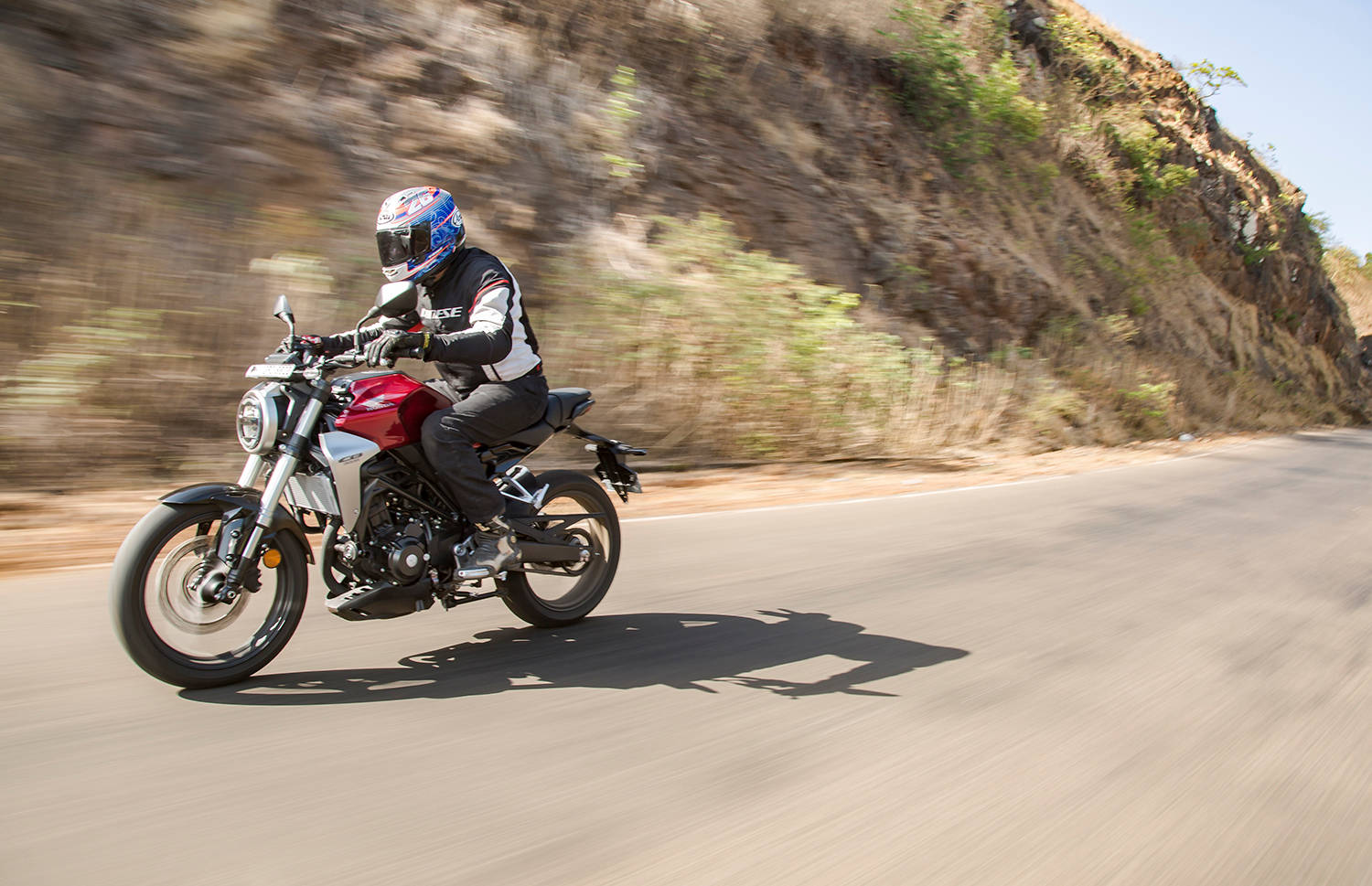 Engine and Performance:
| | | | |
| --- | --- | --- | --- |
| | Honda CB300R | KTM 390 Duke | BMW G310R |
| Engine capacity | 286cc | 373.2cc | 313cc |
| Power | 30.4PS @ 8000rpm | 43.5PS | 34 PS at 9500rpm |
| Torque | 27.4Nm @ 6500rpm | 37 Nm | 28 Nm at 7500rpm |
| Slipper clutch | No | Yes | No |
| 0-60kmph | 2.94 seconds | 2.77 seconds | 3.07 seconds |
| 0-100kmph | 7.35 seconds | 5.98 seconds | 7.47 seconds |
| 30-70kmph in 3rd gear | 4.21 seconds | 3.53 seconds | 3.53 seconds |
| 40-80kmph in 4th gear | 5.15 seconds | 4.58 seconds | 4.51 seconds |
| City FE | 39.84kmpl | 25.7kmpl | 31.86kmpl |
| Highway FE | 37.92kmpl | 28.5kmpl | 37kmpl |
Honda has developed the CB300R's 286cc motor specifically for its entry-level sportsbike range. This liquid-cooled engine is a torquey unit and makes peak power and torque at a lower rpm than the competition. While it is low on power compared to the BMW G310R, the CB300R weighs 11kg less. Also, it has a shorter first gear than the BMW which allows the CB300R to post quicker acceleration times. Interestingly though, the CB300R's next five gears are taller than the G310R and that affects its roll-on figures. This motor feels linear. It gradually makes power up to 6000rpm and from there onwards feels spunkier. However, it does lose steam at the very top of the power band either. The throttle feels slightly snatchy at low speeds and it can be a bit irritating in bumper-to-bumper traffic.

A torquey, unstressed motor and relatively taller gearing combined with its low weight, help the Honda return best-in-class fuel efficiency. Out on the highway, the Honda CB300R ambles around at a comfortable 6000rpm in sixth gear. In fact, you can comfortably cruise around at speeds of 100-120kmph all day. In terms of refinement, the motor sounds a bit harsh but has minimal vibrations. You only feel a mild buzz in the footpegs at speeds of 100kmph.

Where the motor impresses is in its low- to mid-range performance. In city speeds of 50kmph, you will spend most of the time pottering around in third and fourth gear. That helps the bike deliver fantastic city fuel efficiency as well.

Ride and handling:
Compared to the competition, the CB300R uses a simpler diamond type frame. Its suspension components though come from Showa. The baby Honda used 41mm non-adjustable upside down forks and a preload-adjustable monoshock. Surprisingly, the suspension has a stiffer setup, something we haven't seen on even the Honda CBR650F. The suspension feels quite reactive which leads to the bike feeling skittish at speed on uneven cement roads. While on the firmer side, the ride quality does not feel jarring.

Show it a set of corners and the CB300R impresses you with its handling traits. It feels sharp and eager to tip into a corner thanks to its sharp rake, shorter trail and shorter wheelbase. The suspension works well with the Michelin Pilot Street tyres and holds a line through corners well enough to inspire confidence. Despite being an everyday use tyre, the Michelin Pilot Street offers adequate grip in most conditions.

Overall while the CB300R does not offer as sharp dynamics as the KTM 390 Duke, it is competent enough to keep the Duke in its sights through a set of corners. More importantly, the CB300R engages you in the process and makes it quite enjoyable. In the city, you will appreciate the extra leverage provided by the wide 'bar. That, along with its compact dimensions makes the Honda easy to manoeuvre in the city. It has a short turning radius, which combined with the low weight, makes the CBR300R as effortless to push around the parking lot as a 150cc motorcycle.
| | | | |
| --- | --- | --- | --- |
| | Honda CB300R | KTM 390 Duke | BMW G310R |
| 100-0kmph | 51.07m | 48.38m | 50.61m |
| 80-0kmph | 31.72m | 29.78m | 32.45m |
For braking, the CB300R uses a 296mm disc with Nissin radial calipers and a 220mm rear disc. It has an IMU-based ABS that calculates pitch movement along with wheel speeds to keep the bike stable under hard braking. While the system works well, we found the ABS to be too intrusive. This and the fact that it uses smaller disc sizes leads to the CB300R taking slightly longer distances to come to a stop. However, under panic braking, the bike feels extremely composed. And while the front brake bite lacks initial sharpness, it has good progression. These traits will be appreciated by novice riders.
Verdict:
<img itemprop="image" s