One Day, 350 kms and My Pulsar 135
Modified On Oct 30, 2018 By Gajraj Singh Bhati for Bajaj Pulsar 135LS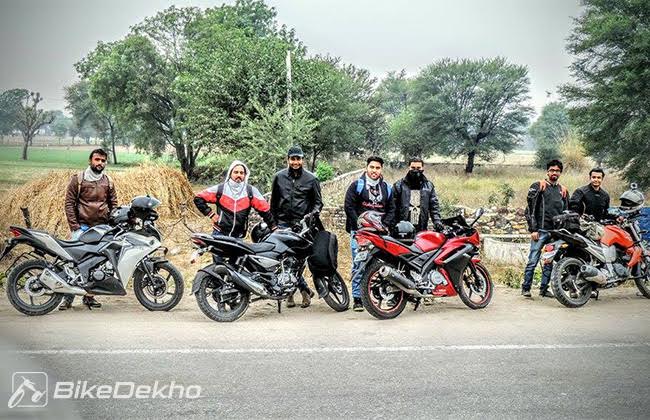 It was a chilling Saturday morning when 8 bikers on 4 different bikes started their thrilling journey from Jaipur to Mandawa, the largest heritage village of India. Being the first group ride of the bikedekho team, this trip was very special in a lot of ways. Everyone was excited to hit the highway and burn some rubber. Right from selecting the destination to choosing the machines, everything was well planned and thought off. The 4 bikes accompanying us were Yamaha R15, Honda CBR 150, Yamaha FZ and Bajaj Pulsar 135. Mandawa is situated 175 km away from Jaipur and became the obvious choice after we came to know about the heritage value it holds. The village has been showcased in many famous Hindi flicks like Bajrangi Bhaijaan, PK & Highway.
After an early morning photoshoot, we hit the National Highway 11 around 8 AM and headed towards Mandawa. Covering 350 km in a day was not an easy task, as the route was full of twists and turns, curvy single lane roads, bumpy village roads and finally the crowded market of Mandawa. My bike, Pulsar 135 was the lowest displacement bike among the lot but it never made me feel left alone. We reached Mandawa at around 1:00pm, and checked in the hotel straight away. After having lunch and a bit of local sightseeing we started riding back to Jaipur. Overall, it was a wonderful ride with a great experience and learning of group riding. During the entire journey, all 4 bikes were tested and their behaviour was observed closely. It was not a comparison straight away but we tested our bikes on 4 broad parameters: Top speed, fuel economy along with performance in different weather conditions and surface conditions.
So here I am putting down my feedback about my precious possession Pulsar 135
1. Pulsar 135 on High speed



Also Read: Ride Experience: 360 km, 1 Day and a 6 year Old Yamaha FZ-16
Indian manufacturer Bajaj is known for its sporty machines. Till now the company has made bikes in various engine displacements that fall below 250. The bike we took on our trip featured Pulsar's lowest displacement, the Pulsar 135. We observed that the bike offers decent pickup and it does not vibrate till you touch 110 kmph. For the rider, the bike has a good seating position but long journeys might be a bit difficult for the pillion as the rear seat gives the pillion an awkward seating position. Also, the concerns surrounding the chain are true. It is said that on constant long speed runs, a wired noise comes from the chain socket. We faced the similar situation and slowed down to avoid any breakdown during the journey. Compared to other bikes, the 135 has less vibration at higher speeds and we will take this as one of the best features. We touched 110-kmph mark and did not push the bike for more, as we had to slow down due to the concerns for the chain.

2. Fuel Efficiency & Other Features



Also Read: 325 Kms and The Yamaha R15 - Travel Diary
You can trust your Pulsar on this. Just before starting our journey, I got the fuel tank filled to the brim and after that I don't remember stopping at a petrol pump until we completed our journey. Maintaining an average of 72 kmpl, the Pulsar 135 churned out the best fuel-efficiency, in comparison to other bikes. The bright headlights, LED tail lamps and bright indicators ensured that we were visible even after sunset. The bike has a powerful dipper compared to other low displacement machines.  The braking characteristics of Pulsar 135 are another attractive feature of this bike, as it has a very controlled and stable braking system. The bike has a 240mm front disc brake and a standard 130mm rear drum brake.
3. Different tracks: Not a hurdle anymore



On our journey from Jaipur to Mandawa, we went through various kinds of roads. Whether it was the smooth highway, bumpy single lane road or busy town streets, the Pulsar 135 made it very easy to ride through all kinds of roads without any worry. The sticky tyres of the bike turned out to be a helpful resource on the mega highways for a good 100 Kms. Once we left the mega-highway, the next 60 km tested the bike's suspension and as expected, they did quite well.

4. Aesthetics





Compared to other low displacement bikes, Bajaj Pulsar 135 is designed beautifully keeping in mind sporty and sharp styling. Diamond shaped tank-shrouds bestows the bike with an attractive look. Rear tyre and chain area is semi-covered with an attractively styled rear-end to cut short any possible messy situations. Air scoops, alloy wheels and the black matte coating on the bike makes the machine a budget bike with eye catching looks. The bike is a good buy for youngsters as it has an athletic body and attractive styling. LED tail lamps, headlamp and grab rail gives it a proper muscular machine look.

5. Reliability



Overall the bike is a reliable machine to ride on. With its comfortable riding posture, the bike is a treat on a speedy long run. In different weather conditions, the bike responded very well. Covering hundreds of kilometres without a stop turned out to be an easy task for this low displacement bike. The engine did not heat up during the high and constant speeds, which crossed the 100 kmph mark. Bajaj Pulsar 135 can be trusted on a long and difficult run and it is surely one of the best offerings amongst the other low displacement competitors.
Hope you like the clicks. Performance detail of other bikes are coming up your way. Till then happy reading and stay updated!!!