2019 Bajaj Dominar 400 vs Royal Enfield Himalayan Fi ABS: Comparison Review
Published On Apr 26, 2019 By Jehan Adil Darukhanawala for Bajaj Dominar 400
Should you go sporty or adventurous for your next small-capacity touring motorcycle? Plus which would serve you better on a daily basis?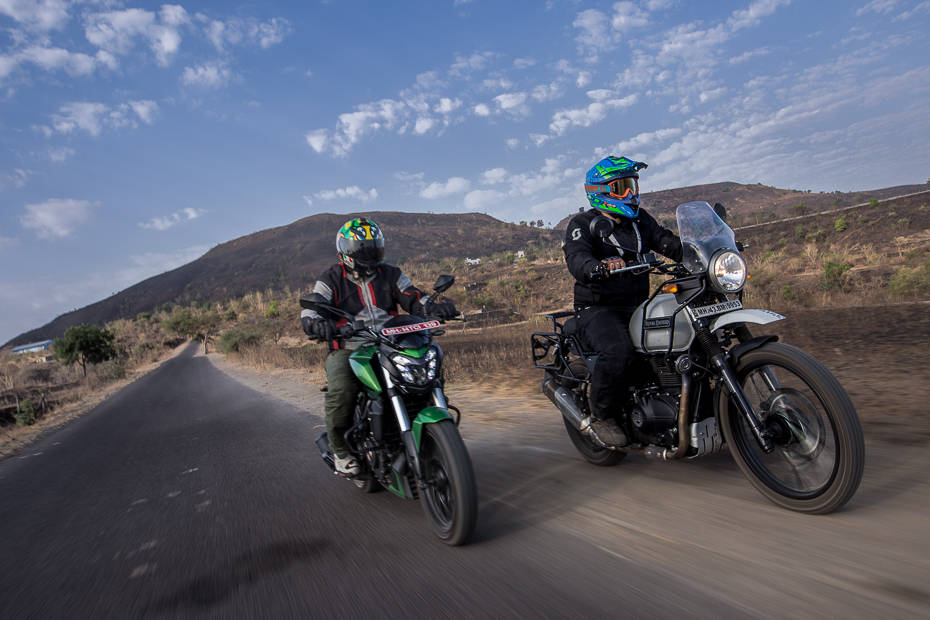 One look at the two motorcycles and their respective spec sheets might suggest that this comparison is quite pointless. But, is it? The new 2019 Bajaj Dominar 400 is a significant update over its predecessor. It gets to triple-digit speeds easily, and cruises there with minimal fuss. Royal Enfield has also cured the Himalayan of all its ills, with fuel injection making the engine a lot more usable than before. Both motorcycles are priced below Rs 1.80 lakh and are meant to take you places far and beyond. But which one manages to impress the most and which one could double up as the better daily rider?
Engine & Performance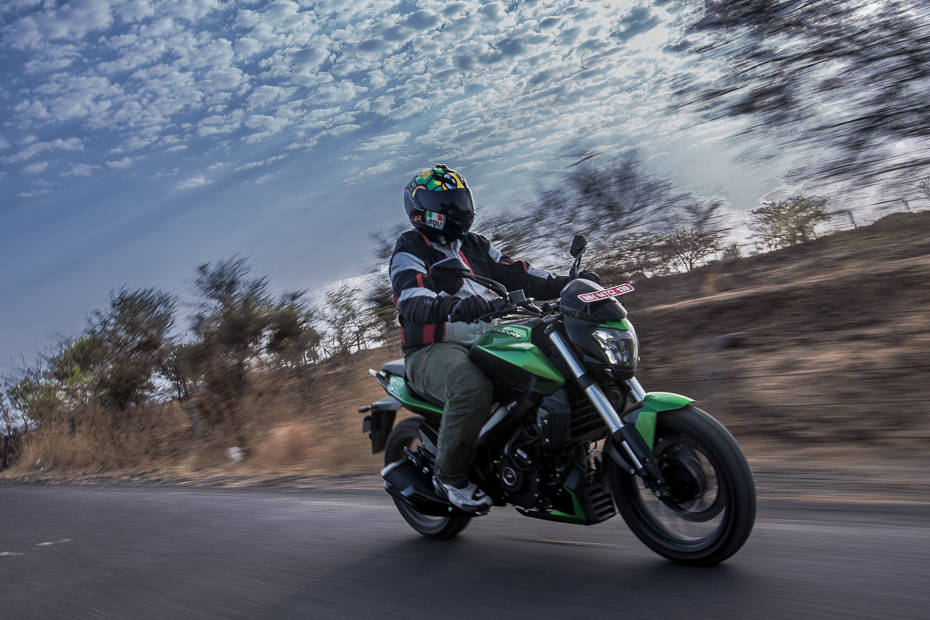 | | | |
| --- | --- | --- |
| | 2019 Bajaj Dominar 400 | Royal Enfield Himalayan Fi ABS |
| Specs | 373cc single-cylinder DOHC liquid-cooled | 411cc single-cylinder SOHC air-cooled with oil-cooler |
| Power | 40PS @ 8650rpm | 24.84PS @ 6500rpm |
| Torque | 35Nm @ 7000rpm | 32Nm @ 4250-4500rpm |
| Gearbox | 6-speed with slipper clutch | 5-speed |
| 0-60kmph | 3.0 seconds | 4.54 seconds |
| 0-100kmph | 7.38 seconds | 11.86 seconds |
| 30-70kmph in 3rd gear | 3.73 seconds | 5.81 seconds |
| 40-80kmph in 4th gear | 4.70 seconds | 7.32 seconds |
It is not surprising that the Dominar outclassed the Enfield in every department in our performance tests. The power deficit of the Himalyan forces you to do everything that much slower. And although it might not be the more tractable option of the two, it certainly is the easy-going option. Also, thanks to fuel injection, the 410LS motor has a more linear power delivery now. This, in turn, has helped in cutting down those heavy-hitting thumps of the old carb version. However, it does struggle to get to 100kmph and does not like it much when you try to go faster. It is the happiest when you are cruising at 90kmph.
Not only does the Dominar sit comfortably at 100kmph in sixth gear, but it also has enough drive to get going beyond 120-130kmph. You can run a gear higher into the bends which is not the case with the Himalayan. It also has an extra gear and slipper clutch, both of which help its rideability. The vibrations from the motor still exist, but have been curbed significantly.
Ride & Handling

| | | |
| --- | --- | --- |
| | 2019 Bajaj Dominar 400 | Royal Enfield Himalayan Fi ABS |
| Frame | Perimeter type | Half duplex split cradle type |
| Front suspension | 43mm USD, 135mm travel | 41mm conventional forks, 200mm travel |
| Rear suspension | Preload adjustable monoshock, 110mm travel | Preload adjustable monoshock, 180mm travel |
With a KTM 390 Duke-sourced front-end, the new Dominar 400 does offer a better ride. The fat USD forks soak in the bumps well, but we are still not too happy with the rear monoshock. It still is a bit too stiffly sprung with a quick rebound setting. Of the two motorcycles here, the Dominar is the more corner-friendly motorcycle. But while it does turn in quickly, you cannot expect to throw it from one corner to the next easily. This is down to the vague steering (due to the large rake) and front-heavy nature of the motorcycle.

On the other hand, the Himalayan's long travel suspension soaks up the harshest of bumps. It offers a supple ride with the suspension tuned to perform brilliantly in our conditions. The large 21-inch wheel adds a lot of stability to the motorcycle, but it also means that steering it at speeds requires a bit of effort. On top of that, the knobby tyres do make the front feel a little wishy-washy if you get too aggressive in the corners - basically, it's a little difficult to figure out what the front tyre is doing when leaned over.

| | | |
| --- | --- | --- |
| | 2019 Bajaj Dominar 400 | Royal Enfield Himalayan Fi ABS |
| Front Brake | 320mm disc, four-piston radial caliper | 300mm disc, two-piston floating caliper |
| Rear Brake | 230mm disc, single-piston floating caliper | 240mm disc, single-piston floating caliper |
| 100-0kmph | 49.42m | 56.21m |
| 0-60kmph | 17.38m | 20.74m |
Sponginess and lack of brake feel continue to plague the Himalayan's braking. As a result, the stopping distances are far too high. While the ABS is calibrated to suit its off-road riding capabilities, the safety aid just fails to inspire more confidence while braking. And though the Dominar does stop earlier than before, thanks to new radial calipers, lever feel is still amiss.
Manageability
| | | |
| --- | --- | --- |
| | 2019 Bajaj Dominar 400 | Royal Enfield Himalayan Fi ABS |
| Seat height | 800mm | 800mm |
| Ground clearance | 157mm | 220mm |
| Kerb weight | 184kg | 194kg |

We have always been in awe of how well packaged the Himalayan is. The upright seating posture gives you a good commanding view of the road ahead, with wide, flat handlebars giving you a great grip when it comes to steering. Our test bike came fitted with Royal Enfield's Genuine Motorcycle Accessories (GMA) which included a braced-bar and thick, heavy bar-end weights. The heavily padded seat allows you to spend hours in the saddle at a stretch, without any bother. The narrow, compact dimensions allowed me (height - 5ft 10in) to plant my feet flat on the ground quite easily and even shorter riders will not face any issues.
The Dominar, however, makes its weight felt. Despite being 10kg lighter than the Himalayan, it feels large and tedious to manage at slow speeds. You have to have great upper body strength when taking slow-speed turns - first to turn the handlebar towards the direction you want to go, and then to straighten it up again after that. The front just feels like it has a lot of inertia at slow speeds. Its weight is also felt when you are moving the bike around the parking lot. The wide fuel tank and seat force you to spread your legs wide. As a result, I could only get the balls of my feet down on the ground even though the seat height itself is as low as the Himalayan's. Shorter riders might face a bit more hassle in this regard.
Touring

Given that both of these motorcycles have been pitched to the masses as tourers, we had to talk about their touring abilities. If going fast and sticking primarily to the road are your primary lookouts, the Dominar is the apt choice. The revised tuning of the motor allows you to sustain highway speeds without a fuss. If you were planning a sprint down from Pune to Goa, we would definitely pick the Dominar. Plus, the strong braking performance would obviously come in handy, given our tricky road conditions.

However, if you are interested in venturing off the beaten path more often than not, the Himalayan makes a lot of sense. It might struggle to keep pace with the Dominar on the run down to Goa, but it would be great when you head up north and into the mountains, not just to Ladakh. Also, it lets you mount your luggage more efficiently thanks to better luggage mounting systems already available from Royal Enfield itself. And then, you could also mount auxiliary fuel tank/jerry-cans at the front for extra range.
Fuel Efficiency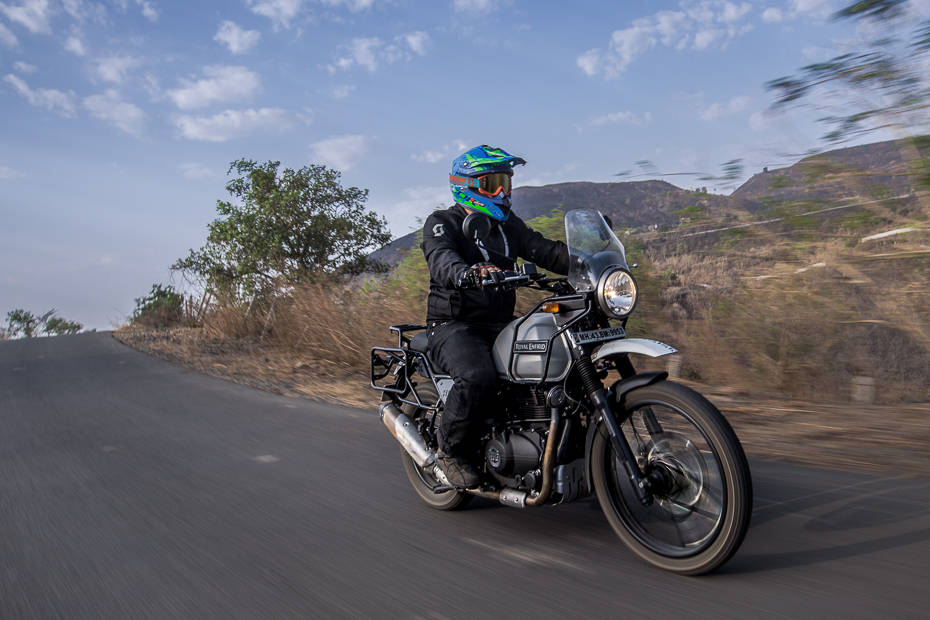 | | | |
| --- | --- | --- |
| | 2019 Bajaj Dominar 400 | Royal Enfield Himalayan Fi ABS |
| Fuel tank capacity | 13 litres | 15 litres |
| City | 25.59kmpl | 36.36kmpl |
| Highway | 32.29kmpl | 37.8kmpl |
As mentioned earlier, thanks to fuel injection the Himalayan has a linear power delivery now. This also translates into fantastic fuel efficiency. Be it in the city or out on the highway, the easy-going Himalayan proves to be a frugal choice. Plus that extra two litres help you stretch your ride by nearly 80km before a fuel stop and that's a lot.
Verdict

The 2019 Dominar is a significant update over its predecessor and the bump up to Rs 1.73 lakh (ex-showroom Delhi) is not that much more than before. It can do fast touring and city duties easily. However, we find it hard to recommend it over the Himalayan. The motor's inherent power disadvantage or lack of funky features are sorely missed when compared to the Dominar, but the Himalayan is still the one that appeals to your heart. It feels like a more focussed motorcycle that might not be a Jack-of-all-trades, but the things it can do, it does extremely well. And honestly, we found ourselves more willing to live with its shortcomings. So, the five thousand rupees that you pay extra for the adventure tourer is well worth it.