Piaggio India Flags Off First Edition Of Vespa Tours In Goa
Modified On Mar 20, 2019 By Gaurav Sadanand for Vespa LX 125
Besides kicking off the first of Vespa Tours, Piaggio India also inaugurated two new showrooms in the state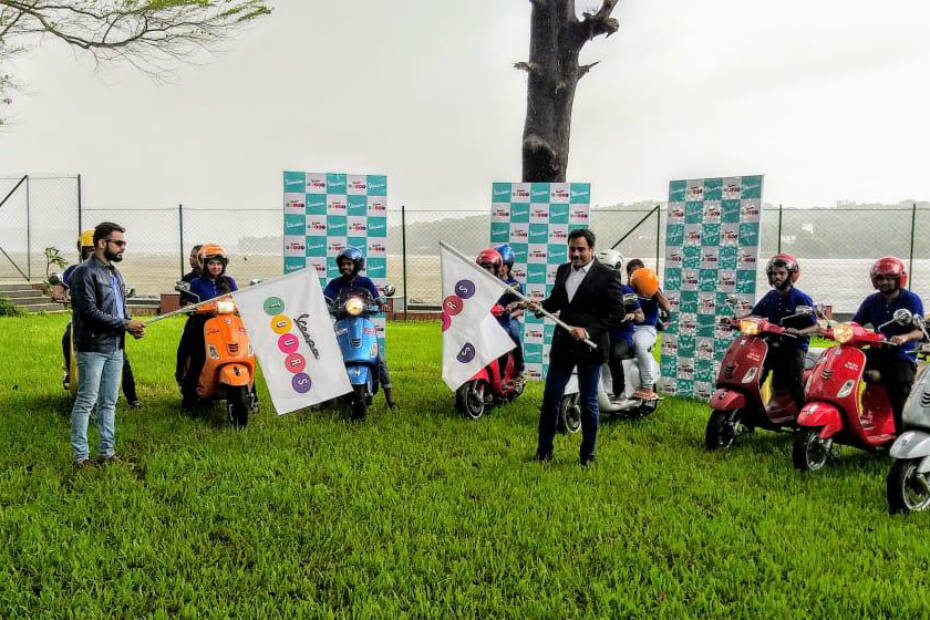 The Italian two-wheeler manufacturer opened two new showrooms in Margao and Bicholim, Goa on 18 July 2018. These showrooms mainly cater to the sales of Vespa and Aprilia range of two-wheelers from Piaggio's stable. Alongside the newly opened showrooms, owned by K.V Mototech, Piaggio also flagged off the very first edition of the Vespa Tours in Goa on 19 July 2018.
The tour gives participants a unique opportunity to ride a Vespa two-wheeler along scenic roads, and visit unexplored locations in Goa under the supervision of a tour guide. The schedule includes trips to Betul Fishing Jetty, Betul Fort, Talpona beach, Chinchinim Village and many more breath-taking locations Goa has to offer.

This pocket-friendly tour costs Rs 2,000 and is inclusive of helmets, fuel, experienced guide, a chance to enjoy authentic Goan food and go back with some Vespa goodies. All things considered, this makes for a pretty sweet deal taking into account that a tourist usually gets charged Rs 500 only to rent a bike in Goa, that too without fuel. Moreover, with this deal you also get a chance to visit a number of locations with a guide, aside from the above mentioned perks.
Here's Piaggio's official statement about the same:
Press Release -
Piaggio India brings first edition of Vespa Tours to India
To explore the unexplored Goa on stylish Vespa
19th July 2018: Piaggio India flagged off the very first edition of Vespa tours in Goa in collaboration with Piaggio 2W Dealer K.V Mototech in Goa. This guided tour gives participants a distinctive opportunity to ride the stylish Vespa along the scenic and peaceful roads and visit the unexplored locations in Goa.
Mr. Ashish Yakhmi, Head- 2W business along with Mr. Mangurish Kunde, proprietor of K.V Mototech, flagged off this first-of-its-kind tour to be held in India. The day long fun-filled Vespa tour offers participants the Vespa riding experience, in fascinating journey that lets them 'Live More', while traversing Goa's quaint and unexplored beauty.
Goa is one of the most popular tourist destinations among Indian as well as foreign tourists. Majority of them prefer to visit the widely known places. Through this tour, the aim is to provide travellers with an extraordinary and authentic experience of brand Vespa & to gain perspective into the local culture. The destinations and the courses taken will be unlike any other; with an unique itinerary.
Vespa Tours is for travellers who want to discover new destinations at an exciting pocket-friendly package. The experience tour is available at an affordable price of INR2000 which includes helmets, fuel, experienced guide, a chance to partake of authentic Goan Food and exciting Vespa goodies. The itinerary includes trips to Betul Fishing Jetty, Betul Fort, Talpona beach, Chinchinim Village and many more breath-taking locations Goa has to offer.
18th July 2018: Piaggio Vehicles Pvt Ltd, has today announced the opening of new dealerships for its iconic Vespa and sporty Aprilia in Margaon and Bicholim, Goa. New showrooms offer various products under the Vespa and Aprilia SR range.
The new dealerships with 1700 sq. ft. and 1000 sq. ft. showrooms have been designed keeping in mind the lifestyle and premium experience which reflects the Italian heritage of the brands. Equipped with the best customer service, quality and experience, dealerships aim to reach out to maximum customers in Goa.
On the occasion, Mr. Diego Graffi, CEO and MD Piaggio India expressed "New dealerships resonate the style quotient of both Vespa and Aprilia brands and would offer its customers extraordinary experience in the area of sales and Customer Service".
Mr. Mangureesh, proprietor of KN Mototech and Mr. Prasad, proprietor of SPK Autolink said, "We are pleased to associate with Piaggio and offer their world class, premium products to our esteemed customers, with the Aprilia and Vespa we will deliver not only world class premium products but also extraordinary service to the aspiring youth, who is not only dynamic but also embrace international culture and are upwardly mobile".
The new dealerships were inaugurated in presence of Mr. Ashish Yakhmi, Business Head, Piaggio 2 Wheelers.