Ather 450X Electric Scooter Launched
Modified On Jan 29, 2020 By Praveen M. for Ather 450
The 450X is more powerful and feature-laden than the standard 450
The Ather 450X offers better range thanks to a new battery pack.
The motor has been tweaked to offer more power.
Gets better connectivity features.

After a bunch of teasers, Ather Energy has finally launched the 450X priced at Rs 99,000 (ex-showroom, Bengaluru) and Rs 85,000 (ex-showroom, Delhi), including subsidy. The updated electric scooter is not only priced better but also offers better connectivity features, a bigger battery pack and a slightly more powerful motor compared to the standard 450.
Thanks to a new battery pack (2.9kWh, usable) the Ather 450X now delivers better claimed real-world range -- 70km in Ride mode and 85km in Eco. The Ather 450, for reference, comes with a real-world range of 55km in Sport mode, 65km in Ride mode and 75km in Eco mode. What about outright performance? Though the 450X tops out at 80kmph (same as before), its motor (now 6kW) has been tinkered with to provide better torque -- 26Nm compared to 20.5Nm on the standard 450. The scooter even gets a Warp mode which according to Ather improves acceleration considerably.

Performance aside, the 450X delivers in spades when it comes to connectivity features. While it gets smartphone connectivity, navigation and over the air (OTA) updates like the standard model, it claims fewer bugs and has a more seamless and stable user interface. The operating system has also been upgraded from the previous Linux OS to Android and the processor has been updated from 1Ghz to 1.3Ghz, resulting in a 30 per cent faster processing speed. Not only this, the 450X comes with 4G connectivity via an electronic sim card in place of the previous 3.5G connection, allowing users to change service providers as per their convenience. The Ather 450X feature list is way too long to note here but we've covered it comprehensively in our first ride review.

There's a change in subscription packs as well. The Ather 450X gets two of them -- Pro and Plus. Customers need to pay Rs 1,699 every month for the Plus Pack and Rs 1,999 for the Pro package. That said, customers can change the monthly package according to their needs. Essentially, if you opt for the Pro pack but desire the experience of the Plus pack for a few days, you can switch to the premium bundle by just paying the difference. What needs emphasis is the part where customers are obligated to purchase either one of the packs along with the aforementioned price of the scooter. That said, if you don't want to get into the hassle of paying a recurring amount every month, you could buy the Ather 450X at an upfront cost of 1.49 lakh or Rs 1.59 lakh (both ex-showroom Bengaluru prices including subsidy) which includes the Plus and Pro plan respectively. The upfront cost also covers 3 years of battery warranty. To add to this, Ather says it will roll out new packs for the customers in the future.
Interestingly, the 450X is 11kg lighter than the 2018 model (118kg, kerb). Ather was able to pull this off by reducing weight near the dashboard area and optimising the overall electronics packaging.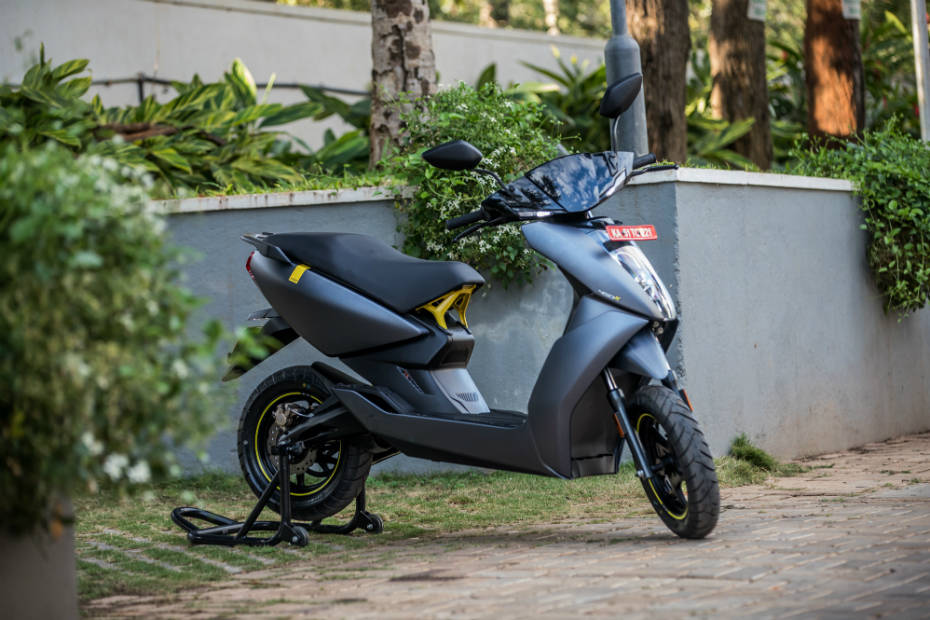 The 450X's 12-inch wheels come wrapped in 90-section MRF tyres at both ends. However, Ather offers chunkier TVS Remora tyres (100-section front and 110-section rear) as an option, which should offer more grip and stability. It continues to use the same braking setup as before -- a 200mm petal disc brake up front and a 190mm petal disc at the rear.
More importantly, the 450X has resolved one major drawback of the previous-generation scooter: availability. It is available in 6 cities: Chennai, Bengaluru, Hyderabad, Pune, Delhi and Mumbai. Invite-based pre-orders are still running in cities like Ahmedabad, Kochi, Kolkata and Coimbatore. Ather says the scooter will be sold in those cities via partner businesses and not dealerships.
For those who are worried about charging infrastructure, the startup promises that at least a dozen charging stations will be up before it enters the newer cities. Speaking of its delivery timeline, Ather says it will commence pan-India from July onwards and general pre-orders will open soon.
While the scooter works well for tech-savvy enthusiasts, it remains to be seen as to how it will allure buyers who are not that interested in technology but still want a capable electric scooter. To up the style quotient, the Ather 450X is available in three new colours schemes: white, grey and green. It competes against the Bajaj Chetak electric and the recently-launched TVS iQube Electric scooter.