Hero Destini 125: Pros, Cons, & Should You Buy One?
Published On Jul 12, 2019 By Alpesh Rajpurohit for Hero Destini 125
The Destini 125 is the most affordable 125cc scooter out there. But still, is it worth your attention or are you better off with something else? We find out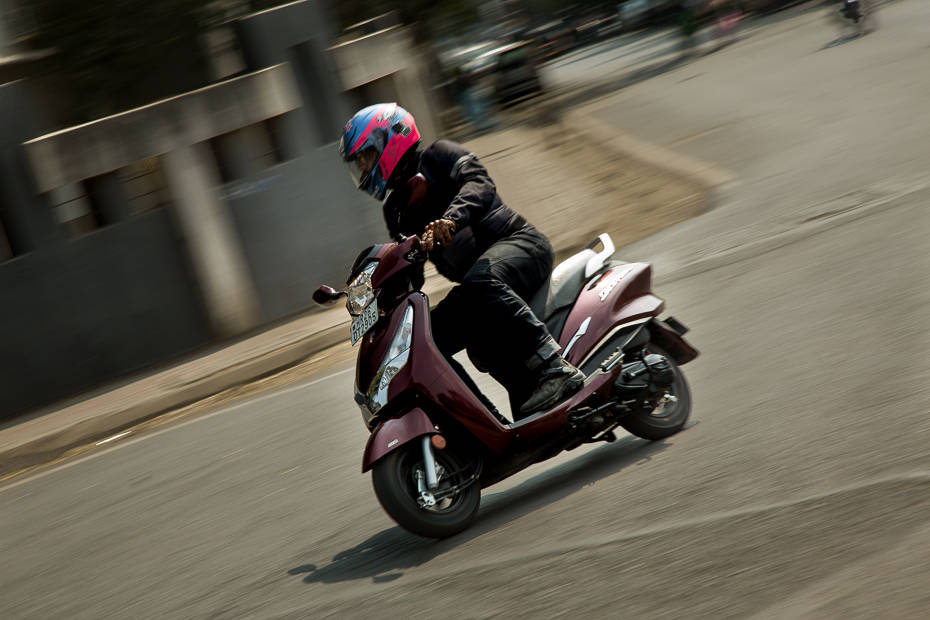 There are several 125cc scooters in the market right now and to stand apart in this competitive segment, one needs to have a unique element. And that's what the Destini 125 did with its i3S technology, a first-in-segment feature. So, is there more to the Destini 125 than one nifty feature? More importantly, should you buy one or are you better off with another 125cc scooter? If that's the question that's been bugging you, here are the advantages and disadvantages of the Destini 125, which should make your final decision easier.
Pros:
The most affordable 125cc scooter in India
The Destini 125 starts at Rs 54,640 (ex-showroom Delhi), making it the cheapest 125cc scooter in India. At this price, it undercuts the Honda Activa 125 by around Rs 7,000 and is on par with its main rival, the Suzuki Access 125, which is priced at Rs 55,666.
Follows a conventional design
Unlike the Maestro Edge 125, which has a funky design, the Destini 125 has a simple and mature design which works in its case as it is positioned as a family-oriented scooter. Additionally, the chrome treatment on the front and on the side body panels add a touch a premiumness to it.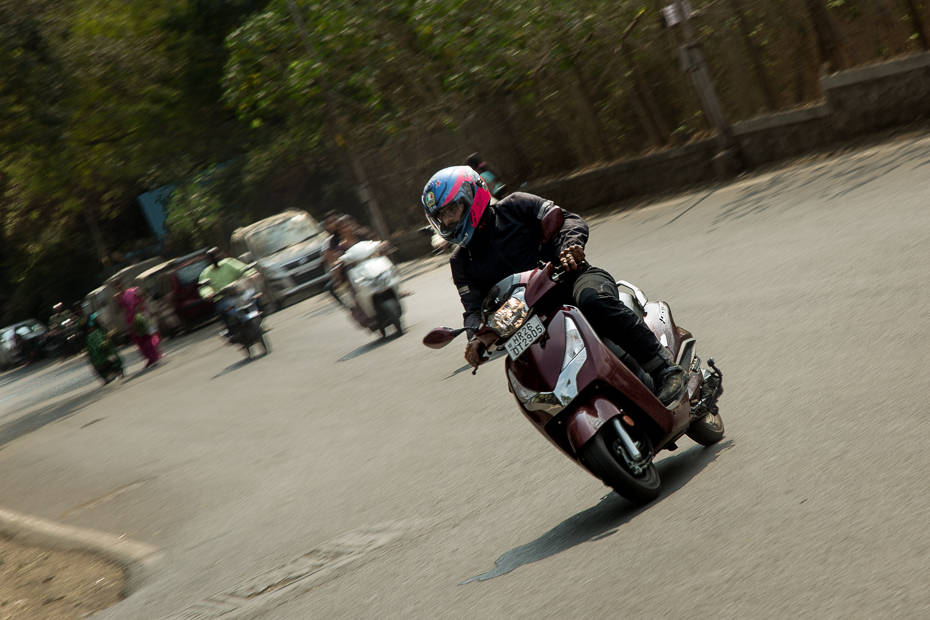 It is faster than it looks like
Don't get fooled by its conventional looks, the Destini 125 does have a hint of sportiness in it. In our test, the Destini 125 did the 0-60kmph run in 9.27 seconds, just 0.07 seconds slower than the Access 125. And when it comes to roll-on acceleration, the Destini goes from 20-50kmph in 4.61 seconds, which is 0.04 seconds quicker than the Access 125.
Cons: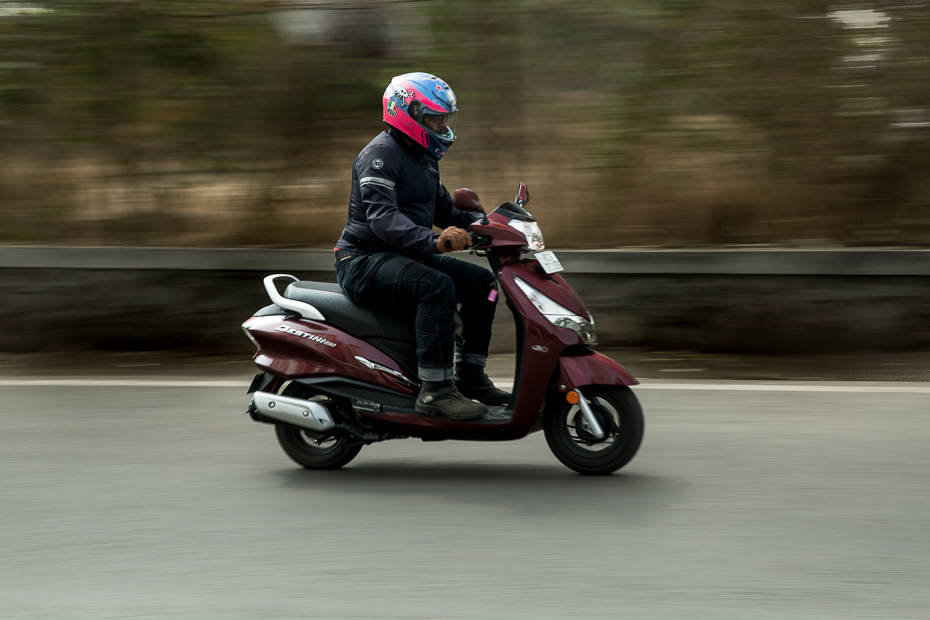 Lack of 12-inch tyres
While most of the 125cc scooters out there are equipped with 12-inch wheels, the Destini 125 rolls on 10-inchers. Don't get us wrong, these 10-inchers are pretty good at absorbing small bumps but we would've appreciated it if the scooter came with 12-inch wheels, which would've made the ride quality more pleasant and given it better stability.
The i3S feature is pretty unreliable
We've already seen Hero's i3S technology being used in its motorcycles; however, the Destini 125 is the company's first as well as India's first scooter to get this start/stop technology. This feature increases the scooter's fuel efficiency by 10 per cent (claimed). However, in our test, this feature did not help us achieve what we had hoped for. While the Destini returns 48.36kmpl in the city, the Suzuki Access 125 returns 51.3kmpl.
The suspension setup is on the firmer side
If you live in an area filled with potholes, the Destini 125 might not be your perfect choice. Sure, its conventional suspension setup will absorb small bumps with ease. However, if you encounter any sharp bumps, then it might be a bit problematic for you.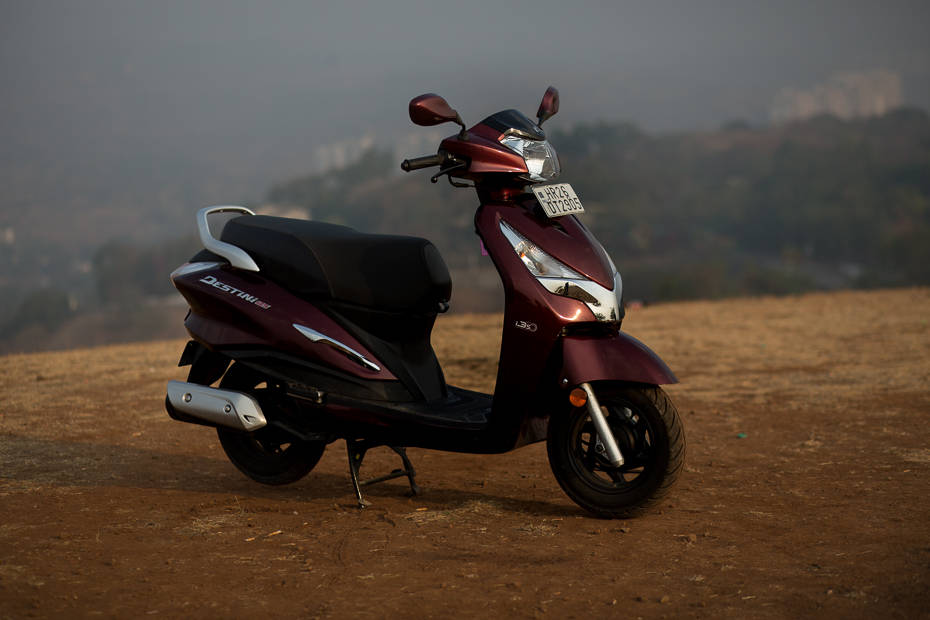 So, should you buy one?
No.
It's the cheapest 125cc scooter in India right now and will be cheaper to maintain as well. But if you are looking for a scooter which looks ace, performs well in the city and doesn't give a backache every time you go over a pothole, the Destini 125 isn't the one for you.