Kawasaki W800 Road Test Review
Published On Oct 16, 2020 By Zaran Mody for Kawasaki W800 Street
Can the Japanese deliver on an authentic British twin experience?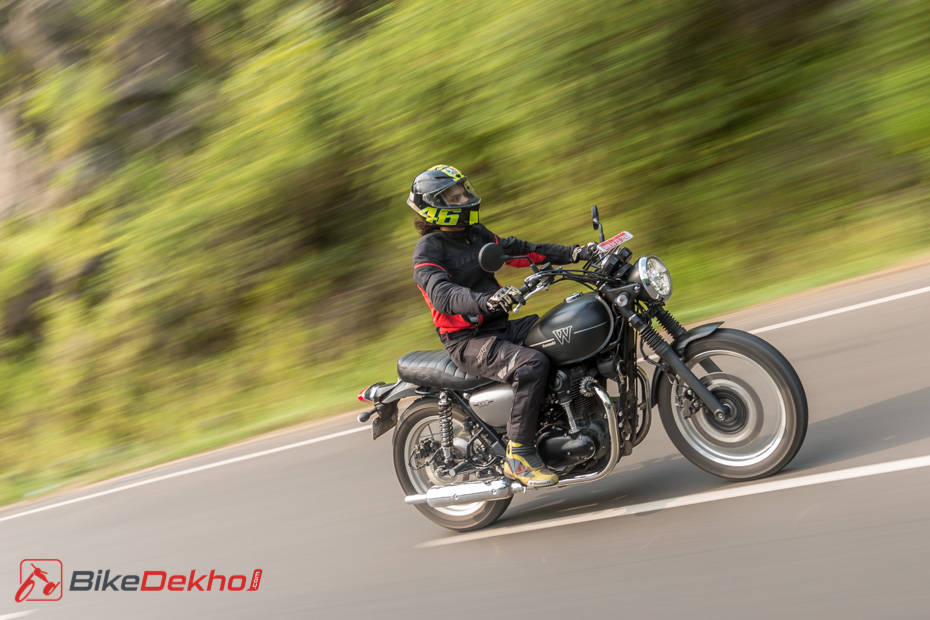 The motorcycle industry is a puzzling thing. Today, we're seeing manufacturers take two rather conflicting directions. On the one hand, bikes are becoming more and more modern, packed with ever more technology, equipped with IMUs, TFT displays, all sorts of electronic wizardry and MotoGP-inspired winglets. While on the other hand, there has been a massive boom in the sale of neo-retro motorcycles. Almost every single manufacturer around has tried its hand at creating these pseudo-vintage motorcycles. Kawasaki is no exception, with its most authentic attempt being the delightfully retro W800 parallel-twin. Today, we're going to find out if the land of the rising sun has mastered the art of the British twin.
Pros
Refined, tractable engine.
Very manageable thanks to low seat height, wide handlebars.
Relaxed, comfortable seating posture.
Cons
Quality levels not up to the mark.
Reliability issues faced during the test.
Too expensive for the bike that it is.
Standout Features
Neo-retro LED headlight looks smart.
Lovely swept-back beach bars feel great to hold.
Decently large 15-litre fuel tank.
Design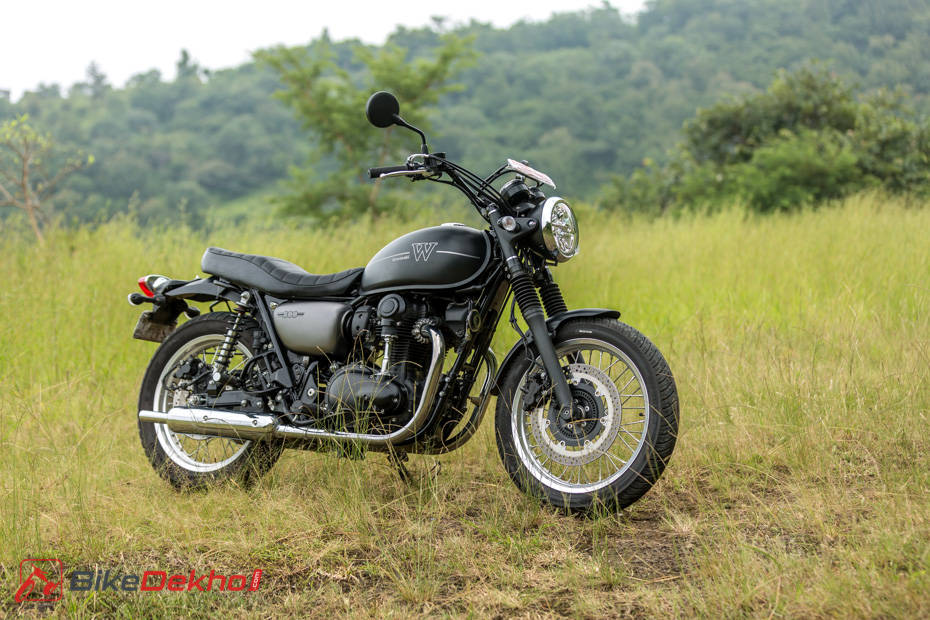 As soon as the words 'modern classic' are mentioned, you can bet your life savings the bike is going to have a round headlight. The W800 remains true to form, with a neat-looking LED unit. This may just be the best headlight in the world. Or it may just be the worst. We have no idea because it was never pointed at the road ahead, instead choosing to illuminate the lower portion of the night sky. You might say this seems like a simple DIY fix, but the aim of the headlight was one of many much larger issues that we faced on our bike during the test, as you'll find out over the course of this review, robbing us of any time to try and fix it.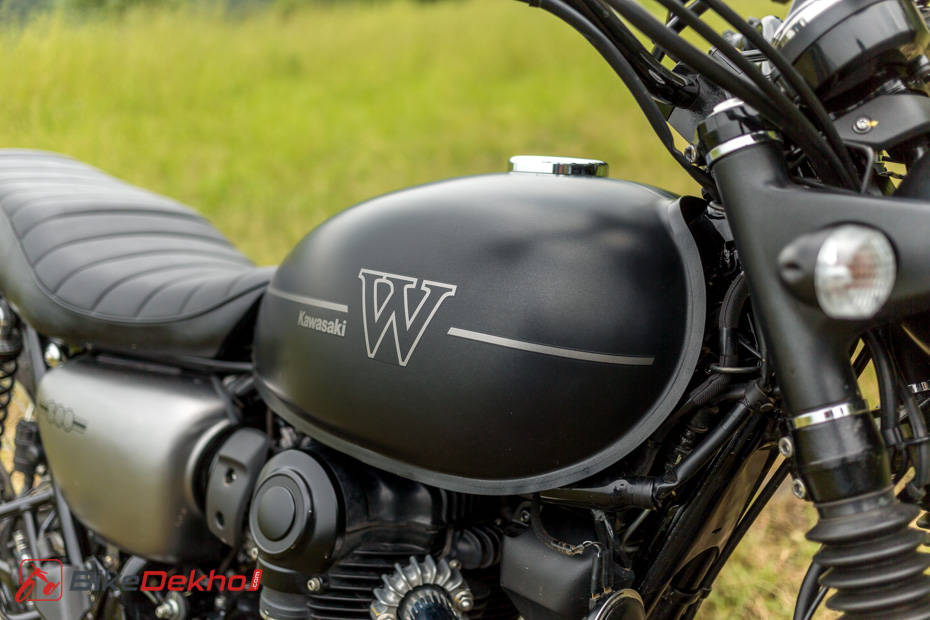 The voluptuous 15-litre fuel tank adds a lot of mass to the bike and contributes wonderfully to the modern classic look, as do the wire-spoke wheels, fork gaiters, slightly-stepped seat, and side panels. This genre of bike wouldn't be complete without twin exhaust pipes, and Kawasaki has given the W800 a set of gorgeous chrome pea-shooters to do the job. The other chrome tube on the engine encloses the shaft that drives the overhead camshaft, but we do wish the motor wasn't so black-washed. In fact, we wish the entire bike wasn't. Kawasaki only offers this one matte black/grey colour option which doesn't really do the design justice. The brand would do well to offer some livelier paint jobs.
Ergonomics

This bike has no business tearing up a racetrack so it doesn't need a sporty riding position. We're glad to see Kawasaki offer an extremely comfortable seating posture on the W. At just 770mm off the ground, climbing onto the seat and picking the bike upright is a doddle. The wide beach-style handlebars are swept back towards you as if served on a platter, resulting in an extremely upright position for the rider. Combine this with the comfy mid-set footpegs, and you end up with a bike that you can saddle all day long without any complaints.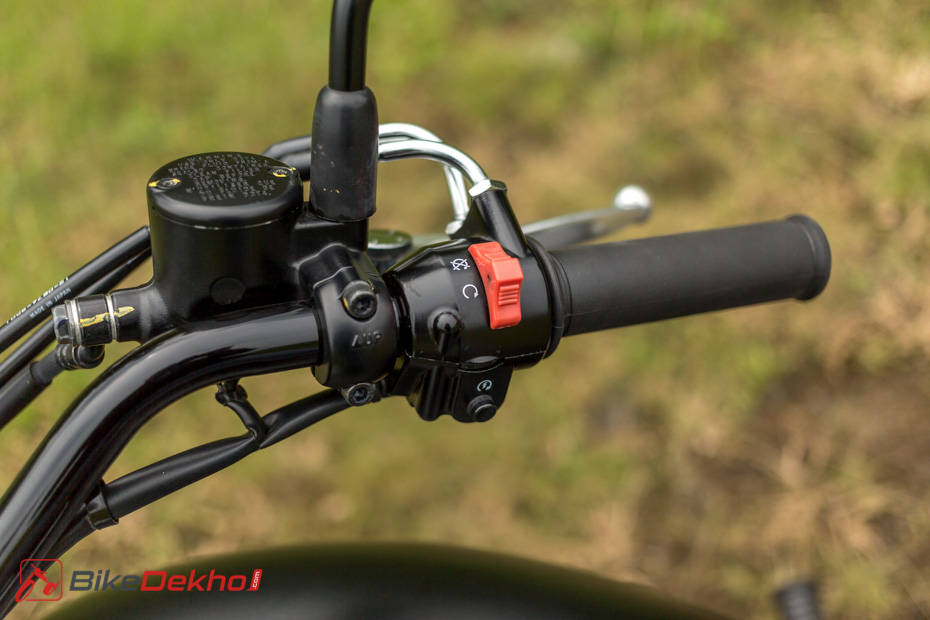 Kawasaki has displayed attention to detail by giving the W some properly old-school switchgear, but unfortunately, the quality levels also felt a bit old school. For a bike that costs Rs 7 lakh (ex-showroom), this was more than a bit disappointing.
Technology & Features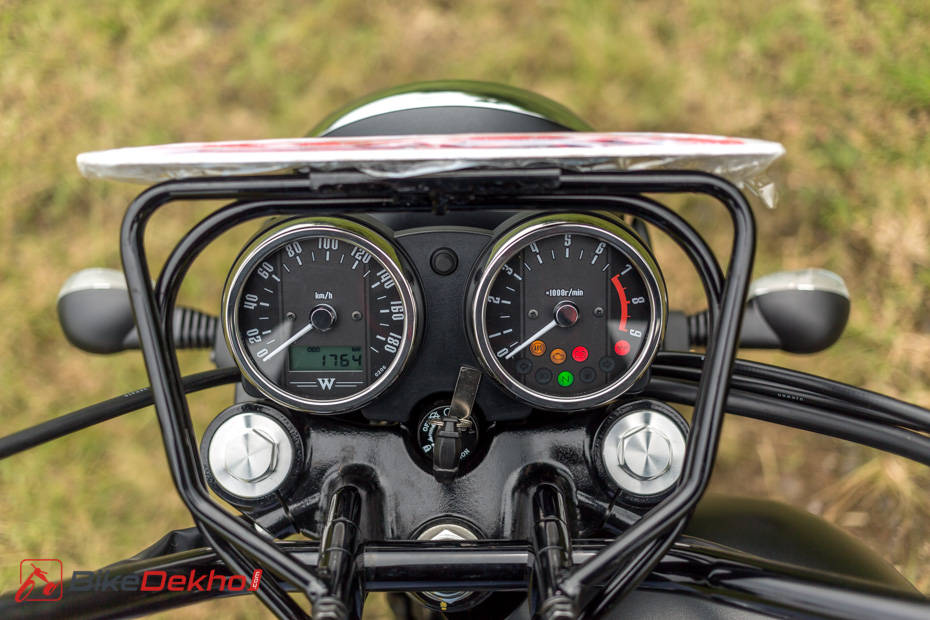 Like I mentioned in the introduction to this review, this is the other direction that manufacturers are taking, so the W800 isn't packed with features and it doesn't really need to be. The basics are in place: a fuel-injection system, dual-channel ABS, a speedometer and a tachometer (both analogue). Kawasaki has also thrown in a small, basic digital display that shows you the odometer, trip-meter and time. The analogue tacho is also where the warning lights are housed, and we saw almost every single one of these flash up at us at some point during our test, often multiple at a time.
Engine & Performance

In a world full of triples trying to behave like twins and twins trying to behave like singles, the Kawasaki W800 unabashedly uses an old-school 360-degree firing order, just like the good ol' British twins. What this means for you is that the 773cc parallel-twin motor belts out a glorious, barky, buzzy song with pops and bangs on the overrun for good measure. None of that thrummy Interceptor 650 nonsense. It's also undersquare, which is something of a rarity these days, and it's all the better for it. The 62.9Nm torque figure from the long-stroke motor might not sound like much, but when so much of it is available so early in the rev range, the bike feels sprightly enough. And thanks to the 52PS being spread so evenly, Kawasaki could give the bike tall gearing, meaning that five cogs are enough to get the job done. 100kmph sees the motor purring along at 3600rpm in fifth with bags of performance left in reserve.
| | |
| --- | --- |
| Engine | 773cc, air-cooled, SOHC 8-valve, parallel-twin engine |
| Power | 52PS @ 6500rpm |
| Torque | 62.9Nm @ 4800rpm |
| Gearbox | 5-speed |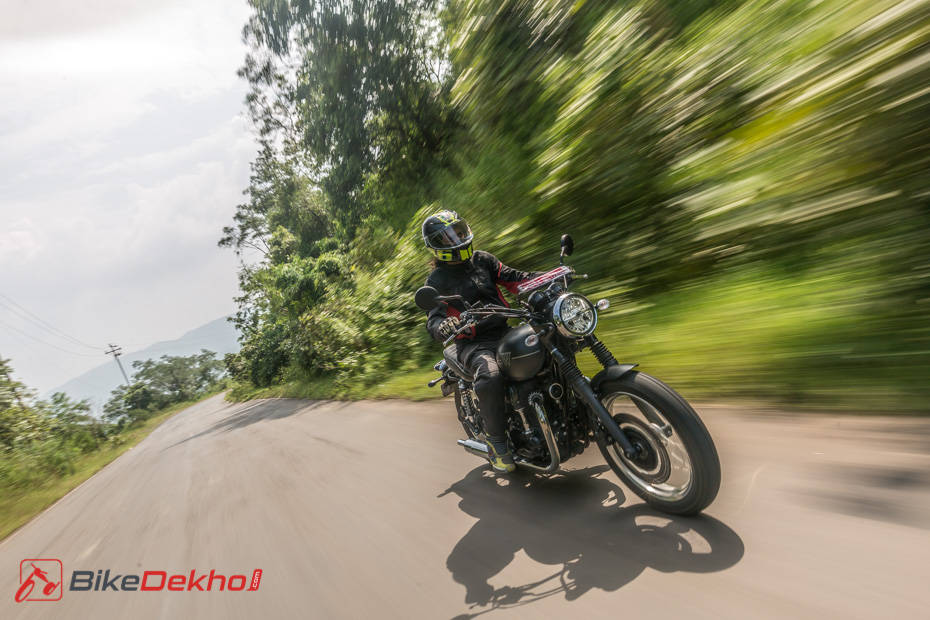 Don't be mistaken, this isn't a quick bike by any stretch of the imagination. There's 224kg of mass for that engine to pull around, so its actual acceleration figures aren't that much quicker than something like an Interceptor. But the W800 effortlessly goes about speed, relentlessly building momentum like a diesel locomotive. In almost any gear at any rpm, there's enough grunt to pull you around, making this quite a stress-free city commuter too. Fuel efficiency figures are quite reasonable for a near 800cc twin. As and when you do need to shift gear, the 'box makes the trademark clunky sounds but feels smooth and precise.
| | |
| --- | --- |
| City Fuel Efficiency | 21.14kmpl |
| Highway Fuel Efficiency | 29.68kmpl |
| Fuel Tank Capacity | 15-litres |

Unfortunately, our test bike came plagued with electronic issues, the most irritating of which was the failure of the self-start system. We also had the check engine light illuminate a few times and the bike developed frequent misfires, often dying when left idling. When it wasn't dying, the idling speed sometimes shot up to 3000rpm with no accelerator input. As with many electronic issues, all this could be rooted in something as simple as a contact issue, but the fact that Kawasaki didn't double-check these things before handing the W over to us has left us a bit disappointed. Nobody who's paid close to Rs 8 lakh for his motorcycle (approx on-road) wants to be stranded on the side of the road, having to push his quarter-of-a-ton motorcycle just to get it started.
Ride & Handling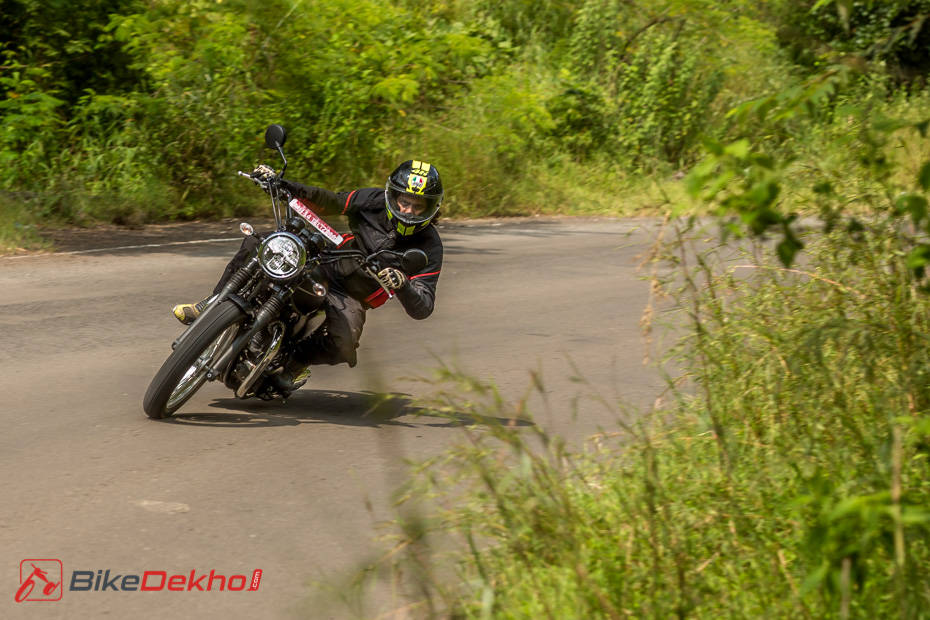 224kg kerb weight, 26-degree rake angle, 1465mm wheelbase. None of these numbers point to a corner-carving, apex-seeking missile. And the W800 is no lap-record breaker. But thanks to its wide bars, the Kawi isn't a completely uncooperative motorcycle either. It's got pretty neutral steering and doesn't require much effort to tip in, even if it is slightly slow to turn. And even though the spec sheet disappoints you by telling you about the MRF tyres, the rubber is quite decent and doesn't hinder your fun in the twisties. What will play spoilsport, is the cornering clearance. With the placement of the footpegs and just 130mm of ground clearance, the W is quick to scrape its pegs once the pace starts getting hot.
| | |
| --- | --- |
| Frame | Double downtube cradle frame |
| Rake/Trail | 26 degrees/94mm |
| Wheelbase | 1465mm |
| Ground Clearance | 130mm |
| Kerb Weight | 224kg |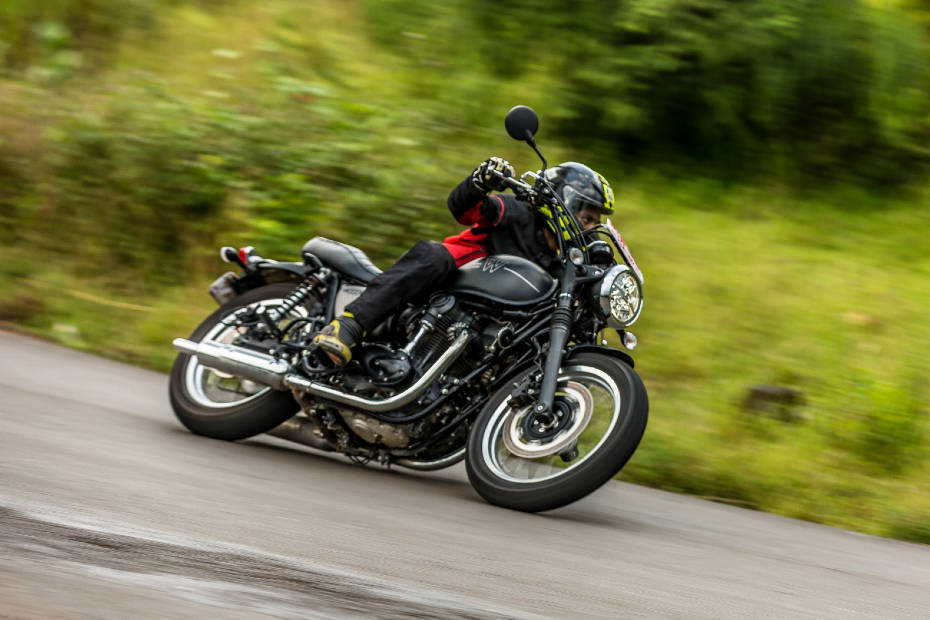 When you're not hammering up a mountain, the big ol' Kawasaki actually rides quite well. 18-inch wheels and 130mm of front suspension travel means that most bumps are absorbed pretty well. And even though 107mm of rear suspension travel doesn't sound like much, the bike never felt stiff or uncomfortable. That's not to say it was soft and wallowy either; the W remained composed at all speeds while isolating the rider well from road imperfections. The only thing you will have to worry about is the 130mm of ground clearance. Better slow down for those speed breakers.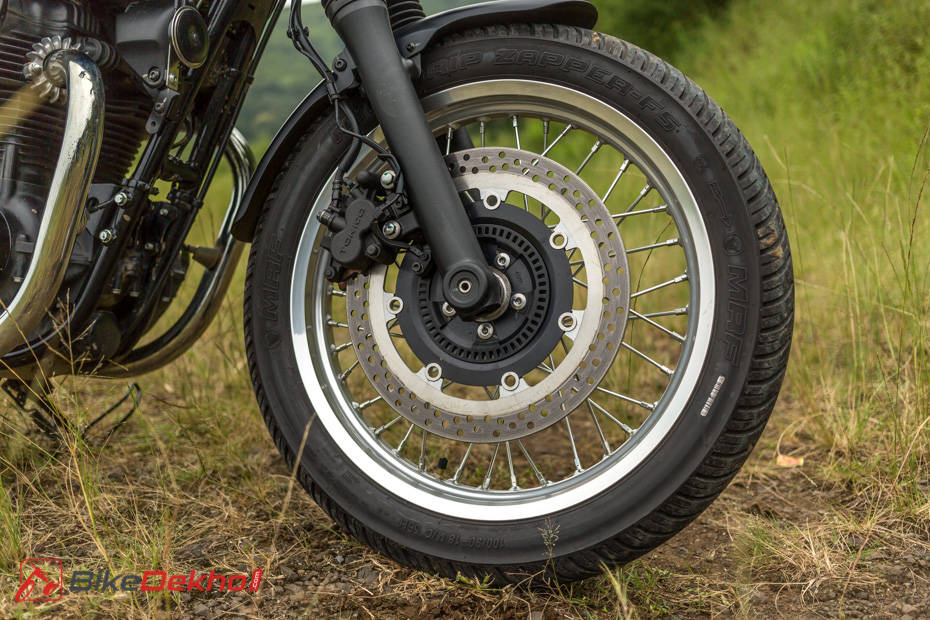 To do that, Kawasaki has given the W800 a single 320mm front disc and a rather large 270mm rear disc. Doesn't sound like much on paper, but they're up for the job. The rear disc especially offers a significant amount of stopping power, and when you need to drop anchor in an emergency, the bike stops from 100kmph in roundabout 50-51 metres. But this is only possible when the brake calipers are attached to the bike, which wasn't always the case with us. One of the front brake caliper mounting bolts actually came loose while riding the W800, and of all the thousands of bolts on the motorcycle, this is probably the last one you want coming loose.
Suspension
F: Conventional Telescopic Fork, 130mm Travel
R: Twin Shock Absorbers, 107mm Travel
Brakes
F: 320mm Disc, Twin-piston Caliper
R: 270mm Disc, Twin-piston Caliper
Tyres
F: 100/90-18
R: 130/80-18
Verdict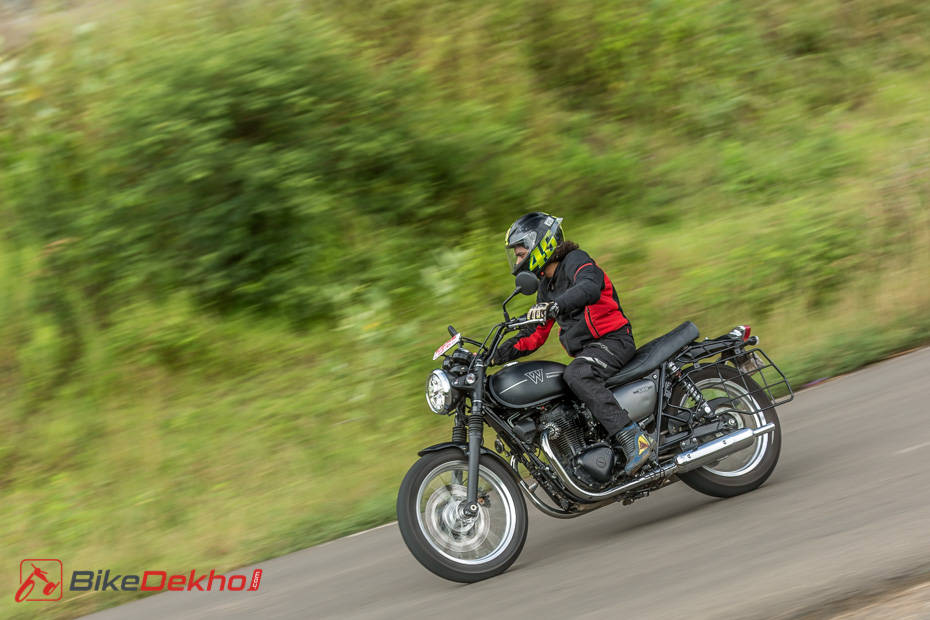 The Kawasaki W800 does quite a few things quite well. It's got a creamy smooth and extremely tractable, great-sounding motor, the seating posture and ride quality are very comfortable, and it isn't a nightmare around bends either. As a result of which it's a pretty great motorcycle both in the city and out on the highway. So you should buy one then, right?
Well, not quite. Because buying one means shelling out the Rs 6.99 lakh (ex-showroom) price tag, which we find a little difficult to justify. Partly because of the quality and reliability issues that we faced on the bike, partly because a bit more cash will buy you into the more well-rounded and versatile Triumph Bonneville range, and partly because a lot less cash will get you an Interceptor 650 that does the W800's strengths nearly as well while eliminating a lot of its weaknesses.