Ride Experience: 360 km, 1 Day and a 6 year Old Yamaha FZ-16
Modified On Oct 30, 2018 By Naveen Soni for Yamaha FZ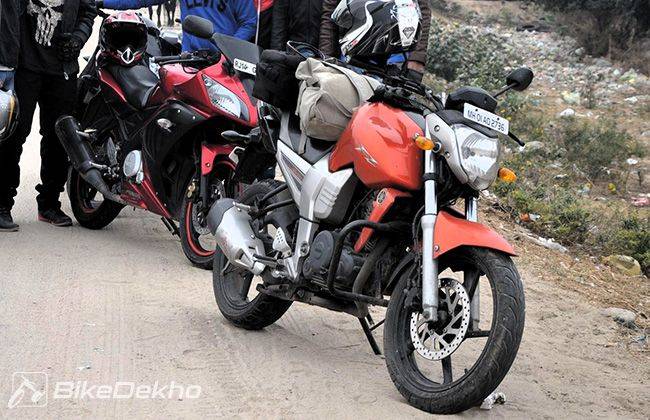 It was Saturday and we didn't want to spend it like a usual day. So, team BikeDekho planned a one day ride from Jaipur to Mandawa and return. My fellow riders were on Honda CBR150R, Yamaha YZF-R15 V2.0 and Bajaj Pulsar 135 LS, while I was riding a 6-year-old Yamaha FZ of a friend. The distance to be covered was 180 km in one side, that means we have to cover 360 km in a day. However, the route was the pleasant four-lane Reengus-Sikar road, which is a good straight stretch.
Also Read: 325 Kms and The Yamaha R15 - Travel Diary

First, let me tell you something about the place we got to explore that day. I was not much aware of Mandawa, except that it is a small town in Jhunjhunu district of Rajasthan, but now I'm glad that I got to visit that place. Mandawa is a part of Shekhawati region, which is popular for its Havelis, decorated with beautiful Frescoes. As you enter the town, you will hardly get to see a normal modern house there, because most of the buildings are a part of their cultural heritage.



Now let's come to the machine, the 2009 Yamaha FZ-16, which was the motorcycle I was going to ride. The first impression of the bike according to me was not so good. I took it from my friend and when I push started the switch, it began to vibrate. Then I asked him about the history of that motorcycle. He told me that the bike has already done more than 40,000 km and he hardly gets time to maintain it. The thing made me a little dicey about my bike selection, however, I thought to give it a try.



The long ride flagged off from Jaipur at 8 AM in the morning and the weather was so pleasant that time. I didn't face any problem in the motorcycle during start-up and it was doing well even over 80kmph. Our first stop was at 70kms from the starting point and we did that in just around an hour. Although, the FZ was producing some annoying vibrations, its stability was excellent on the road. Another annoying thing in the bike was its worn-out rear tyre, which was producing a whining sound while riding. Otherwise, the motorcycle was doing great on the stretch and we never left behind from the fellow riders.

Also Read: One Day, 350 kms and My Pulsar 135

If we talk about the looks, Yamaha FZ always stands ahead in the competition, especially the first generation model. But we were riding a bit faded bike instead of a brand new, shining one. Coming to the ergonomics, that was a joy ride and I was sitting in an upright posture with a wide handlebar. The only uncomfortable factor in the bike was the cushioning of the seat, which was not so good and I was just looking for a quick stop after every 40-50 kms.



The Yamaha FZ V1.0, which was the bike I was riding that day, comes powered by a 153cc, single-cylinder, air-cooled engine. The motor gets a carburettor type fuel supply system and according to the company, it churns out power up to 13.9bhp at 7,500rpm and its torque delivery goes up to 13.6Nm at just 6,000rpm. No doubt, it was a quick motorcycle with good low and mid-range output and capable of attaining a three digit speed (up to 109kmph). The fuel economy we attain was around 45kmpl. Again, I'm reminding you that it was a 6-year-old motorcycle, so a new one can perform better.



The suspension set-up of Yamaha FZ comes tuned on a little plusher side and it feels that elegant while riding the motorcycle. The bike has flat 43mm telescopic forks at the front and a 5-step adjustable monocross suspension at the rear, both of which worked fine during the whole ride. When the bike was launched way back in 2008, the biggest reason of its popularity was its massive 140/60 section rear radial tyre and that still is. Along with providing a better appearance to the bike, the wide tyre also helped to maintain a better grip and stability on the road.



Coming to the brakes, the FZ has a drum type brake unit on the rear wheel. Don't worry, the front wheel of the motorcycle gets a nice disc brake which has a decent bite on the plate. I felt that the performance of its braking system is quite satisfactory for a maximum speed the bike can attain.



Overall, Yamaha FZ can be a nice partner for your weekend rides and the reasons are the styling, riding position, decent performance and braking, plush suspension set-up and the chunky rear tyre. Still, there is space for improvements like performance when compared to its competitors and most importantly cushioning of the seat as it is a big issue for long rides.

Now, it was 5 PM and we decided to leave from Mandawa, so we can touch the straight highway for Jaipur before the sunset, and we managed to do the same. While riding at the night, the headlight of my motorcycle was producing enough illumination on the road and it was quite easy to see everything on the way. Our ride was about to end and I was quite happy with the bike's overall performance. Around 10 PM we reached Jaipur without creating any drama in the whole journey. It was really a nice 1-day ride and we were hardly feeling stress after riding for 360 kms. Tackling the Indian road infrastructure is a daunting task which requires your absolute attention and as an avid biker, nothing else can be as exhilarating.