Ducati Launches The Ludicrous Panigale V4 R In India
Modified On Mar 20, 2019 By Gaurav Sadanand for Ducati Panigale V4
The Panigale V4 R is priced at Rs 51,87,000 (ex-showroom India)
Gets a 998cc V4 motor that produces a staggering 220PS of power
The V4 R gets new aerodynamic winglets inspired from its MotoGP counterpart
The front frame has also been modified for sharper handling
Gets lightweight components, adjustable Öhlins suspension, an aluminium swingarm and forged Marchesini wheels
Weighs in at just 193kg, a whole 2kg lighter than the V4 S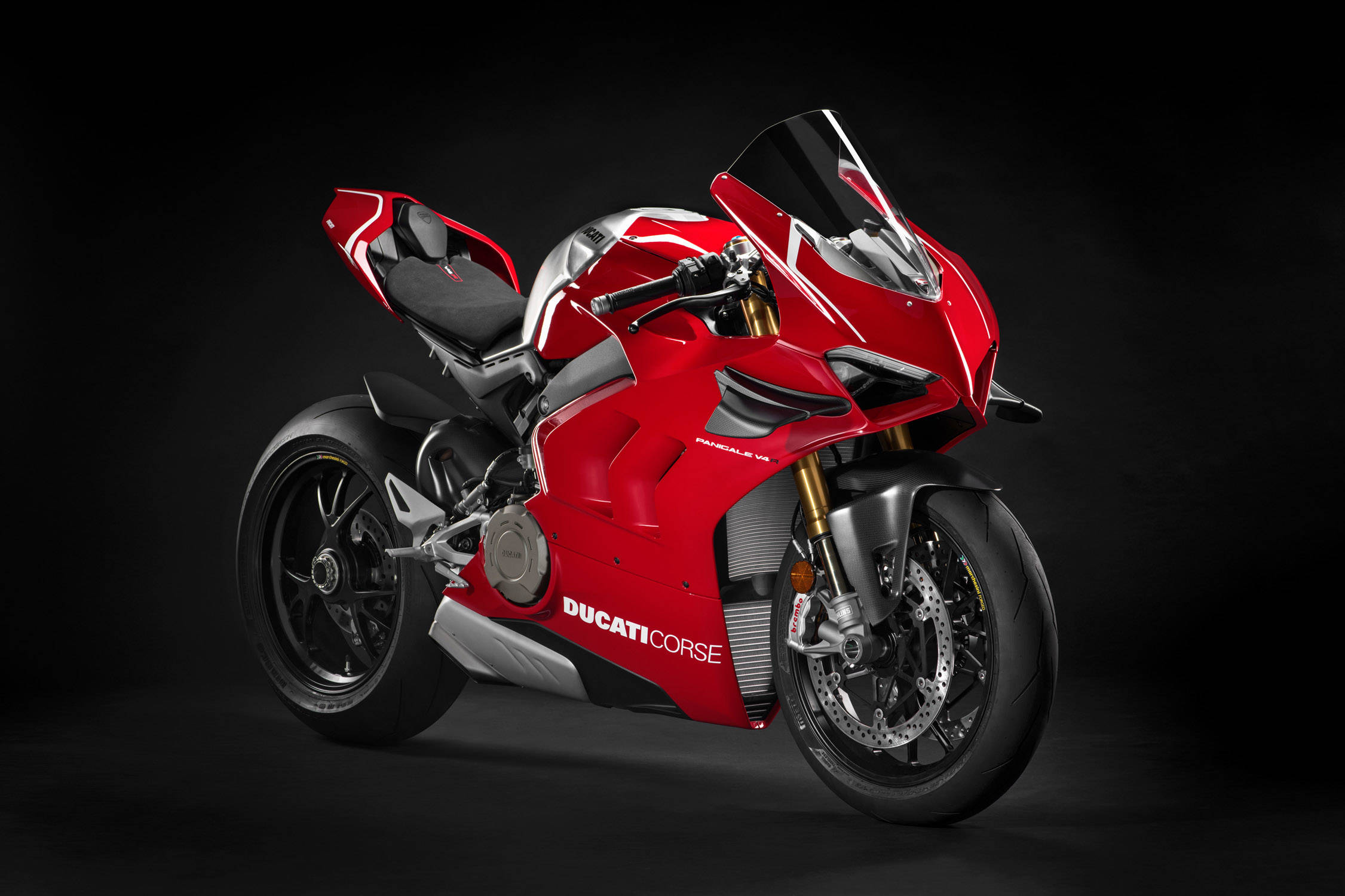 Ducati has launched the Panigale V4 R in India, priced at Rs 51.87 lakh (ex-showroom India). This uber-exclusive bike will have a limited run of only 5 units in India and bookings for the bike have commenced across all Ducati dealerships pan India. Deliveries will begin in the first quarter for 2019 for customers who've booked the bike before 30th November; for bookings post this date, deliveries will commence in the second quarter of 2019.

The Italian manufacturer recently switched from a V-twin to a V4 engine for their next-gen Panigales in order to extract more power. However, due to the WSBK norms which states that the engine displacement must be below 1000cc for a three- or four-cylinder bike, Ducati had to revise the motor to 998cc in order to comply with regulation. Nevertheless, the V4 R still puts out a whopping 220PS of power, making it the most powerful naturally aspirated road bike in the world.

Additionally, to keep the bike planted, the V4 R also features new aerodynamic winglets inspired from its MotoGP counterpart and a host of electronic rider aids. The bike also gets adjustable Öhlins suspension at both ends, an aluminium swingarm and forged Marchesini wheels. Thanks to this the bike now weighs in at 193kg, a whole 2kg lighter than the V4 S. Even the front frame has been stiffened to meet the standards set up by Ducati Corse. The Ducati Ducati Panigale V4 R is essentially a toned down version of the company's WSBK bike.
Here's the official statement from the manufacturer.
Press Release -
Panigale V4 R Ducati's most powerful production motorcycle launches here in India
• Ducati India launched Panigale V4 R at INR 51,87,000 (ex-showroom India)
• Bookings are currently open across all Ducati dealerships
21 st Nov 2018, New Delhi: Luxury motorcycle brand Ducati, today announced the launch of Panigale V4 R in India at an introductory price of INR 51,87,000 (ex-showroom India). Embodied with the maximum expression of Ducati values, racing-inspired livery and Ducati's racing DNA, the new Panigale V4 R is a symphony of emotions and the most powerful production bike ever. Panigale V4 R will be limited to 5 units in India and bookings for the motorcycle are now open across all Ducati dealerships in India. For bookings made before November 30, 2018, deliveries will commence in the early part of Q1 2019 – for all bookings post November, deliveries will begin in Q2 2019.
Sergi Canovas, Managing Director of Ducati said, " Riding on track is becoming more and more popular here in India. I myself saw firsthand some top talent participate at our DRE as well as the recent National cup. Panigale V4 marked an important era in Ducati's racing journey globally and Panigale V4 R is the true embodiment of Ducati values: style, sophistication and performance. After the overwhelming response of Panigale V4 in India, we are confident that the Panigale V4 R will disrupt the racing and riding experience of biking enthusiasts in India. Merged with the essence of the Panigale V4 S and Ducati's racing DNA, Panigale V4 R is an ultimate road-legal race bike which will definitely set a new paradigm in the motorcycle industry."
The Panigale V4 R is a road-legal WSBK category racing bike and constitutes the technical platform for the official Ducati Superbikes that will compete in the 2019 season. The 1,103 cm3 90° V4 engine has been replaced with the 998 cm3 Desmosedici Stradale R which brings it within the displacement limits established by WSBK championship rules.
The bike features a new fairing incorporating wings elements of MotoGP origin. It also has race-grade Öhlins suspension with mechanical adjustment and an aluminium swingarm with an adjustable four-position axle. Moreover, the Front Frame has been modified to achieve the stiffness targets set by Ducati Corse. Sophisticated electronic controls borrowed from the Panigale V4 S now have revised threshold levels to make them more compatible with pro rider requirements. The modifications extend far beyond the engine and suspension set-up: for the first time they also include an Aero Pack designed directly by Ducati Corse in close collaboration with the Ducati Style Centre to improve on-track aerodynamic efficiency.
Bookings for the new Panigale V4 R are now open across all Ducati dealerships in Delhi – NCR, Mumbai, Pune, Ahmedabad, Bengaluru, Kochi, Kolkata & Chennai.