Exclusive Interview with Syed Adil Kazmi - MTV Stuntmania Finalist
Modified On Oct 30, 2018 By Pradeep Shah
In a country like India, where stunt riders and motorcyclists are often seen with a negative eye, this man stood up for the biking community and opened India's First Stunt School - Bhopal Stunt School (BSS). His name is Syed Adil Kazmi and besides being the founder of BSS, he was also MTV Stuntmania Finalist and has thousands of fans worldwide. An avid biker right since his childhood, Adil believes that there is no risk or danger in motorcycle freestyling as there are only some simple techniques and tricks involved. He holds the title for starting circle wheelies in India and performs stunt shows across the country on a regular basis. A talented multi-tasker as well, Adil is into modelling nowadays and has been featured in a Bollywood movie with a couple of TV Shows.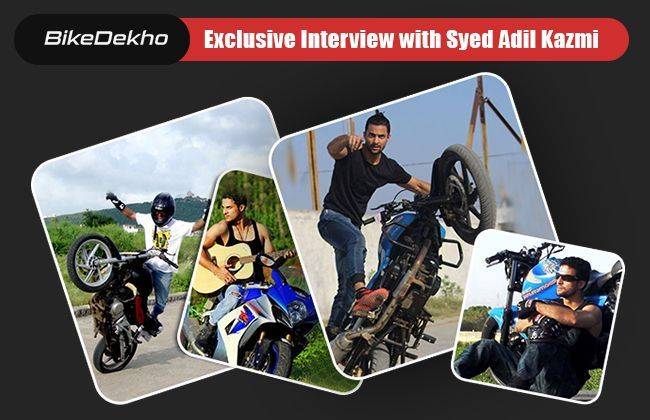 We got a chance to conversate with him and he answered our questions very interestingly.

Here is the full interview:

Tell us about yourself and your family background?



We are five in the family. My father is a civil engineer and my mother is a teacher. My father was in Saudi Arabia. We are basically Indians but I was brought up in Saudi Arabia. My elder brother used to pop-up wheelies on his bike and I was very young at that point of time. That was a time when I had a skateboard and I used to try doing wheelies on that after seeing him doing all that stuff. Post that, my brother went to London for doing MBA and I got his bike. Then I started doing wheelies on his bike and as a result, my family members sold the bike. I collected some money after that and bought myself a Pulsar on which I started doing my freestyling. Soon after that, internet came into the picture that gave the required knowledge of this sport. Bajwa started doing freestyling on his scooter while on motorcycle, it was initiated by me. So, that was the beginning of Indian motorcycle freestyling and many variations were started in freestyling like circle wheelies, seat stander wheelie, single hander wheelie, no hander wheelie and much more.

At what age did you get your first bike and which was it?



I got Yamaha RX-Z as my first bike but the bike on which I started my freestyling was the Pulsar. When my elder brother went to London for higher studies, I told him not to sell the bike and due to this, his RX-Z came to me. The time was around 2006-07 and I was quite young that time, so young that my feet didn't even touch the ground when I used to sit on the bike. So, that was the time when I started doing freestyling on motorcycle. At that time, internet was not that much popular and only Yahoo and Orkut were there with the help of which I connected to other riders. YouTube just came into the picture on which we started uploading the videos of our freestyling.

Who is your Inspiration in Bike Freestyling?



When it comes to bike freestyling, my inspiration is Chris Pfeiffer. The reason being, I used to watch his videos when I started doing that stuff. I started following him as he came across as the real freestyler to me and hence, I accepted him as my inspiration or idol. Besides, there was an American named Scary Gary whom I followed, as he was the first American whom I watched doing this craziness. So, I used to follow the tricks of World Champion Chris Pfeiffer and the style of Scary Gary, as basically Americans are always good in style. I followed both of their elements and added my upline to it.

Name your favourite three stunts which you enjoy doing the most?



My three favourite stunts are - Circles as they are the life of freestyling, the rolling stoppies - as they look crazy and lastly, the acrobats without which freestyling is incomplete. I like circles more because I was the first Indian to do so in our country. Besides that, I also like my side stand parking which I learned by watching videos of Chris Pfeiffer.

You are a legend in Indian Freestyling today but nobody becomes a legend by chance. What are the difficulties you faced in your initial days and how much family support did you have?



I didn't have any family support in the beginning as my family members thought it is a life threatening game and it could take away my life any day. They didn't know that bike freestyling is a kind of sport, an extreme sport. Due to this, even my motorcycle was sold out and I used to do practice on my friends' bikes. My terms and conditions for them were - come to me with your bike, I will teach you how to do wheelies and I'll also do practice on your bikes. This continued till I collected enough money to buy a bike. I somehow convinced my father that bike freestyling is not at all dangerous and it is safe due to which my father finally bought me a bike. But the difficulties continued, I wasn't given enough money due to which I got scared many times that how will I continue this. As a result, I had to compromise on my chocolates, chips, cadbury and sandwiches to carry on the things further.

Sometimes it happen that all day long that I could only manage to collect eight rupees and I used to fall short of two rupees as you can't buy petrol of less than ten rupees. So, I had to borrow that two rupees from my friends, go with them to take petrol, put it in my bike and take my bike on the track in rolling. After that, I kept doing freestyling till the entire petrol burns up. Post that, I make my friends stay there only as my house was on a upslope. At the end of the day, we park my bike in the house and the same routine starts with the next morning. Many times, I used to do freestyling at nights and as a result, I had to go to police stations numerous times. So, there are many long long stories behind that and I can continue to speak on this the whole day (laughs).

Tell us your opinion on the current scenario of stunt riding in India due to the lack of its popularity and the criticism stunt riders have to face many times?



First of all, let me tell you that it is not stunt riding, it is street bike freestyling, a kind of sport. Boys in America used to do freestyling on bicycles initially that later turned into BMX and other forms. Similarly, freestyling was done on motorcycles too later with the same actions viz. wheelies, stoppies, acrobats, etc. The technique involves the same as taking bicycles to a balance point, in the same way, we take motorcycles to a balance point and there is no risk involved. There is a calculation for everything in this and there are many tricks involved. We know at what speed we have to maintain the bike, at what angle we have to lean it on, what body movement we have to apply, so it is basically all about the calculations. Since it is all about calculations, there is no risk at all. But yes, when you miss your calculations and focus, then you can get into trouble, whether it is playing cricket, driving a car or simply walking on the road. Before doing anything, there should be a proper knowledge for that. Like we just don't go and drive a car, instead we learn it and go through a learning phase. The same thing applies on freestyling too and trust me, there is no risk in it as I came to know its tricks and techniques. Due to lack of awareness, most of the people take stunt riding and motorcycle freestyling as same things.

What was your ideology behind Bhopal Stunt School, your aim regarding it and how is it doing now?



The aim behind opening Bhopal Stunt School was to clear the confusion of people that freestyling is a very dangerous stuff. Come to me in Bhopal Stunt School, take 25 days training and at the end of the session, you will too accept that freestyling is so safe and secure. With Bhopal Stunt School, the focus is on spreading awareness that there is no danger in doing freestyling.

The motorists who want to showcase themselves as unique, get involved in street drag races and face harsh consequences. Since they don't know the concept behind motorcycle freestyling, the results really end up going against their favour. In BSS, we have trained hundreds of people at the time when even Stuntmania was out of the picture. Till now, we have given training to thousands of people in Bhopal. Earlier, we faced quite some difficulties as it was illegal, so we used to do practice on roads. But things became better and we got a proper ground, which is Arif Nagar Stadium and it was provided by a Government worker. So, at present we have a big ground where hundreds of people can come and take training.

Which is your best Biking memory till date?



My best biking memory till date is when I went to New Zealand for a movie shoot as I was the first Indian who got a chance to do freestyling on a sportsbike in an Indian movie, that too in abroad. So, that moment was special indeed as I performed freestyling in New Zealand at Wellington airport, on an air strip. It was an amazing feeling as the flights were landing nearby and I was popping up wheelies on my bike.

Tell us about your fleet of motorcycles and what are their nicknames (if any)?



At present, I have three motorcycles and all of them are Pulsars. One is the Bajaj Pulsar 180 that I initially bought for doing stunts and was the first bike on which I started doing Freestyling. Then second is the Pulsar which I got from MTV Stuntmania and lastly, a Pulsar 220 which I purchased sometime ago, as I wanted to keep the Stuntmania Pulsar with extra care and attention. I was using a Honda CBR 600 in Mumbai sometime back but at present, I have these three Pulsars.

What runs in your mind when your bike is moving on one wheel and how you feel doing that?



I just get sync with the bike. I feel like the rear tyre is my legs and the front tyre is my hands. I can actually feel the rubber and I can actually feel the road because when I do bike freestyling, we both sync into each other. It's like a body and a soul. My body is the soul and my bike is the body. When I come on my bike, my soul sinks into the body so I can feel everything through the bike. It's crazy, I can go anywhere on one wheel, I can do anything with my bike and I can feel everything. This is what my feeling is when I do bike freestyling.

Tell us about your MTV Stuntmania experience and how you will sum it up as a whole, as a lot of people criticized you after Season 3?



MTV Stuntmania was the biggest opportunity any stunt rider and a bike freestyler can get in India because that was the only platform which was allowing bike freestylers to showcase bike freestyling with their filmy fun. In season 2, I was busy in auditioning. In season 3, I had to quit because the game was getting dirty that time. That was the only reason why I quit the game because I never wanted any crap in my bike freestyling and I cannot take any shit in that. That was the only reason and that was good for the show as well. After taking that decision, Tirlochan got a chance to come back in the game. And this thing I told everybody that I am not going anywhere, you guys will see me in Tirlochan and he won the show. That was the best thing for me. Since everybody loves me for what I am, I got even more followers after that.

Furthermore, I got a chance to act in a movie and TV Shows after that. Nobody criticized me ever. In all three seasons, everything was perfect to me. Whatever comes out of that, came positive. Whatever things were happening to me, they were all happening for a reason. But I was loyal to my game, I was taking decisions not for that show, but for the sake of bike freestyling future. I never wanted to win the show, I wanted people to see me doing the right things, never wanted to showcase them anything bad about bikes or freestyling.

Noticing from a while that Adil is into modelling now a days. So, is that a hint that you are exiting bike freestyling or you are doing it alongside?



Actually the thing is - Bike Freestyling is a very expensive sport and to continue in that, you need a lot of money. Moreover, when you are growing up, you need your own house, you need your own business for earning. That's why I had to shift myself to Mumbai for acting so that I can earn. With earning, I can continue on my freestyling career so that's why I opted for acting. In acting, I get good money and in this way, I am continuing my freestyling. Since quite a long time, I didn't manage to do freestyling as I was struggling in Mumbai learning acting.

Even I took my bike to Bombay but for some reasons I had to swing it back, as Bhopal and Mumbai both are very different cities. I wasn't able to do freestyling since quite some time as I was doing something else to continue my bike freestyling for lifetime.

For what motorcycling events are you currently preparing yourself for?



Presently, I am preparing for the Lucknow Stunt Show and the Gujarat Stunt Show and they both are scheduled this month. The two stunt shows are going to be held in colleges as youngsters like my style, hence they invited me to perform.

Lastly, how it feels to be one of India's Finest Stunt Icons?



Well, what should I say, it is the love of people. It feels very very nice when people appreciate my biking and my struggle. The feeling is very nice when someone understands your struggle and you get noticed and I really appreciate such people. I feel very happy that my efforts and hardwork were noticed by people.
You can also Read: BikeDekho Exclusive: Interview with Rana Partap - The Scooter Category Winner of 2015 Raid De Himalaya