BikeDekho Exclusive: Interview with Rana Partap - The Scooter Category Winner of 2015 Raid De Himalaya
Modified On Oct 25, 2018 By Pradeep Shah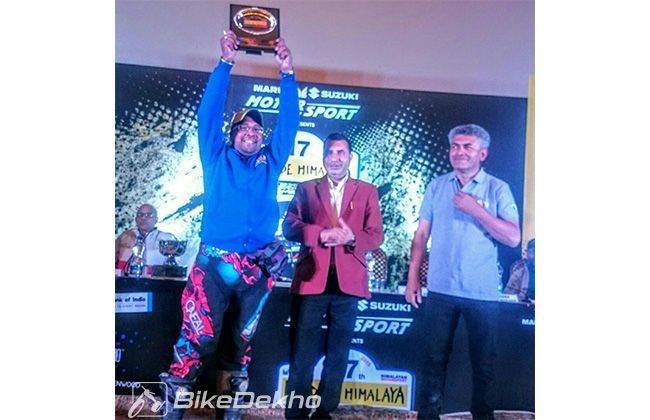 Winners are not born, they are made. This perfectly suits Mr. Rana Partap who won the 17th Raid De Himalaya rally in the scooter category last month on his recently purchased 125cc Honda Activa. Rana belongs to a family of priests and resides in the Patiala city of Punjab. Though he didn't had enough resources and a sound economic background, still he overcame all the obstacles with immense courage and not only won the race, but also was the only competitor to conclude the world's second most toughest rally. A total biking nut from the beginning, Rana owns two Honda Dios, a Honda Activa, a Bajaj Pulsar, a rally prepared Pulsar, a Bullet, a Chetak scooter and a Hero Passion.

Popularly known as the "Dioking", Rana is a true example of how to follow your dreams beyond economic and social barriers.
On his achievement, we congratulated him and he shared his experiences with us wholeheartedly. Here is the full interview:

At what moment or stage in your life you realised that Motorsports is your real passion?

I used to be a total freak right since my childhood. Whatever I did, I used to do it in the other difficult way. As time passed away, I came to know about this thing in which the bike runs on one tyre. However, these things were not popular in our city Patiala. After sometime, I started meeting various riders and started doing stuntriding. As I was fond of doing different things right from the starting, I chosed scooters as my companions for doing stunting. The scene started in 2005-06 and after one year of stunting, the result was still zero. People used to often say that only bikes are mean for stunts, scooters cannot do all this act. But I was determined enough to not fall in their talks. As some more time passed, I did 100+ stunt shows across India and became the first Indian non-gear stunt rider. After that, those who criticized me began to realize that it is possible to do stunts on scooters as well and I gave them an example that such acts can be done on stock models as well, without any modifications.



What is your opinion on the current scenario of Motorsports in India, as these type of sports are often criticized here?

People in India have a habit of not digesting extraordinary things with ease. I tell you one incident in which I went to the Road Transport Office for the RC of my scooter. The official there told me that it is complete nuisance to do this act after he heard about my future plan. Leave winning the rally, your scooter won't even reach to Shimla. Then I told him that I alone took a 102cc scooter to Leh Ladakh and showed him the photographs. He wasn't satisfied though.



Besides this, what other difficulties you had to face?

Firstly, the mindset of people here demotivated me a lot. Everyone used to say that guys like me are wasting money of our parents and there is no sense in doing anything like stuntriding. I was a government employee in the Roadways department and I told the authorities there that I need leaves to practice stunt riding. As expected, they also greeted me with the same words and suggestions of not to attempt such things. So at the last, I left my job as it was impossible for me to leave stunt riding. At that point of moment, my bike got so much attached to me that I began to feel that she is my world only.

How much family support did you had?

In the initial phase, I used to go home with scraped knees and injuries as I didn't knew there is any such thing like riding gear. As these things were not popular in Punjab and I was not educated enough, I didn't got the required knowledge about safety and riding gear. As I went on being more and more professional in this field, I started doing more and more shows which resulted in people telling my mother about my popularity. They used to tell her about my photographs in newspapers and my coverage in news. So, slowly my family also came to know about all this and now they are in full support with me and my profession.



Who was your Inspiration or Idol?

The people whom I made my Idol, I reached above them (laughs). First, I made an idol and I used to think that I can't do better than him. Like for example, if he jumped his bike to 10 ft, then I used to think that it is impossible for me to cross that limit. But when I jumped my bike, it reached 50 ft. Then I made another idol and I used to feel the same thing that I can't reach his level. But as things were falling in my favour, I found that I left him behind too. But the people whom I am really fond of are - Dauntless of Ghost Ryderz and Syed Adil Kazmi, whose videos I really enjoy watching. In my opinion, they are the real stuntmen.



You can also Read: Exclusive Interview with Syed Adil Kazmi - MTV Stuntmania Finalist
Tell us about your experience at the Raid De Himalaya and the difficulties you faced?

When I first went to Leh Ladakh, I had this perception that how tough it would be to ride on such places. I started doing practice on my Bullet a month before and I heard that there was no petrol or mechanic on such places. So, I started doing preparation in that way and learned how to repair the bike on your own and hence, I went there with all the required stuff. After I reached home, which was in 2008 or 2010, there was a "shor in the city" that I went to Leh Ladakh and came back and as a celebration, my friends put hoardings of my name in the city. Now I decided to explore that place again, this time on scooter. People again started their usual affair by saying a scooter cannot reach there and you can't go alone. Even my friends dropped the plan of going on a scooter and I was the only one left with the idea. After returning, I felt that it was a better experience of Leh Ladakh on my scooter in comparison to Bullet. That was the time when I heard the name of Raid De Himalaya and came to know that it is the highest rally in the world and the second toughest one. Without wasting any time, I decided to participate in it. In the 2013 edition of rally, there were many leniencies for scooters like no time limit. But in the 2015 edition, the rules were same for all the vehicles, be it Gypsies, cars and scooters and all the difficult passes fell in our scooter category path. As the competition started, I saw there were 15-16 contestants and I was the one below all of them. The reason being I was the only rider who haven't grabbed any trophy in the scooter category and had a total off-road experience of mere 15kms on a scooter.


The rally started and I put in all my energy and efforts. As Day 1 concluded, I came to know that my timing was the fastest of all, which boosted my confidence further. Moreover, after Stage 3, I was happy to know that only three riders including me have completed the stage, rest all have been disqualified. After that, I went through the Jalori Pass and it was the worst path I had seen in my life. My speed there was 10-15kmph and the scooter disbalanced many times, so I used to push it often. In the end, only two riders were left and the rider ahead of me, Asif Ali was riding a scooter that was no less than an aeroplane and it was just a scooter by name (laughs). He was overtaking gypsies and was leading me and I was only able to cover the time in downhills and plain stretches. My maximum speed was hardly 25-30kmph and I fell 5-6 times also. My scooter was a stock one with no modifications, still I decided to just continue moving. On next day, I came to know that Asif's scooter got seized and I was the only one left in the competition. But now the pressure began to rise even more as I had to maintain the timing as well as defend the scooter from falling. At the start of Day 3, I lost my way on the track and went 25-30kms in the wrong direction. Then I covered the timing again and successfully completed the rally.


For what event are you currently preparing yourself?

Right now, I am doing preparations for a stunt show that is scheduled at the end of this month at a Medical college here.



In any race or contest, where do you see yourself as a competition and what keeps you going even in the most adverse conditions?

Though my mind fills with negative thoughts many a times, I keep myself focussed and put all my concentration in the race. Moreover, being a typical warm-blooded Punjabi, if anyone challenges me or bets me, I can't resist myself to accept the challenge and beat him. Like I tell you an example, in a rally, the scooter of a senior rider who was leading me got punctured. While overtaking, I told him about this to which he replied, "Do your own work!" Moreover, a friend of mine backstabbed me during a competition for some help I was asking him. Such things provoke me a lot in putting the best efforts of mine.



How it feels to be called the "Winner of Raid De Himalaya" and what difference it bought in your life?

When I aim at something, I feel that I want just this thing only in my life. After achieving that, my hunger for success grows more & more and I aim for something bigger. Things are not that much harder in reality in comparison to what they apparently seems. I felt one thing about Raid De Himalaya that winning the race is not the major matter here, but surviving here is the main key. I am really happy that I became the winner along with the people in my city. My friends have putted 5 hoardings of mine congratulating me in the city. Besides, 14-15 newspapers have also covered the news of mine winning the Raid De Himalaya. Yes, I am really happy.



Any advice, tips or suggestions you want to give to aspiring riders who participate in off-road rallies like Raid De Himalaya and few words for your fans?

I just want to say that things are not that much difficult in real, instead people have made it a difficult thing by their words. Come forward and actively participate in the events and by doing so, your level of confidence will increase as mine did. I also had a fear in my initial days but as I began taking part in these competitions, it seemed quite easy. A problem that arises is the lack of sponsors and companies by which aspiring and talented riders pull out from these competitions. These provide a good platform and are a big factor in promoting motorsports in India. Like you from BikeDekho are interviewing me right now, it gives me a lot of motivation that someone is taking interest, as these things have not become popular in Punjab.



Team BikeDekho salutes people like Rana; their undaunted dedication have actually made them true conquerors on two-wheels!
Here is the video of man in action: