EagleRider India Starts Women Riding Academy
Modified On Nov 29, 2016 By Naveen Soni
EagleRider India academy aims at providing a platform for women to understand their motorcycles better and make them learn safe riding.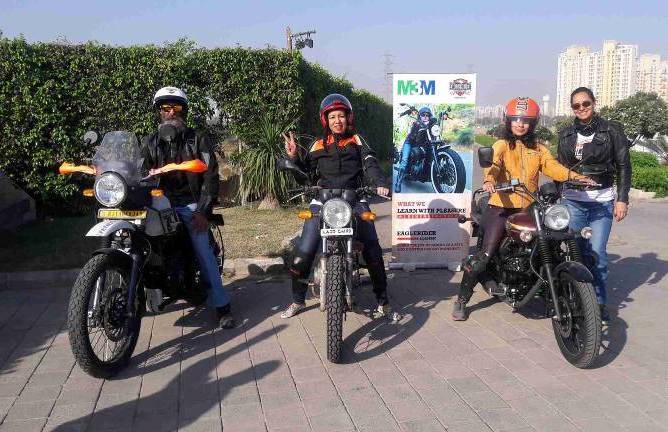 In association with M3M India, the Indian wing of EagleRider has started its first exclusive motorcycle training academy for women riders in Delhi. Enabling a new generation of women riders to be ride ready, the EagleRider India academy aims at promoting the love for riding in the capital and is ensuring that woman riders in Delhi ride with new confidence. EagleRider is the world's largest motorcycle tourism company, specialising in Harley-Davidson, Indian, BMW, Honda, and Triumph motorcycle travel, rentals, sales, and service. Its Indian franchise has been undertaken by Samar JS Sodhi, under Big Motorcycle Company. 
EagleRider academy aims at providing a platform for women to understand their motorcycles at their training centre at the M3M Experia – Sales Gallery at Sector 65, Golf Course Road Extn. and interact them with seasoned riders in a controlled environment. The course is a combination of a classroom and outdoor riding experience inclusive of 10 hours of training and a highway breakfast ride. This unique initiative empowers women to learn safe two-wheeler riding in a single day. 
Focused on understanding the machine and the safety gear, the training course also includes all the basics of how to start a motorcycle, controlling gear and clutch, manoeuvring, and handling street and highway challenges. Moreover, EagleRider India also provides motorcycles along with protective gear to the participants. All women above 18 years of age who knows how to ride a bicycle and have a valid motorcycling license can learn to ride at the academy. And for that, you just have to drop a mail with your details on the e-mail id:  mandy@eagleriderindia.com and their team will get in touch with you shortly. 
Announcing the launch of the new academy, Sodhi said, "The EagleRider Academy is a sincere effort to give back to passionate riders with seasoned quality training and interactive sessions. EagleRider Academy is committed to delivering exceptional experiences to the riding community. We want the Academy to emerge as an enabler for every woman in Delhi who desires to learn the joy of riding in a controlled and safe environment."
EagleRider academy has already started training women riders. Recounting her experience from the first batch, Swati Shah said, "All I would say is that Riding always seemed like a liberating experience and why pillion was my thought!! Walking into the Eagle Rider store one rainy afternoon was probably the best thing I did in a long time! I plan to make it one hell of ride and make some new friends along the way."