2021 TVS Raider 125: Road Test Review
Published On Nov 13, 2021 By Sudipto Chaudhury for TVS Raider
Does TVS' new 125cc commuter pack enough goodies to reign supreme in the segment?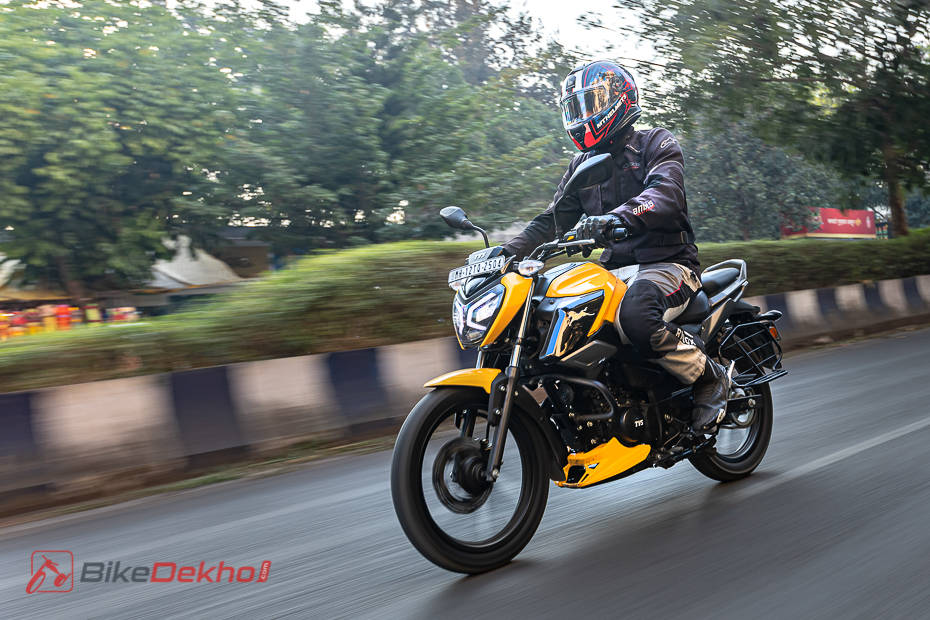 The 125cc segment of today is gradually becoming a far cry from what it was just a decade ago. And no, we're not talking about the niche 125cc offerings like the KTM 125 Duke. Even an affordable offering like the Hero Glamour boasts quite a bit of kit without losing out on its core competence -- that of a comfortable and fuel-efficient commuter. And this is precisely the space the TVS Raider enters, with a striking design and quite a few premium features, along with a smooth and relatively powerful motor.
Pros
Distinctive looks: a premium commuter that looks rightfully 'premium'
Engaging ergos, you're not just "along for the ride"
Riding modes actually make a difference in performance and fuel efficiency
Cons
Only CBS and no news of single-channel ABS, even on the TFT-equipped top variant
Some design elements look a little odd
Standout Features
All variants get LED lights all around
Underseat storage allows you to carry some basic knick knacks.

Design

The first thing that catches your eye on the Raider is the cross-styled LED headlight. Now, though some may find it to be overkill, many might call it a novel feature. Besides, the inclusion of not just an LED taillight but also an LED headlight (as a standard feature, if I may add) means it is quite a head-turner, stroking the egos of those who wanted a 150cc (or larger) bike but had to settle for a 125cc motorcycle for budget reasons.

The striking yellow paint scheme on our test bike contrasts sharply with its blacked-out lower half. The quality of the paint is top-notch, and TVS' decision to include 3D logos (instead of sticker decals) for the TVS 'Prancing Horse' (sorry, couldn't resist) and the 'Raider' moniker absolutely works in its favour. In fact, even miscellaneous elements, such as the tank scoops, the stubby exhaust, the body-coloured engine cowl, and the patterned panel on the side, endorse the fact that budget-friendly does not equate to penny-pinching.
Ergonomics

From the saddle, you'll be impressed with how well everything falls into place, despite your riding posture not being typically upright.

The seat seems easy to access for even shorter riders, and the overall slimness of the bikes means they might be able to flat-foot it quite easily as well. Despite its 10-litre capacity, the tank is shaped well with usable recesses on the side, which, coupled with the decently wide handlebar and scooped seat, will help riders of most shapes and sizes lock themselves into a comfortable stance. The switches, too, fall to hand easily, and the rearview mirrors, despite the unnecessarily tapering edges, do a capable job of showing you what's behind.



The two-piece seat means the pillion gets a slightly higher post. The thick one-piece alloy grab rail not only gets a raised rear section, but the bike's rear panel also gets small cutouts, making it easier for pillions to, er, grab onto the grab rails.
Tachnology And Features
Just like the NTorq 125, the Raider also gets two riding modes: Eco (which gives you a bit more relaxed throttle response) and Power (which offers a bit more urgency to the twist of your wrist). Moreover, though the Raider gets TVS' Intelligo Stop-Start system, curiously enough, it only works when you're in Eco mode.



Our test bike came with a negatively lit LCD display, a segment-first feature. And despite the plethora of data on display (speedometer, tachometer, fuel gauge, gear position indicator, two trip meters, time, eco/power mode readout, and even top/average speed recorder) it still is legible to read on the go. Oh, and on the topic of first-in-segment features, TVS says it's readying a range-topping variant of the Raider, which will get a TFT console, along with Bluetooth connectivity, Voice Assist, and also turn-by-turn navigation (via the TVS SmartXonnect app).

Back to the bike at hand, and this one gets a USB port, so if you need navigation, you can as well hook your mobile to a handlebar mount without any fear of it running out of juice. And another handy feature is the small underseat storage, which will be great for knick-knacks, or more usually, for documents.
Engine And Performance
The Raider's 124.8cc single-cylinder powerplant, though boasting the same engine capacity as the NTorq, has nothing else in common with the scooter. You get 11.38 PS at 7500 rpm and 11.2 Nm at 6000 rpm, and a five-speed gearbox, which is gradually becoming the norm.
The drive feels quite strong within the city, with that bassy exhaust note seeming like music to your ears while you overtake slow-moving vehicles on the daily commute. In fact, the engine feels a bit stressed only after around 85kmph, quite expected from this diminutive mill.



Another thing that stands out is the engine's tractability. Despite not getting TVS' GTT (Glide Through Traffic) tech, it seems pretty unstressed in bumper-to-bumper traffic and picks up without protest from walking speeds even in third gear, a boon for inexperienced riders.
And finally, going with the 'frugal commuter' philosophy, it sips petrol quite leisurely. So keeping its 10-litre tank capacity in mind, even those with a 50-60km daily commute will need to fill up only about once a fortnight.
Ride And Handling
The 123kg kerb weight, peppy engine, and slightly forward-biased riding posture eggs you on to go through the gaps in the city traffic. Besides, the generous 180mm ground clearance and comfortable (though not overly soft) suspension setup means there's almost negligible change in the riding dynamics even with a pillion.



The TVS Remora tyres, despite their 'skinny' proportions, give quite a bit of sure-footedness on Pune's broken roads. And of course, honourable mention to the monoshock, which keeps the rear under check when going over the innumerable speed breakers at a fair clip.

Braking performance is quite assuring, and the front disc/rear drum setup doesn't overwhelm the rider in any circumstance. We would've liked for a bit more feel from the front lever, though.
Variants
As of now, the Raider can be had in either a front drum or a front disc variant, as the TFT-equipped range-topper hasn't been launched yet. The drum variant retails at Rs 73,400 (ex-showroom, Delhi), while the disc variant retails at Rs 85,469 (ex-showroom, Delhi). The LED headlight and taillight, and CBS is offered as standard.

Verdict

The TVS Raider is the brand's latest attempt at the 125cc space, after the lacklustre sales performance of previous offerings like the TVS Phoenix and Flame 125. And this time around, TVS has gone the smarter route, keeping a thrilling ride experience as the USP, instead of a purely commuter-centric approach.

Even though the front disc variant costs approximately Rs 12,000 over the drum brake variant, we'd urge you to get the former itself.

Nevertheless, the TVS Raider seems like a solid product, and a worthy (and stylish) alternative to the umpteenth Honda Shine or Hero Glamour.