Suzuki Burgman Street 125 vs Honda Activa 125: Spec Comparo
Modified On Mar 20, 2019 By Gaurav Sadanand for Suzuki Burgman Street
Since the Burgman Street is one of newest offerings in the 125cc segment, it's time we compared it to one of most popular scooters out there - the Activa 125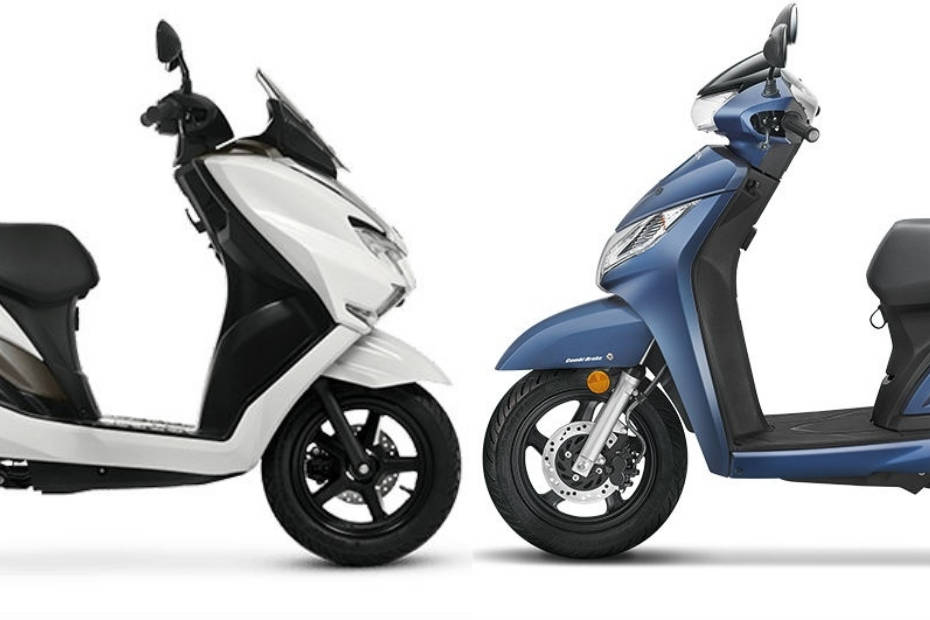 Here we go again, comparing the newest offering from Suzuki, the Burgman Street 125, to every scooter that roams in its territory. The scooter it's going up against, the Honda Activa 125, has some experience in fending off competitors and has done so successfully over the years. So, it's only fair that the Burgman Street 125 also faces the Honda Activa 125 on paper. Here's how both fare against each other.
Design & Features
| | | |
| --- | --- | --- |
| | Suzuki Burgman Street 125 | Honda Activa 5G |
| Windscreen | Yes | No |
| Speedometer | Fully-digital | Semi-digital |
| Service due reminder | No | Yes |
| LED headlights | Yes | Yes |
| LED tail lights | Yes | No |
| DC socket | Yes | Optional extra |
| USB Charger | Optional extra | Optional extra |
| Dual luggage hook | Yes | Yes |
| Front pocket storage | Yes | No |
| 4-in-lock | Yes | Yes |
| External fuel filling cap | No | No |

Suzuki has taken the 'more means better' approach with the Burgman Street 125. Right off the bat, the Burgman Street's maxi-styled design is a lot more appealing to look at when compared to the Activa 125. The Burgman's sharp lines and proportions may look odd in pictures. But trust us, it looks appealing in the flesh. Its unconventional styling helps it stand out from the crowd of sedate looking scooters. Its imposing front apron neatly integrates the all-LED headlight and windscreen, which sits on top.

The more family-oriented Burgman Street is designed with comfort in mind. Hence, special emphasis has been given to the unique handlebar, stretched out floorboard and the wide, stepped seat, which offer a relaxed and comfortable ride while enhancing the overall ride experience.

In terms of design, the sculpted rear panels, bulky end-can and grab rails run in sync with front-end styling. What really puts people off, including us, is the skinny rear tyre. I mean, would it kill Suzuki to use some fat rubber instead? However, the anorexic rear tyre does have some advantages, which we'll talk about later.

As far as features are concerned, the Burgman Street has a lot going for it - from the all-LED headlight and tail light, fully-digital instrument console, mobile charging socket to extra storage space and more! Notably, the LED headlights offer decent throw and spread of light at night, but the Activa 5G's LED headlight still remains the undisputed champion in terms of illumination. The digital instrument console on the Burgman is derived from the Gixxer. However, the console only offers essential readouts.
Moving onto the Activa 125, which has been around for quite some time, it's quite evident that Honda hasn't moved away from the Activa's tried-and-tested design language. It feels familiar to the Activa 5G. But better, nonetheless. The seating ergonomics are upright and the Activa 125 feels roomy, like a larger scooter should.

While we haven't tested the 2018 variant of the Activa 125, which comes with an all-LED headlamp, we have tested the Activa 5G, which has one of the best LED headlights we've seen so far on any scooter. Not only does it look classy but it's also quite bright with a long and wide throw. The placement of the headlight, which sits on top rather than on the front apron, could have something to do with it. Based on this, we are quite certain that the Activa 125's headlight too performs equally well. On the contrary, the light does scatter quite a bit and feels a bit lacking on a misty/dusty/rainy morning.
The Activa 125 features a semi-digital instrument console when compared to the Burgman's fully-digital unit and gets a trip meter, odometer, service reminder, clock and fuel indicator. Additionally, you also get an 'Eco' indicator, which helps you optimise your throttle openings.
All-in-all, the Burgman's fit and finish feels a step ahead of the Activa 125. However, the Activa 125's all-metal body feels solid, unlike the plastic panel gaps visible on the Suzuki.
Engine
| | | |
| --- | --- | --- |
| | Suzuki Burgman Street 125 | Honda Activa 125 |
| Displacement | 124cc | 124.9cc |
| Power | 8.7 PS @ 7000 rpm | 8.6PS @ 6500rpm |
| Torque | 10.2 Nm @5000 rpm | 10.54 Nm @ 5000rpm |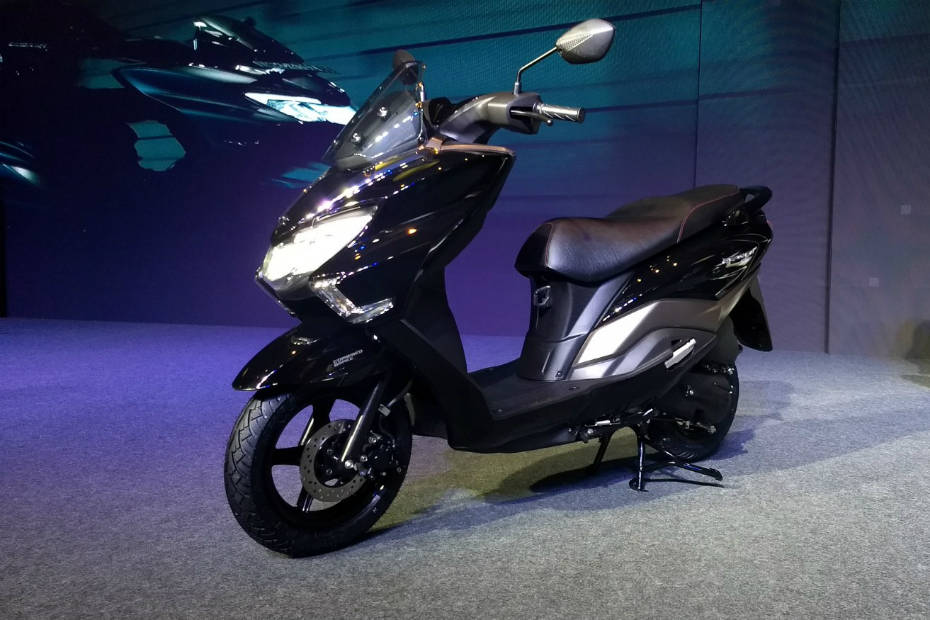 The Burgman Street shares the same engine as the Access 125 but feels a lot more refined and smoother to ride. It also has a linear power delivery but does tend to feel out of breath at the top. In contrast, the Activa 125 is quick to accelerate, feels lighter on its feet and doesn't feel stressed even while cruising at 90kmph. Moreover, the Activa makes slightly more power and torque when compared to the Burgman.
That said, in terms of fuel efficiency, the Burgman wins by quite a margin. As per our road tests, the Suzuki managed to deliver an overall fuel efficiency of 54.8kmpl while the Activa 125 managed 47kmpl. As mentioned earlier, this is where the Burgman's skinny tyres come into play and contribute to improving the overall efficiency.
Underpinnings
| | | |
| --- | --- | --- |
| | Suzuki Burgman Street 125 | Honda Activa 125 |
| Underseat Storage | 21.5 litres | 18 litres |
| Length | 1880mm | 1814mm |
| Width | 675mm | 704mm |
| Wheelbase | 1265mm | 1260mm |
| Ground Clearance | 160mm | 155mm |
| Seat Hieght | 780mm | 765mm |
| Kerb Weight | 108kg | 108kg |
| Fuel Tank | 5.6 Ltr | 5.3 Ltr |
| Front Suspension | Telescopic | Telescopic |
| Rear Suspension | Monoshock | Monoshock (3-step-adjustable) |
| Front Brake | Disc | Disc/Drum |
| Rear Brake | Drum | Drum |
| Combined braking | Yes | Yes |
| Tyre Size (Front) | 90/90-12 | 90/90-12 |
| Tyre Size (Rear) | 90/100-10 | 90/100-10 |

The Burgman Street's sheer size has its benefits and it's quite clear here. It trumps the Activa 125 with three litres of extra under-seat storage space. Further, it features additional storage pockets laid out in the front apron too. It also comes with a slightly larger fuel tank, which when coupled with the fuel efficiency will keep you going for miles on end. The Burgman also gets a disc brake, which is offered as standard. The Activa, on the other hand, gets it only in its top-spec variant.

That said, the Active 125 has some tricks up its sleeves. For instance, the scooter sits lower to the ground when compared to the Burgman, which essentially means its easier for vertically challenged people to get on and ride. Furthermore, the Activa also features a monoshock with a first-in-segment three-step adjustability. This lets you adjust the ride quality as you wish.
Price & Verdict

Ex-showroom, Delhi*
| | | |
| --- | --- | --- |
| Suzuki Burgman Street 125 | | Honda Activa 125 |
| Rs. 68,000 | DRUM | Rs 59,621 |
| | DRUM & ALLOY | Rs 61,558 |
| | DISC | Rs 64,007 |

Both scooters have their ups and downs. But which of the two should you choose? This essentially boils down to the price, features, aesthetics and performance. Although it is a bit on the pricier side, we genuinely believe the Burgman Street comes out on top.
Even though the Burgman Street commands a premium of around Rs 4,000 over the Activa 125, you do get a lot more scooter for the price.