Okinawa Becomes The First Electric Scooter To Reach Khardung La Pass
Modified On Mar 20, 2019 By Gaurav Sadanand for Okinawa Praise
The Okinawa Praise demonstrates that it can stand up to any challenge, be it distance, terrain or lack of charging infrastructure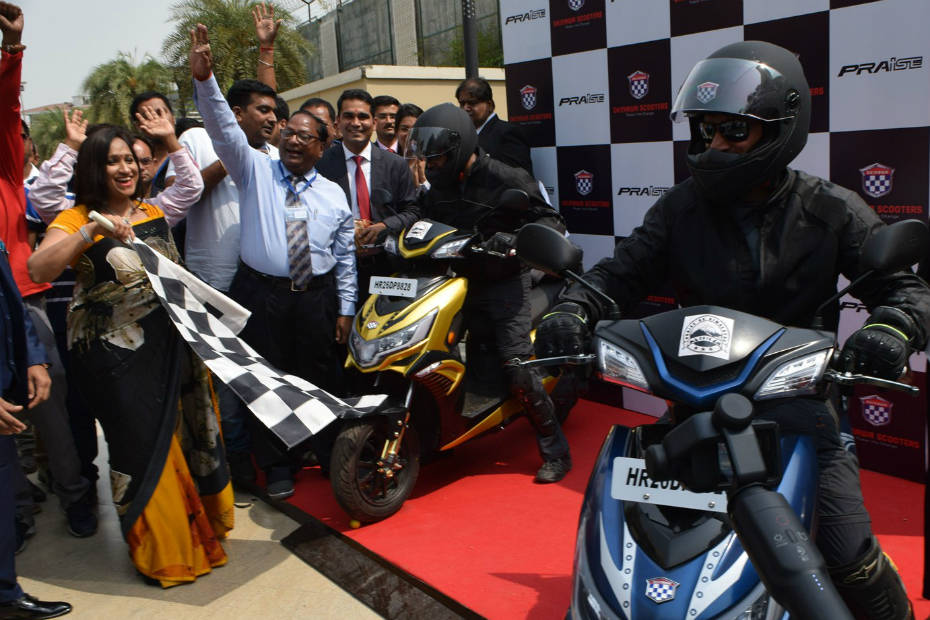 Two e-scooters from Okinawa set out on a journey to conquer the highest motorable road in the world and prove that electric vehicles can be as capable as their petrol-powered cousins. The journey which began from Gurgaon and headed up north was flagged off by Okinawa's Managing Director Jeetender Sharma, Chairperson Rupali Sharma and all the brand's pan-India dealers. Gurgaon also happens to be the brand's corporate office.

During the journey, riders crossed destinations such as Ambala, Jalandhar, Pathankot, Banihal, Ganderbal, Sonamarg, Srinagar, Bhimbat, Lamayuru, before reaching Leh and then Khardung La. It took the scooters 10 days and 1,350km to ascend the 18,380 feet high Khardung La Pass.

Aiding the scooters in fulfilling this impossible task were lithium-ion batteries which could simply be swapped and recharged easily at stopovers such as tea stalls and food points. It takes 2-2.5 hours to achieve 100 per cent charge on the lithium-ion batteries. The company claims that the scooters can do 55 - 75kmph under different speed modes (Economy, Sporty and Turbo) and has a range of 170-200km per charge.

Commenting on the successful campaign, Jeetender Sharma, Managing Director, Okinawa Autotech, said, "The 'Praise De Himalaya' campaign is the first and one-of-its-kind journey of an e-scooter to an extremely high-altitude zone where it is very difficult to attempt two-wheeler expeditions. While many apprehensions were raised on Praise's ability to complete such a difficult journey, we at Okinawa were confident of our vehicle's capabilities to complete the trip successfully. It is not every day that an e-vehicle comfortably completes a voyage of 1350 km and reaches a height of 18,380 ft. Through the 'Praise De Himalaya' campaign, we wanted to 'Fight for Height 'i.e. the different psychological barriers and biases that stop a consumer from opting for an e-vehicle. We sincerely believe that Praise's unique achievement will bring forth a transformation in the way that e-vehicles are viewed in the country."

At present, the production model offered by Okinawa only comes with a lead-acid battery but the lithium-ion variant will be available in dealerships by Sept' 18 end. The Praise costs Rs 59,889 (ex-showroom, Delhi), and competes with the Twenty Two Motors Flow and the recently launched Ather 340 and Ather 450.