Ather 450X: Pros, Cons, Should You Buy One?
Modified On Jun 9, 2021 01:42 PM By Gaurav Sadanand for Ather 450X
We decipher the positives and negatives of one of the quickest, most feature packed e-scooters in India

Electric two-wheelers are more often than not falsely accused of being slow and boring. Ask Ather, they know a thing or two about building electric scooters. The 450X is positioned to debunk all these myths with superior build quality, a well-designed charging ecosystem, and addictive performance. But it isn't perfect. So before you put down a cheque, check out its strengths and weaknesses to get an overall idea of the scooter.
The Pros
One Of The Fastest Scooter's We've Tested

The 450X features four ride modes -- Eco, Ride, Sport and Warp -- each one of them getting progressively faster with a crisper throttle response. And if you want the most out of the motor, we'd suggest you switch to Warp mode. While it hampers range, it gives you a surge in torque like no other India electric scooter. It does 0-60kmph in 6.94 seconds and 0-80kmph in just 13.74 seconds. That's quicker than the BS6 Access 125, which is the fastest scooter in its segment.
Handles Well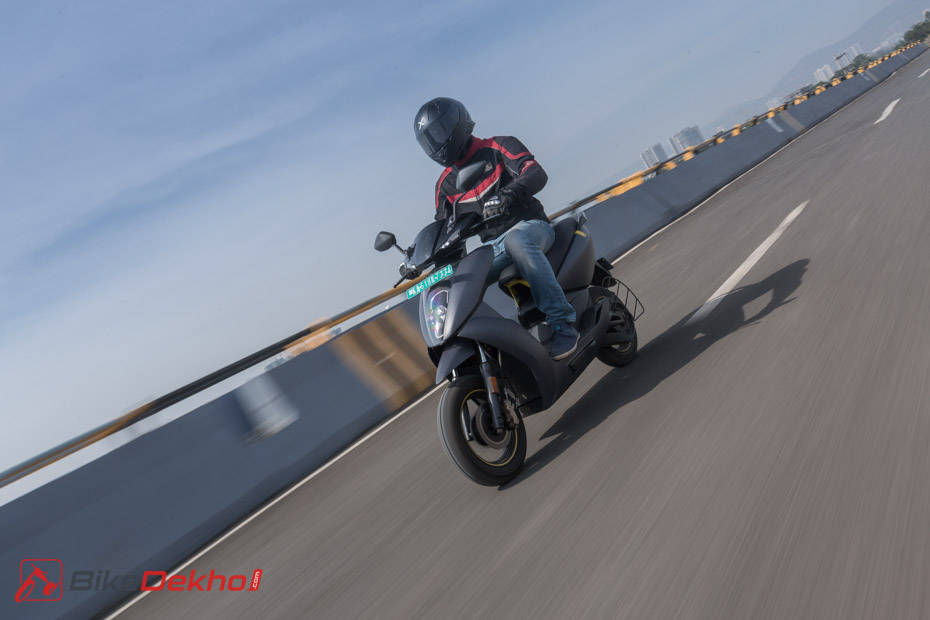 The floorboard battery position, low centre of gravity, and 50:50 weight distribution make the 450X extremely flickable. It tips into corners almost telepathically. This also makes weaving through traffic an absolute breeze.
Charging Solutions

You can recharge the batteries via three methods, in case you're running low or run out of charge. You can either juice it up using Ather Dot (installation charges Rs 1,800 extra) at home, or plug it into any 5amp socket using the portable charger, which takes about five and half hours for a full charge.
If neither of the two are available, you could direct yourself to the nearest fast charging station using the app and top up the scooter in half that time using the Ather Grid. It takes about 45 minutes to go from 23 percent to 92 percent which is about the same time you'd take to have lunch and freshen up.
Ather's biggest rival yet -- Simple Energy's Mark 2 will soon make its way into the market. Here's when and how it intends to take on the 450X.
The Cons
Switchgear Quality Could've Been Better

The switchgear feels a bit cheap in terms of touch and feel. Ather could do better in this department.
Not The Brightest Headlight

The Ather's full-LED headlight could do with better throw and spread. It does a decent enough job on most occasions, but fails to light up dimly lit areas fully, which could be problematic for those whose own night vision isn't that great. On the bright side, the scooter comes with a nifty feature called guide-me-home lights, which keeps the headlight on for 10 seconds even after the scooter is switched off, in order to illuminate the path ahead of you.
Lacks Rear View Vision

We are nitpicking here, but we would have preferred the mirror stalks to be slighter taller. The current design is a bit too short for taller riders which will constantly have you slouching to see what's behind you.
This is just the gist of the strengths and weaknesses of the 450X. If you want an in-depth view of the scooter and how it performs in the real world, you could check out our road test review.
Should You Buy One?

You sure should. Yes, it's the most expensive electric scooter in India, but you get a lot for your money's worth. The 450X feels, and is, a premium offering with performance and features that are hard to find in any of those cheap Chinese EVs currently populating the market. It is leaps and bounds ahead of the current market and is the product to beat in the two-wheeler EV space in India.