Mavox Helmet Range Launched In India
Published On Mar 29, 2019 By Praveen M.
The helmets are available in four sizes and are priced from Rs 1485
All helmets come with a two-year warranty.
The entire range is compliant with the recently revised ISI norms.
The range-topping Mavox FX with graphics costs Rs 3,000.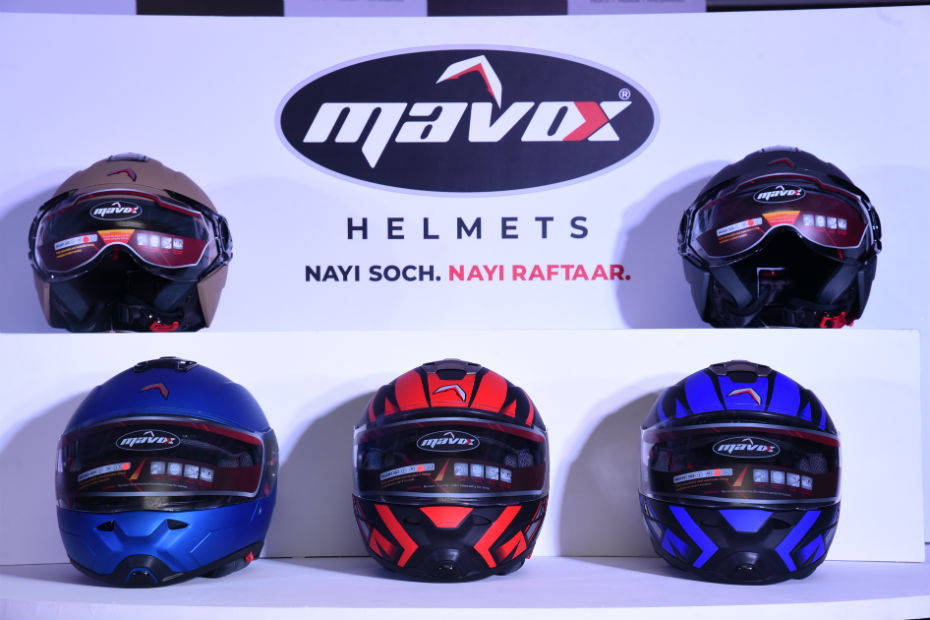 Helmet standards in India recently witnessed quite a few changes with the mandate to make them safer and lighter at the same time. This has created a ripple effect of sorts with many new brands entering the market with diverse offerings. One such new entrant is an Indian startup, called Sandhar Amkin Industries which has now launched its "Mavox" range of helmets in the country. Two ranges of helmets have been launched and their prices are as follows:
Mavox OX 10 (with single visor): Rs 1,485
Mavox OX 11 (with dual visors): Rs 1,650
Mavox FX Max with solid colours: Rs 2,400
Mavox FX Max with graphics: Rs 3,000
The open face OX 10 and 11 weigh around 1000 grams, while the FX range is about 100-200 grams heavier. These helmets are available in 560mm, 570mm, 580mm and 600mm sizes, and come with a 2-year warranty as well. The helmets will be available pan-India and will also be sold via the company's official website. Here's the brand's official statement for more details:
Press Release:
Sandhar Amkin Industries Pvt. Ltd. launches its flagship product - MAVOX Helmets
Mavox, the latest entrant in headgear sector focused on delivering the desired satisfaction to the consumer's expectations for safe & accessible riding accessories

27th March, 2019, New Delhi: Sandhar Amkin Industries Pvt. Ltd, a technology-driven and quality-oriented startup unveiled its flagship product of Motorcycle and Scooter Helmets under the brand name of 'MAVOX,' with the brand tagline 'Nayi Soch Nayi Raftaar.' The company is also planning to introduce a range of functional, safety and lifestyle riding accessories.
The brand name is derived from the word MAVERICK meaning unique, youthful and a trendsetter and it is combined with the strength of 'OX' representing power, stability, and energy. Deploying the latest technology and equipment to ensure each product goes through extensive safety procedures and no details miss the eye, Mavox helmets have been tested and constructed keeping in mind the everyday use of a rider. The story does not culminate here, the company aims to manufacture and market products that are truly best-in-class in safety, affordability and style.
The 3 exclusive products in the range are OX10, OX11, and FX Max which come with features like UV resistant paint that maintains the premium finish; water tight interface visor for wet and rainy conditions, and a compact design structure for better stability of helmets, to name a few. This new range is focused on delivering the desired satisfaction to the consumer's expectations for safe, thoughtfully designed yet accessible helmets. The two-wheeler helmet industry is an important growth opportunity as Indians are expecting products that are made with the newly revised ISI standard, and also deliver in terms of safety, style and most importantly value for money. The company has set up its pilot Manesar plant which has the capacity to manufacture over 2 million helmets per annum and will be adding capacity as required. The initial investment incurred by the project is INR 250 million.

Commenting on the announcement, Mr. Ayyushman Mehta, Managing Director, Sandhar Amkin Industries Pvt. Ltd. said, "While efforts are being made for the enforcement of certified two-wheeler helmets in India, we still have a way to go. Not surprisingly, most two-wheeler accidents in India result in head injuries. In such a situation, helmets that are not just accessible but highly protective and aesthetically designed at the same time are the need of the hour, and with Mavox we strive to deliver on that demand."
Mr. Sanjeev Mehta, Director & Co-founder, Autofit Pvt Ltd. said, "India is the largest two-wheeler market in the world, with millions of people using motorcycles and scooters every day, as a result, the helmet segment is experiencing massive growth. Considering the same, it was a natural transition for us to enter this segment to provide the best-in-class products to the customers. After Sandhar-Amkin's entry in the segment, the consumers will no longer have to choose between a safe or an affordable helmet."

In addition to this, Mr. Jayant Davar, Co-Chairman and Managing Director, Sandhar Technologies Ltd. said, "Leveraging the latest tech to build quality products is at the heart of 'Mavox,' and we strive to provide the best build to Indian customers. We will continue to innovate in our journey to manufacture products that are the best combination of style, safety, and accessibility."