Ather 450 Road Test Review: Still The Best Electric?
Published On Mar 5, 2020 By Zaran Mody for Ather 450
Two years after its launch, is the Ather 450 still the best electric scooter in India today? And is it good enough for you to seriously consider over a petrol alternative?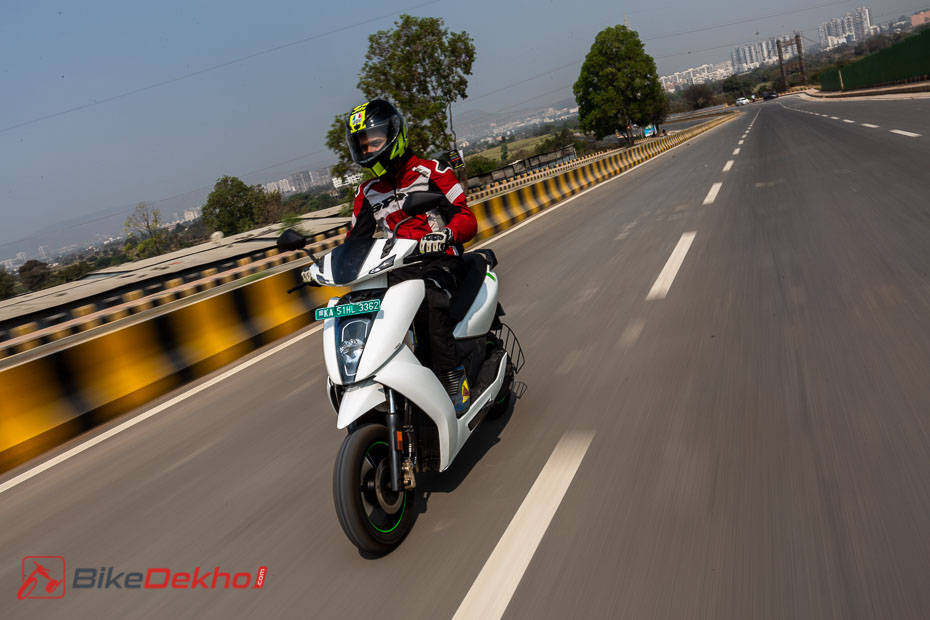 Introduction
In a market awash with sub-par Chinese imports, one doesn't have to do much to stand out in the Indian electric two-wheeler space. But just doing the bare minimum and scraping by doesn't really fit into the ethos of Ather Energy, one of the most innovative and ambitious EV startups in the nation. We were mighty impressed when we first rode the 450 in Bangalore, even calling it the best e-scooter available in India. But that was just a brief jaunt. To be able to comprehensively assess an EV, you've got to spend a few days with it and see what it's like to live with. We haven't had the opportunity to do so thus far, but Ather rang up with the offer, so we've gone ahead and done it now. Better late than never, right?
Pros
Feels very zippy in urban conditions.
Build quality and finish levels are top notch.
Packed with features, and not just for the sake of it.
Cons
Range numbers are very sensitive to riding style.
Ride quality can feel a bit stiff over sharp edges.
Brakes lack feel and lock up very easily; ABS required but missing.
Stand-out Features
Fast-charging capability of 1km/min using Ather Grid.
TFT touch screen looks great and works well, even with gloves.
Very sleek, futuristic and well-executed design.
Design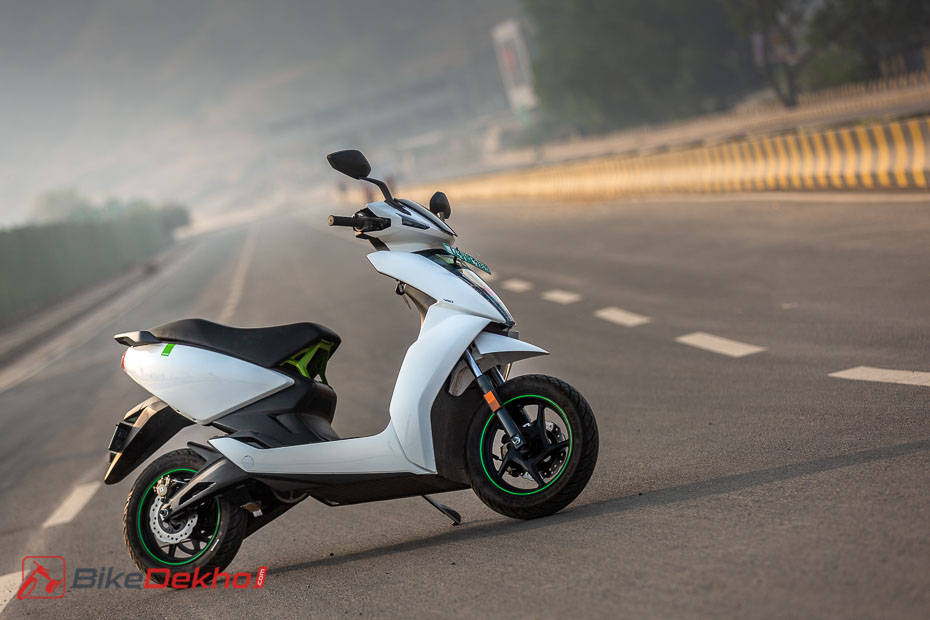 If Apple were to ever build an electric scooter, this is probably what it would look like. There's no other scooter on our roads that looks quite as futuristic as the little Ather, with its minimalist approach, does. It isn't easy to make an all-white paint scheme look special, and yet Ather has somehow succeeded. It's certainly been helped by the sharp LED lights all around, and the green inserts inject some flair too.

Everything from the double-layered body panels on the side of the apron to the exquisite seat hinge mount is flawlessly executed, and panel gaps everywhere are tight and consistent. If I had to nitpick, I'd say that the front fender is mounted a little too high, and the switchgear design could've been a little more special, but neither of these is a dealbreaker. The only real fly in the ointment is Indian legislation (story of our lives, right?), because the front number plate mount and saree guard stick out like sore thumbs in an otherwise very cohesive and well-rounded design .
Ergonomics

Testing electric scooters can be a back-breaking task at times, because many examples so far have featured ridiculously high floorboards thanks to battery packs inside them. This places you in a severely knees-up position more akin to an Indian-style loo than an everyday scooter. No such issues on the Ather.
The design may be unconventional but the ergonomics are perfectly conventional. The seat is spacious and remains comfortable even after long hours in the saddle, and even though the floorboard isn't the roomiest one out there, you still have adequate real estate on offer. My only qualm is the slightly low placement of the handlebar. Though still just about alright for my 5'8" frame, it could create a bit of a downward reach for those a little more vertically gifted.
Technology & Features

You could probably write a small book about the technology & features on the Ather, but I'll try and restrict myself to just the most important bits. Climb aboard and you're greeted with the crisp, colourful 7-inch touchscreen. It lets you fiddle with ride modes, various settings of the scooter itself (follow-me-home lamps, indicator beeps, etc.), and also lets you put the scooter in reverse mode (a very handy feature, since there is quite a lot of motor drag on the rear wheel which makes it rather difficult to push the scooter around).

Another advantage of having such a large colour screen is being able to provide a comprehensive navigation system, not just the turn-by-turn sort that we've seen on most two-wheelers so far. Other thoughtful features include self-cancelling indicators, and a locking mechanism for the charger that locks it in place once plugged into the scooter, until the key is inserted and turned to the 'On' position.
One piece of technology that we do wish Ather had included is an ABS system, since the brakes can be a little dangerous when you get on them hard -- but more on that later. Underseat storage is enough for a half-face helmet but the lack of depth means a full-face unit won't fit in.
Performance

In a market full of low-speed electric scooters where 25kmph is the norm and where 45kmph is considered 'high speed,' the Ather 450 with its 5.4kW motor and 80kmph top speed feels positively ballistic. Performance is especially peppy in Sport mode, with the instant electric torque doing its job and allowing you to seize gaps in traffic with the sort of gusto that'll leave fellow motorists looking on in wonder (if the scooter's design hasn't done that already). It's only beyond 75kmph that you really start to feel performance trailing off, and considering that the city is where this baby will spend most of its time, that really isn't an issue at all.
The middle-of-the-road 'Ride' mode still offers perfectly acceptable performance within the city, with acceleration nearly as zippy as Sport mode, but top speed limited to a more range-friendly 60kmph. Eco mode results in noticeably slower pick-up, with the speedo only reading as high as 50kmph. Throttle response feels duller too, but all this is the price you pay for that extra range.

Speaking of range, the 450 blew us away with just how much it can extract from a full charge. Ather's website may claim 55km, 65km and 75km in Sport, Ride and Eco mode respectively, but it was an impressive 96.7km before the scooter rolled to a stop in Sport mode. However, it's worth noting that the scooter automatically locks itself in Eco mode once the charge indicator falls below 15 per cent. This mode delivered a mammoth 108.6km on a full charge, and while we didn't have the time to carry out a range test in Ride mode, interpolation tells us that you should get a little over 100km. What's even more commendable is the negligible drop in performance as the charge depleted. Even moments before running dry, the Ather could achieve respectable speeds, with acceleration only slightly slower than at full charge.
Sure, this isn't as much as a petrol-powered scooter, but Ather is only selling its scooters in cities where it has already established its Ather Grid charging infrastructure, meaning a fast-charging rate of 1km/min. Even with a regular 5-amp socket, an empty-to-full juice up takes around 4 hours. All this means that you can comfortably use the 450 for commuting to work every day.
Ride & Handling

A stiff ride perhaps isn't too much of a surprise on a scooter with such sporty motor performance. The ride quality is definitely on the firmer side, and the Ather feels especially harsh over closely spaced consecutive sharp edges like tall rumble strips. That being said, it's not excessively uncomfortable or back-breaking; it just means you have to slow down that little bit more on poor stretches of tarmac.
The upside of this stiffness is light and sharp handling. The 450 turns in with very little effort and inspires confidence once leaned over, holding its line with conviction. Making mid-corner corrections is also a breeze, and those long hours that Ather has spent achieving perfect weight distribution pay dividends here.

While mid-corner corrections can help you avoid obstacles to a certain extent, sooner or later you're going to come across something that can't be ridden around, and it's around this time that you'll realise what's wrong with the 450's braking setup. There is a phenomenal amount of braking power on offer, but its stopping distances still aren't the best in class.
Why? Well, overkill. There is so much stopping force available and the brakes are so immediate and sensitive that locking up is a very easy affair, even for the front wheel. This issue is exacerbated by the lack of feel from the brakes, which means that you're usually sliding sideways or tucking the front before you realise that a lock-up has occurred. We understand that Ather has been working on making the brakes a little less sensitive over the last year, but the quick and simple (and necessary) fix is ABS. Hope you're listening, Ather!
Variants
You can get it in either white, or white. Did we mention there's a white option as well?
One variant, one colour.
Of course, there's the new Ather 450X, but that effectively qualifies as a separate model and deserves its own road test. So keep watching this space.
Verdict

After the first ride back in 2018, we touted the 450 as the best electric scooter available in India. Fast forward a couple of years, and you now have big players like Bajaj and TVS in the game, with the Chetak and iQube respectively. So, can the 450 still retain its spot at the top of the food chain? Well, we won't know for sure until we get the chance to spend a few days with both the challengers (we've only had a brief spin on either one so far).
But on the basis of what we know so far, the 450 is a more technologically advanced, better equipped and better performing scooter than the other two, all while undercutting them in terms of on-road price. The presence of fast-charging capabilities is the cherry on top that makes this our pick of the bunch. Pity, then, that it won't be around for much longer. Yep, you read that right. The 450 is all set to be discontinued, leaving just the 450X in Ather's lineup. Stay tuned for our road test coming soon.