2019 Triumph Street Twin: Road Test Review
Published On May 6, 2019 By Benjamin Noel Gracias for Triumph Street Twin
Is the new, updated for 2019 Street Twin engaging enough to appeal to a younger audience?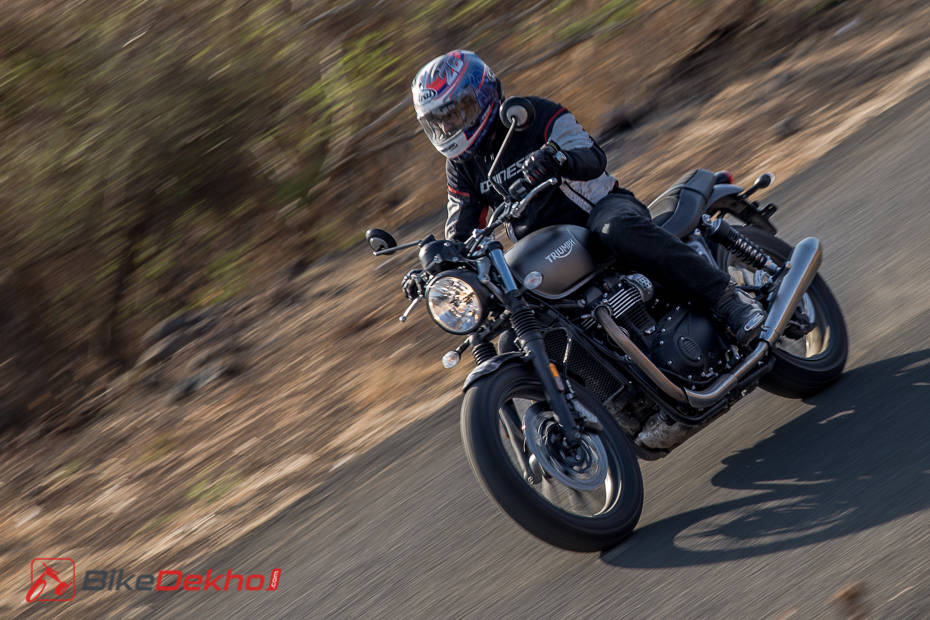 Words by Benjamin Gracias
Photography by Vikrant Date
The first-gen Triumph Street Twin was a fantastic bike to look at, but when it came to excitement and engagement, the bike was seriously lacking. It felt like a safe bet. It seemed positioned towards the middle-aged banker wanting to get back to motorcycling, someone who wanted the big-bike feel with none of the associated risks.
In comparison, the new Street Twin sees a lot of mechanical updates. On paper, it gets more spunk, new software and hardware updates, and is safer too. However, the question remains, does the new entry-level Triumph have what it takes to keep the enthusiast satisfied? Do the new updates infuse youthfulness into the Street Twin?
Also read: Triumph Bonneville T100: Road Test Review

Design and features:
When it comes to cosmetic updates, there's not much to talk about. You get a Triumph logo sans the vertical stripe on the fuel tank, an updated logo on the side panels, and brushed aluminium headlamp brackets. The most noticeable updates though are the machine-finished cast aluminium alloy wheels and a new Alcantara finish seat cover that feels fantastic to the touch. Overall, the new Street Twin ends up looking like a more mature iteration of its previous self.
Also read: Triumph Bonneville Speedmaster: Road Test Review

It continues to follow the neo-retro design language of its predecessor and has a halogen headlamp setup. It does get a bright LED tail lamp setup though. Triumph has not only updated the software of the instrument console, but it also gets a black bezel now and has a new, cleaner looking dial. Interestingly, the bezel gets a 'Bonneville' logo at the top. The digital inset has a cleaner interface now and displays engine rpm, fuel level, time, two trip meters and rider modes, all of which can be toggled through a button on the left switchgear. That too has been revised to accommodate a dedicated button for rider modes. The buttons themselves are large enough and easy to use. The modes are fairly straightforward to navigate through too. Quality and fit and finish are at par with what we've come to expect from Triumph and gave us no reason to complain.
Also read: Triumph Speed Twin First Ride Review

Engine and performance:
| | |
| --- | --- |
| Acceleration | Street Twin |
| 0-60kmph | 2.43 seconds |
| 0-100kmph | 5.09 seconds |
Triumph has worked on the Street Twin's parallel-twin motor to make it more exciting. It gets lightweight magnesium crankcase covers, a lighter crankshaft and a lighter clutch assembly too. Rev limit has gone up from the previous 7000rpm to 7500rpm. The 900cc liquid-cooled parallel-twin motor now makes 65PS at 7500rpm, an increment of 10PS over the previous bike. Torque output, though, remains unchanged at 80Nm, but now peaks higher at 3800rpm, instead of the previous 3200rpm.
The performance might not be in the league of other 800-900cc naked roadsters, but the Street Twin is one of the quickest parallel-twin cylinder bikes out there. You have strong performance 3500rpm onwards and the torque surge continues to remain unabated even post 6000rpm. Thanks to the punchier motor, every time you whack open the throttle you will dart forward with gusto, accompanied by a sonorous beat from the twin exhausts.
| | |
| --- | --- |
| Roll-on | Street Twin |
| 30-70kmph in 3rd gear | 3.99 seconds |
| 40-80kmph in 4th gear | 5.25 seconds |
That said, the 5-speed gearbox with its tall gear ratios does take a toll on the motor's tractability. It does not bother you much at highway speeds as the motor is in its sweet spot. In our roll-on tests though, the Street Twin was slower than the smaller and less powerful 650cc Royal Enfield Interceptor. However, this tall gearing actually helps the Street Twin return better efficiency on longer rides as the engine remains relatively stress-free most of the time. In 5th gear at 100kmph, the motor sits at a lazy 3200rpm.

In the city though, at speeds below 50kmph, the tall gearing means you are riding the Street twin in first and second gears most of the time. And that does take a toll on city fuel efficiency. All things considered, this motor is fuel efficient enough for a 900cc parallel-twin. In fact, its overall fuel efficiency is similar to the Royal Enfield Interceptor's. However, a tiny 12-litre fuel tank means a range of just 312km on the highway on a tankful.
| | |
| --- | --- |
| Fuel efficiency | Street Twin |
| Highway | 26.14kmpl |
| City | 24.5kmpl |
In terms of refinement, the motor certainly impresses. You do feel a slight buzz at the footpegs at close to 100kmph though. In the city, you do feel the heat from liquid-cooled motor around your ankles which is uncomfortable, but not unbearable. The clutch has a light and progressive feel, though the 5-speed gearbox has a slightly clunky feeling gearshift.

Rider aids include two riding modes: Road and Rain. The Rain mode has a less aggressive map and more intrusive traction control, but due to the motor's linear power delivery and dry and grippy riding conditions, we never really needed to use it. Also, the traction control feels less intrusive than before and you need to be really ham-fisted with the throttle for it to cut in. You can also switch it off if desired.
Overall, the motor seems energetic and more lively than in its previous state of tune, but at the same time, it doesn't lose any of its easy everyday usability.

Ergonomics:
Once onboard, the Street Twin feels compact. You have a narrow fuel tank and a large single-pod instrument console ahead of you. You also sit quite low. The low 750mm seat height makes the Street Twin quite manageable and as easy to move around in a parking lot as a 250cc motorcycle. Seat cushioning is on the softer side and can feel mildly uncomfortable after a 50km-long ride. We loved the Alcantara finish on the seat which feels lovely to the touch and adds a premium flair to the motorcycle. In the city, the Street Twin feels really comfortable to ride. And even your pillion will appreciate the space the wide rear seat offers, but not the lack of a grab rail though.

Ride and handling:
For 2019, the Street Twin gets suspension updates in the form of new Kayaba 41mm forks with internal cartridge type damping. In terms of ride quality, while the ride is on the firmer side, the Street twin impresses with its ability to soak up bumps and sharp ridges without transmitting them to the rider. Its long 1415mm wheelbase imparts a sense of stability in the corners too. And even though the handling is not as sharp as sport nakeds, the Street Twin's front end feels eager to turn into corners. The Pirelli Sportscomp tyres, though, lack a bit of grip when you are riding it aggressively in the corners. On the highway, the Street Twin feels stable at high speeds.

In the city, its heavy front, coupled with the small, lower set handlebars means the Street Twin takes a bit of effort to manoeuvre. A taller and wider handlebar would have provided more leverage and would certainly make it easier to dart through tight traffic.
| | |
| --- | --- |
| Braking | Street Twin |
| 100-0kmph | 46.41m, 3.66sec |
| 80-0kmph | 29.68m, 3.00sec |
Another area where the new Street Twin has significantly improved is in the braking department. Instead of the Nissin 2-piston calipers, it now gets Brembo four-piston calipers on the 310mm front disc. At the rear, however, the disc size has gone down to 220mm from 255mm. These updates are excellent as they result not only in shorter braking distances, but also better brake feel from the levers.
Overall, while the Street Twin leans towards a more comfortable riding experience rather than outright sharp handling, you will find yourself fairly entertained if you were to take it through a winding mountain road.

Verdict:
The new Street Twin has evolved into a more lively motorcycle. It now performs better, feels dynamically competent and surprisingly, looks even better than its earlier avatar. The previous Street Twin was meant to be an entry-level "big bike" that you could use every day. The new one does just that while appealing to a wider audience. Had Triumph equipped it with better tyres and wider handlebars, it would've been even more loveable.

At Rs 7.45 lakh (ex-showroom, India), the new Street Twin is now Rs 25,000 more affordable than its previous iteration and that sweetens the deal even further. That said, now, because the motorcycle is imported to India as a CBU (Completely Built Unit) rather than being assembled here, it attracts higher registration costs in states like Maharashtra and Karnataka. The on-road prices here go through the roof. But everywhere else, if you have a budget of around Rs 9 lakh, love neo-retro design and want a no-frills motorcycle that can be used every day, while keeping you happy on a hilly road as well as on that ride down to Goa, the new Street Twin could be the bike for you.