Royal Enfield Himalayan BS6: Road Test Review
Published On Mar 1, 2020 By Zaran Mody for Royal Enfield Himalayan
Royal Enfield has steadily kept on improving the Himalayan since it was first launched. Does that trend continue with this BS6 update?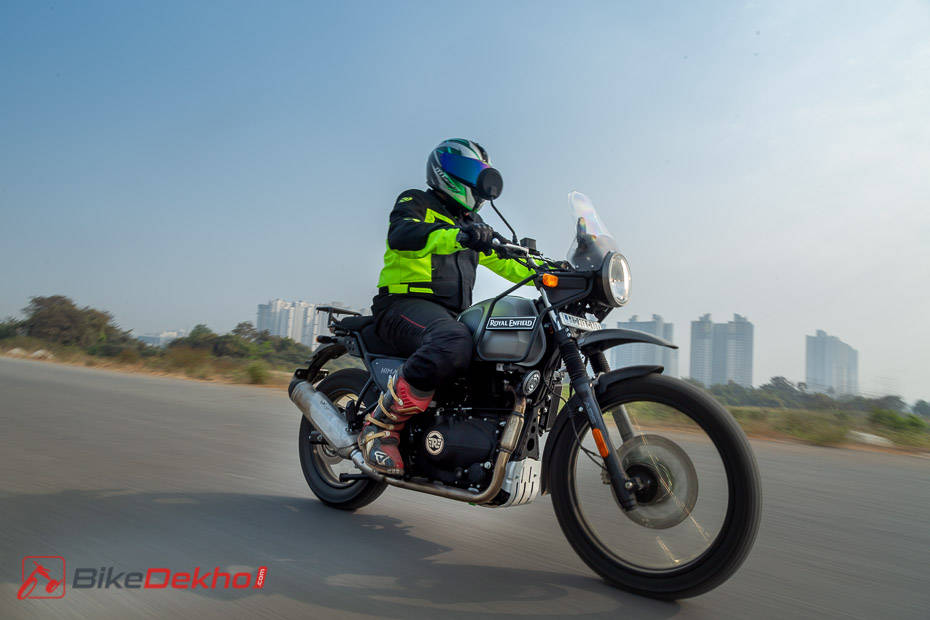 Introduction
Prior to the Royal Enfield Himalayan's launch way back in 2016, India didn't really have a dual-purpose adventure bike option on the market aside from the humble 150cc Hero Impulse. Yes, the RE had a troubled birth with various (and sometimes quite severe) quality issues, but its maker has worked hard at fixing these niggles and shaking off the image of fragility. Over the years, it's also received tech updates like fuel-injection and dual-channel ABS, all of which put together means that the Himalayan today is a rather capable, desirable and, most importantly, dependable motorcycle.
With the deadline for BS6 emission norms just around the corner, yet another update has been necessitated. So, can the trend of improvement continue into a greener era?
Pros
Motor has (nearly) retained its output and feels just as quick, despite meeting BS6.
Certain components look and feel more rugged and premium.
Truckloads of suspension travel and ground clearance, as always.
Cons
An already heavy motorcycle has become even heavier.
Updates are milder than some would've hoped for.
The front screen has significant optical distortion, and can cause buffeting.
Stand-Out Features
Tractable motor with linear power delivery.
Powerful headlight.
Refinement levels are good, and not just by Royal Enfield standards.
Design

Purposeful and rugged. The Himalayan features the same no-frills design that it has sported right from day one, and that's not necessarily a bad thing. In much the same way that George Clooney still looks smashing even after having greyed over completely. To freshen things up a little, RE has thrown in some new paint schemes, of which the dual-tone options look vibrant and youthful. Our test bike, though, came in 'Gravel Grey' - a matte grey option that doesn't look too impressive in pictures but blew us away when we saw it in the flesh.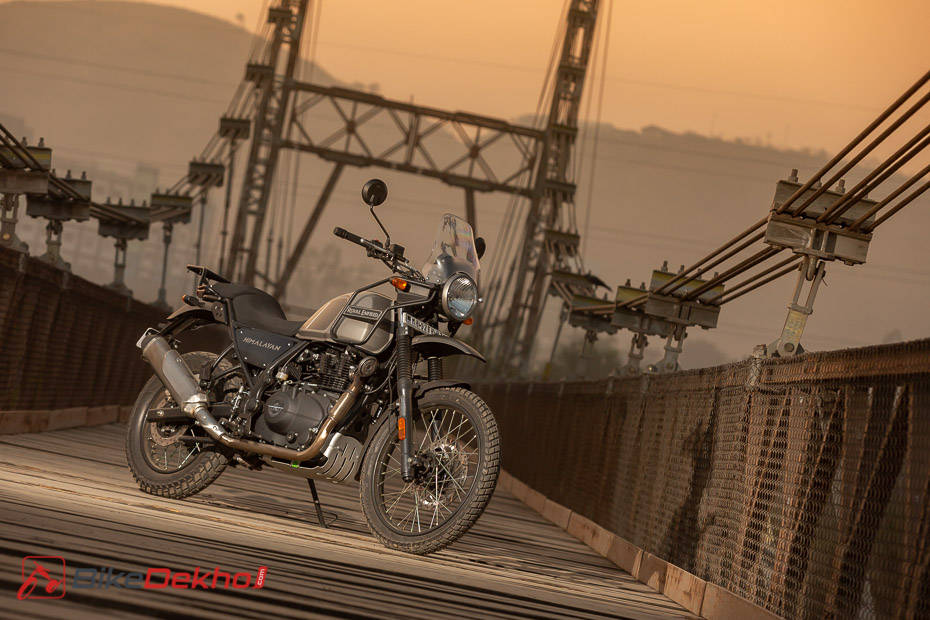 Sure, there are quite a few people out there who'd have been wishing for a more radical visual update, but hey, if something ain't broken, don't try and fix it, right? One area where we would've liked some changes is the welds on the frame. The shoddily done joints look a little amateurish and stick out like a sore thumb, taking away from the premiumness of the rest of the design. On the plus side, bits like the handlebar yoke, fuel filler cap and bar-end weights now feature a sand-blasted finish. They look very premium and feel built to last.
Ergonomics

If you're in the business of serious mile-munching, there's really nothing out there better than the Himalayan in this price or displacement range. The tall handlebar, combined with the scooped out seat means that you feel like you're sat in the bike. The riding position makes you feel like the king of the road - tall and commanding, thanks to the sizeable windscreen and high instrument cluster you're faced with; but seat height is still a VERY manageable 800mm.

Seat padding is just the right firmness, the rider's triangle is roomy and well suited to both sitting down and standing up, and even your significant other will be happy perched on the back of the Himalayan. If we had to nitpick, we wish the screen was adjustable for height and a little more optically correct. But these aren't the sort of things that'll be deal breakers on a 500km day of riding -- something that the Himalayan turns into an effortless and comfortable affair.
Technology & Features

One of the things we like most about the Himalayan is its sheer simplicity. There are no rider modes to choose from, no fancy TFT screen, no fiddling possible with the suspension. Just kick the tyre, light the fire, and off you go. Of course, RE hasn't skimped on the bare necessities. So you get the safety net of dual-channel ABS (rear wheel can be turned off), and a digital inset on the instrument cluster that gives you two tripmeters, the current time, average speeds and even a fuel gauge (which is quite a novelty on a single-cylinder RE).
The BS4 update brought with it fuel-injection, which obviously stays for the BS6 bike as well, along with the addition of an extra catalytic converter. In a world full of snazzy LED lights with their scything white beams, the Himalayan goes the old school route and is all the better for it. The halogen unit is powerful and has decent spread too, outperforming most of the LED examples we've tested on two-wheelers so far. Our bike had its beam pointing a little higher than we'd like, but that's a two-minute fix by any mechanic worth his salt.

Another aspect that's very important in this genre of motorcycle is luggage carrying capacity. Of course you get the run-of-the-mill add-on options of hard panniers and a top box, but since the tank shell is metal, you can use a magnetic tank bag too. And if that still isn't enough, the frame on either side of the front of the motorcycle can be used as a mounting point for more luggage.
Engine & Performance

Royal Enfield gets a lot of flack for being stuck in the past, and yes, that argument has its merits, but for the most part, it's quite unwarranted. It is, after all, the only Indian manufacturer building and selling a twin-cylinder motor. The Himalayan might not be powered by the 650cc engine in question (at least not yet), but its 411cc unit is plenty modern too. SOHC architecture, closed-loop fuel injection and oil-cooling all ensure that the motor is reasonably up to date and well-equipped.
The long-stroke cylinder design results in a relaxed demeanour, but not to the point of feeling sluggish or slow. Power builds linearly and peaks at the correct moment, just like a well-executed political campaign. Tractability is superb, but the top-end doesn't feel breathless either, and the engine pulls cleanly throughout the rev range. In fact, the drop in output spelled out on paper is barely noticeable when sat aboard. Remarkable, considering that the motor is now also BS6-compliant.
Whether it's carrying you down the highway at a steady cruise or pulling you out of slush under pouring rain, the engine always feels up to the job. But everything isn't perfect. If you've got a motorcycle like this, chances are that it's your only motorcycle, so you're going to be using it to commute in the city as well. While we have no complaints about the motor's performance, we did find it heating up quite a bit over prolonged periods in slow moving traffic. While this can be bothersome on the few occasions when it does happen, the engine's refinement levels will make your life that much more comfortable on a daily basis. The motor feels smooth not just by Royal Enfield standards but even compared to most other long-stroke singles out there.
Ride & Handling

On paper, it seems like there's some bad news coming up here. The BS4 version of this bike already tipped the scales at a rather hefty 195kg, and this updated bike weighs a smidgen under 200kg with its fuel tank 90 per cent full. So, has the ride and handling been compromised? Not really, no. The bike still requires a fair chunk of steering effort into the bars, but once you understand this, it tips on readily and holds its line with conviction. Whether straight upright or leaned over, the Himalayan feels thoroughly composed at all times, especially so at a cruising speed of around 90kmph on the highway.
Obviously, a bike that's built for no roads can handle bad roads with commendable ease. In fact, the Himalayan turns you into a bit of a hooligan in the city, because even when you're faced with the tallest of speed breakers and the deepest of potholes, slowing down isn't really a very high priority. Just stand up and ride it out. The one issue that seems to have been carried over from the previous bike is the scraping of the main stand when riding over speed breakers with a pillion on board.

It's still just as capable off the road as well. Sure, it's not as nimble and agile as something like a Hero XPulse, but that just means you have to plan a little further ahead, that's all. The ample suspension travel and ground clearance mean that the roughest of surfaces are dispatched with, and even when you do run out of grip, the bike slides predictably and progressively, allowing you to maintain complete control.
Variants
The more basic black and white colours are the most affordable of the lot, at Rs 1.87 lakh, and unsurprisingly also the least special-looking. Shell out a little more cash, say Rs 1.89 lakh and you can get yourself this Gravel Grey scheme you see here, or even the Sleet Grey option with its fantastic urban camo paintjob. And for Rs 1.91 lakh, Royal Enfield will give you the new dual-tone colour schemes - Lake Blue and Rock Red.
*all prices ex-showroom Delhi
Verdict

Owning and riding multiple motorcycles is a luxury that few can afford and even fewer can truly enjoy. If the Himalayan is on your shopping list, it's quite likely that it's going to be your only motorcycle. And as an only motorcycle, it's as close to perfect as you can get in this price range -- or even a few rungs higher, for that matter.
This really is the Swiss Army Knife of motorcycles -- a capable, versatile, one-size-fits-all motorcycle. Need something to ferry you to the office and back? No problem. Want to cruise the highways on weekends? It'll do it all day and all night long. Finally had your leave approved and want to ride to Ladakh? This is just the bike for the job. It'll even keep you entertained on the twisty bits of tarmac you'll find on the way. Short of hooning about on track, this is the one motorcycle that'll do pretty much any and everything you ask of it, without protest or complaint.
All for just Rs 1.87 lakh (ex-showroom Delhi), or in other words, just Rs 6,000 more expensive than its BS4 predecessor. In conclusion, the answer is yes. The trend of improvement has continued even with this BS6 update. It may not be as in-your-face as some of the previous updates, but the Himalayan BS6 is a slightly more well-rounded and desirable motorcycle than before.