Ultraviolette F77 vs KTM 390 Duke: Price Comparison
Modified On Nov 29, 2022 08:56 AM By Bernard Mascarenhas for KTM 390 Duke
The swanky new performance electric bike compared with its Austrian petrol-powered counterpart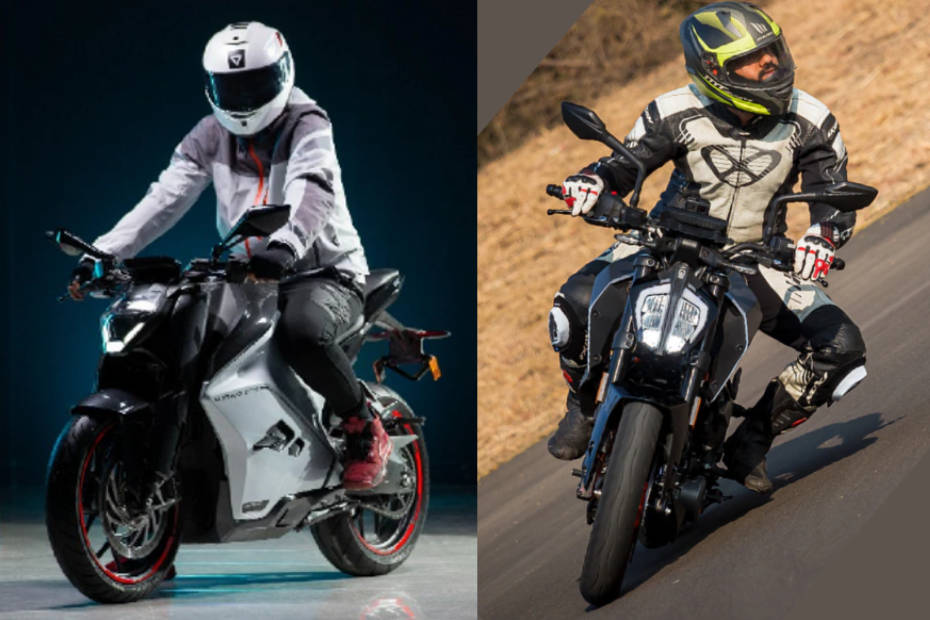 The long wait finally ended as Ultraviolette lifted the wraps off its F77 electric bike and announced its prices which are Rs 3.80 lakh for the standard variant and Rs 4.55 lakh for the top-spec Recon variant (both prices ex-showroom).
While it may carry a hefty price tag, the company claims running the electric motorcycle is more economical in the long-term when compared to an ICE motorcycle. So, let's see how the Ultraviolette F77 stacks up against the KTM 390 Duke.
| | | |
| --- | --- | --- |
| Ex-showroom Bengaluru | Standard Variant | Top-end Variant |
| Ultraviolette F77 | Rs 3,80,000 | Rs 4,55,000 |
| KTM 390 Duke | Rs 2,96,361 | Rs 2,96,361 |
| Price difference | Rs 83,639 | Rs 1,58,639 |
When you compare the Recon variant of the F77 against the 390 Duke, the ex-showroom price of the electric performance bike is around 35 per cent more than the cost of the 390 Duke. But what you get for this price are three ride modes (Glide, Combat and Ballistic), three levels of regenerative braking, ride analytics and pre-load-adjustable inverted forks.

Apart from the above aspects, both the F77 and 390 Duke get 320mm front and 230mm rear disc brakes, all-LED lighting and a TFT console with Bluetooth connectivity. In fact, the F77 has a claimed Indian Driving Cycle range of 307km, and a claimed real world range of 261km. This brings it close to how much a 390 Duke is able to offer out of a tankful in the city, which is also about 260km in our experience.

Even if you compare the on-road price of the 390 Duke of Rs 3,94,684 (Bengaluru), it is bound to be more affordable than the F77. So let's compare annual running costs to see how viable the F77 is.
To fully charge the Ultraviolette F77: 10.3 units
Per unit cost: 10.3 x Rs 4.10 (Bengaluru)
Usage: 40km a day x 6 days a week x 52 weeks
Approximate Price Of Electricity Consumed: Rs 2,196
As seen above, the running costs of the F77 is incredibly low. That said, considering this is a performance electric bike, the range will reduce, resulting in more frequent charging. Also, the F77's standard charger offers upto 35km of range per hour of charge. In comparison, here's the annual running costs of the KTM 390 Duke.
Distance covered in a year: 40km a day x 6 days a week x 52 weeks: 12,480km
Mileage in the city (as per our tests): 25.89kmpl
Total fuel consumed in a year: 12,480 / 25.89 = 482 litres
Approximate cost of petrol per litre in Bengaluru: Rs 101
Approximate fuel expense in a year: Rs 48,682
It's not a secret that electric vehicles are economical to run, however, the quantum of affordability is staggering when you compare that the F77's annual running costs is about Rs 2,196, while the KTM 390 Duke's running cost is a massive Rs 48,682! Even if we consider the battery drop-off after a year, resulting in slightly reduced range and increase in charging cycles, the running costs aren't expected to rise significantly.
With such a huge difference in the running costs between the two bikes, a F77 Recon variant owner can be rest assured to cover the high buying costs by running the F77 for more than 3.5 years. And mind you, we have still not considered all the factors like maintenance costs.
We will soon be riding the F77, so watch this space.