New Yamaha R15 V3 Vs Used KTM RC 390: Which One To Buy?
Modified On Apr 13, 2019 By Gaurav Sadanand for Yamaha YZF R15 V3
Which one of these would make for a better investment? We help you find out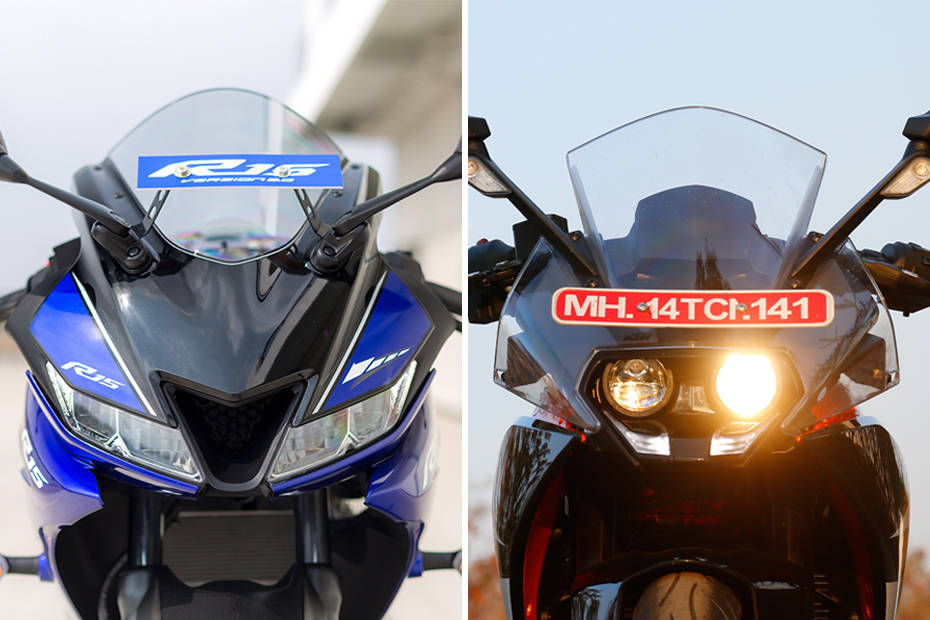 Ever since the time it was launched, the Yamaha R15 has emerged as the default choice for enthusiasts who want to hone their riding skills but are on a budget. The third iteration of this peppy sportsbike steps it up a notch by offering better performance, stunning looks and features that'll make other 150cc commuter bikes feel spartan. There is one drawback though, the addition of dual-channel ABS has pushed the price of the bike to Rs 1.63 lakh on-road. That's quite steep for a 150cc motorcycle.
But what if there was an alternative -- a more powerful, more dynamic one? The bike in question: a used KTM RC 390 which you could own for as low as Rs 1.5 lakh, and that too for a BSIV-compliant 2017 model! A tempting offer indeed. Moreover, if you'd like to save some more cash, you could opt for the first-gen model which is available at around 1.15 lakh. The cherry on the cake is that the KTM offers better kit, a lot more power and helps you save some money at the time of purchase. So, here's a closer look at the two options, and the pros and cons of buying either one them.
Performance:

The engine powering the orange bike is a 373.2cc, liquid-cooled, single-cylinder mill that puts out 43.5PS and 35Nm of peak torque. In comparison, the R15 V3 gets a 155cc, liquid-cooled, single-cylinder motor that belts out 19.3PS and 14.7Nm of torque. That's a 24.2PS and 20Nm power advantage the KTM has over the Yamaha.

To put things into perspective, the RC 390 sprints from 0-60kmph in around 3 seconds and 0-100kmph under 6.5 seconds. On the contrary, the smaller R15 V3 completes the same runs in 3.40 seconds and 11.42 seconds respectively. The RC 390 may be faster but its frantic power needs some skill and experience to tame. On the other hand, the R15's engine, though quick, is less intimidating for novice riders. Besides this, the 155cc motor is tractable enough for quick overtakes in the city traffic and has enough grunt to hold triple-digit speeds on the highway.
If you were to choose the second-gen RC 390, it would feature a slipper clutch just like the R15, which provides for lighter clutch actuation and prevents wheels hops during hard downshifts. A must-have for these supersports which love attacking corners. The first-gen RC 390 misses out on this nifty feature, so choose wisely.
Ride and Handling:

The RC 390 gets a couple of premium components over the R15 which helps it handle better. For instance, it comes with upside down forks, stickier W/H-rated Metzeler Sportec M5 radial tyres and a massive 300mm-320mm (first-gen/second-gen respectively) front disc brake. In contrast, the R15 gets telescopic forks, and MRF tyres as standard. Yamaha does offer an optional rear H-rated Metzeler Sportec M5 tyre that works well with its setup. Don't get us wrong, the R15 is a brilliant handler, so much so that it tips into corners quicker than the RC 390. In essence, both the bikes need some serious skill and lightning quick reflexes to extract the most out of them.

We'd say the relatively more comfortable riding posture and less frantic engine on the R15 compared to the uber-aggressive posture on the KTM makes the former easier to live with on a daily basis. However, if you are an experienced rider who loves scraping knees and needs ample surge of power from the engine, it can't get any better than the RC 390, at least at this price point. And if you were wondering, the two bikes here get dual-channel ABS right off the shelf.
KTM RC 390 Shortcomings:

A used RC 390 maybe an affordable option, but the fact that it must have clocked some serious distance on its odo means you'd have to shell out on spare parts quite often. Parts like the chain sprocket assembly and clutch plates in most cases require replacement almost every 10,000km, which becomes a hassle. On the bright side, these spares are reasonably priced compared to its sub-400cc rivals. Another blemish in the RC 390's otherwise perfect package would be its tyres. Thanks to their sticky nature, the bike tends to burn through them pretty fast. A set of W-rated Metzeler Sportec M5 would cost between Rs 14,000 - Rs 14,500 while the standard H-rated Metzeler tyres would set you back by around Rs 11,000. That said, if you're lucky to get your hands on a bike with a fresh set of tyres, you would save yourself some money at least for a while.
Aside from this, used bikes are generally not insuranced or nearing the expiry date of insurance. This means you would have to go through the hassle of getting your insurance renewed every year, which would cost you anywhere between Rs 2,000 - Rs 4,000. It's also difficult to tell if the bike has been properly maintained by the previous owner or if it has ever met with an accident, unless you have hawk eye vision.
New Yamaha R15 V3 Advantages:

You wouldn't have to deal with most of the problems mentioned above. Besides, since you're the first owner, there wouldn't be any history for the bike, good or bad. Other benefits include 5 years of warranty and 5 years of insurance. Additionally, a brand spanking new R15 will run a lot smoother and cleaner and requires less maintenance compared to a used KTM.
Features:

The KTM RC 390 and Yamaha R15 V3 get a full-digital instrument console with evenly matched features. Having said that, it's the R15's horizontal layout and bold lettering that makes information easier to read at a glance. Besides, the negative LCD display is bright and legible even in broad daylight. Aside from this, the R15 features split LED headlights which look cool but are average at best at night. The RC 390's dual projector headlights offer way better throw and spread in comparison.

So, it all boils down to the kind of rider you are. The KTM RC 390 makes for a brilliant value-for-money proposition provided you have the expertise and skill to tame it. Also, we'd suggest going for a newer model rather than the first-gen RC 390, which misses out on a side-mounted exhaust, slipper clutch and a few more updates that makes the second-gen model better.
That said, if you're a beginner rider learning the ropes, by all means, go for the R15 V3. It offers usable performance in the form of a tractable motor and exceptional handling prowess that'll have you grinning from ear to ear. You could always progress to the KTM RC 390 once you're sure of your skills and comfortable with the bike.