2019 Bajaj Dominar 400 vs KTM 390 Duke: Road Test Comparison
Published On Apr 22, 2019 By Benjamin Noel Gracias for KTM 390 Duke
The new Dominar 400 makes just 3PS less than the 390 Duke and costs Rs 70,000 less. Does it present itself as the better value proposition then?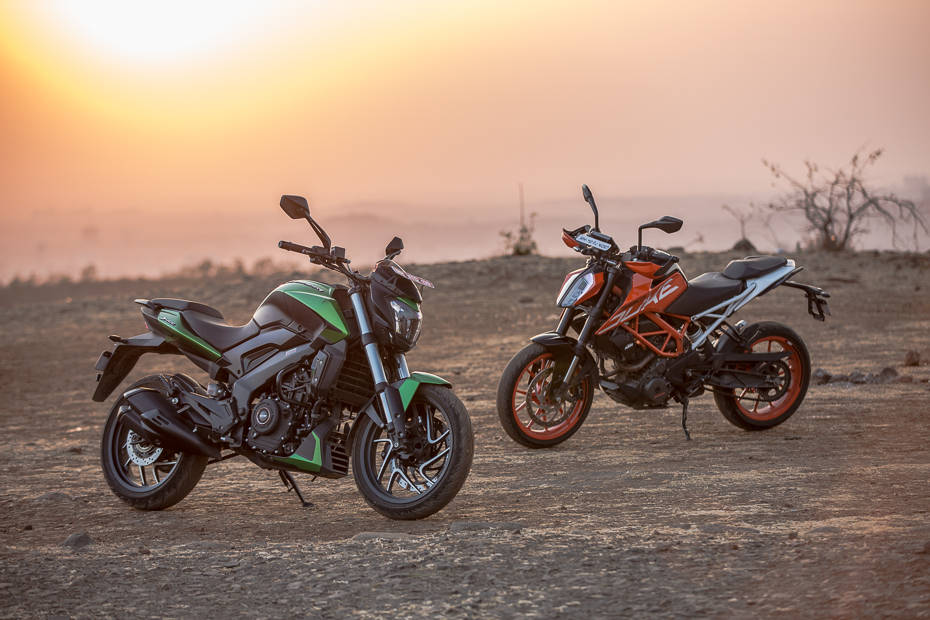 Words by Benjamin Gracias
Photography by Vikrant Date
The KTM 390 Duke has been the go-to performance bike for enthusiasts since its launch in 2013. Its 373.7cc motor and capable chassis make a strong case for those looking for excitement without spending sportbike money. When launched, the first generation KTM 390 Duke cost around Rs 1.8 lakh (ex-showroom Delhi). Its latest iteration brought with it a whole lot of improvements and goodies but that also drove the price up. At Rs 2.43 lakh, the new one asks you to stretch your budget quite a bit.
Also read: 2019 Bajaj Dominar 400: First Ride Review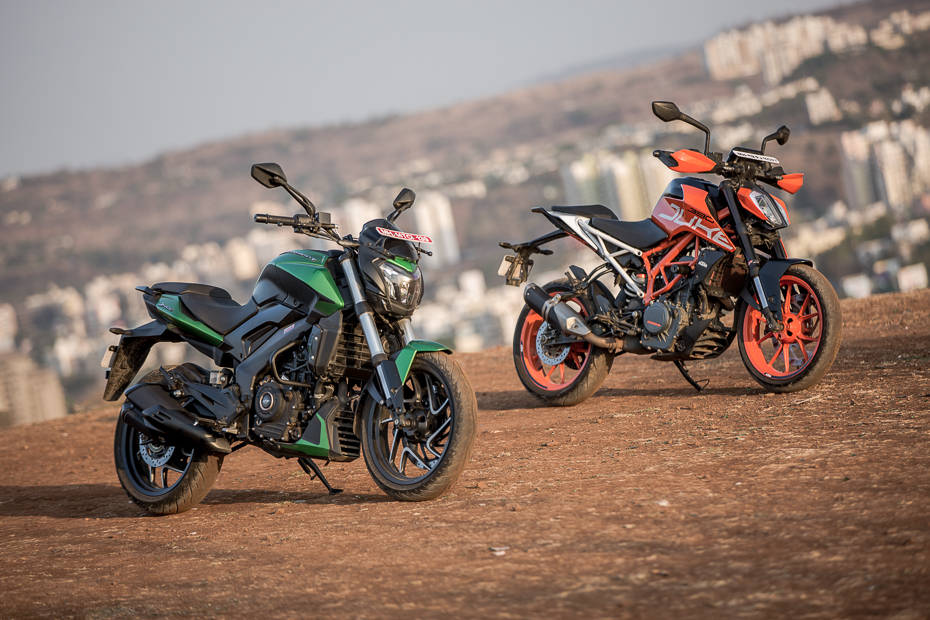 The Bajaj Dominar 400 then should be the answer, right? It gets the same 390 Duke-derived motor which in its updated avatar makes 40PS, just 3.5PS less than the KTM. And it impresses in the spec and features department as well. At Rs 1.73 lakh, then this should be the new value-for-performance king. Is the answer that simple though? We spent a week with both bikes to find out.
Also read: New Bajaj Dominar 400 vs Used Kawasaki Ninja 300: Which One To Buy?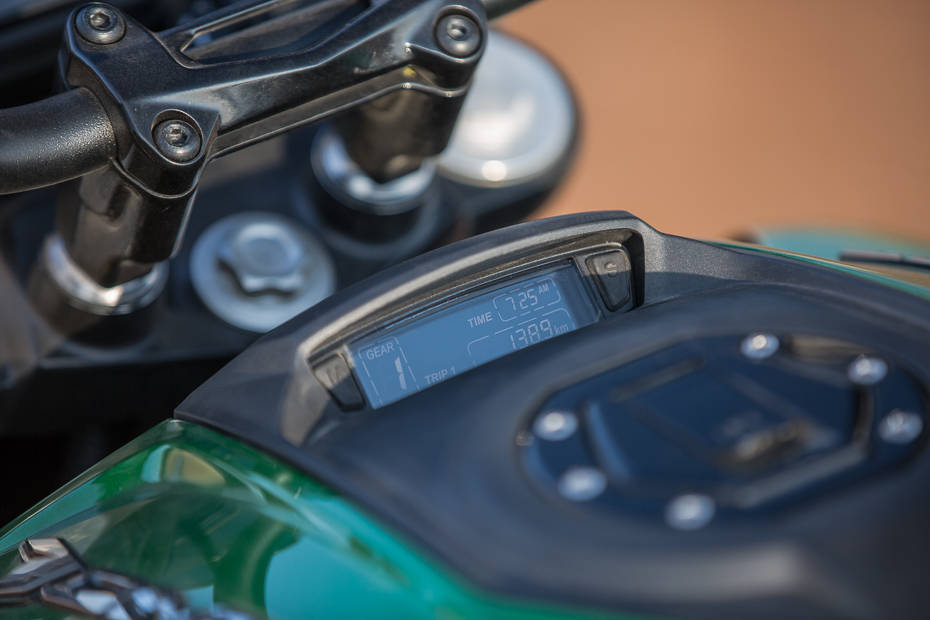 Feature-packed:
When it comes to features both the 390 Duke and Dominar 400 impress in their own ways. The current-generation 390 Duke gets a nifty colour TFT tablet for an instrument console. It is filled with information and is easy to toggle through thanks to a four-way switch on the handlebar. You also get all-LED lighting and, like the first-gen 390 Duke, knuckle guards as standard. While the Dominar misses out on the colour TFT screen, it gets twin blue-backlit instrument consoles: a primary one ahead of the handlebar and a small one on the tank. Unlike the previous iteration, the new tank-mounted instrument console gets a digital display that includes a gear position indicator, time and tripmeters. Like the KTM 390 Duke, it also gets an LED headlamp, tail lamp and turn indicators.
Also read: BMW G 310 R: Road Test Review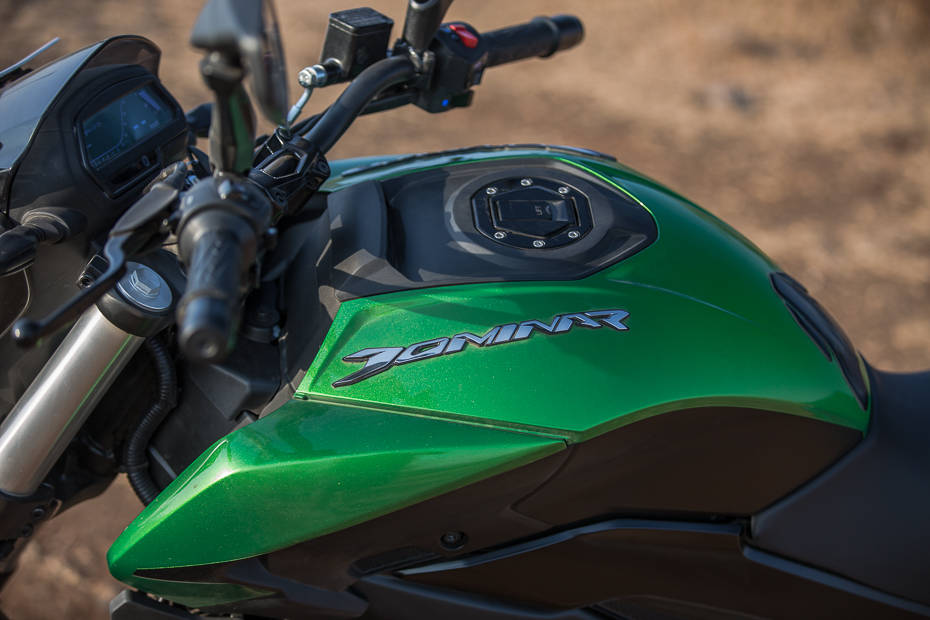 Both bikes come with their set of quirks. The KTM for one could do with a brighter headlamp. Its current one does not hold a candle to the Dominar's setup. And on the Dominar 400, the tank-mounted instrument console is difficult to read due to its low positioning. You need to take your eyes off the road to take a look at info like the gear position, and that is a bit of a safety issue.

Engine and performance:
| | | |
| --- | --- | --- |
| | KTM 390 Duke | 2019 Bajaj Dominar 400 |
| 0-60kmph | 2.77 seconds | 3.0 seconds |
| 0-100kmph | 5.98 seconds | 7.38 seconds |
| 30-70kmph (3rd gear) | 3.53 seconds | 3.73 seconds |
| 40-80kmph (4th gear) | 4.58 seconds | 4.70 seconds |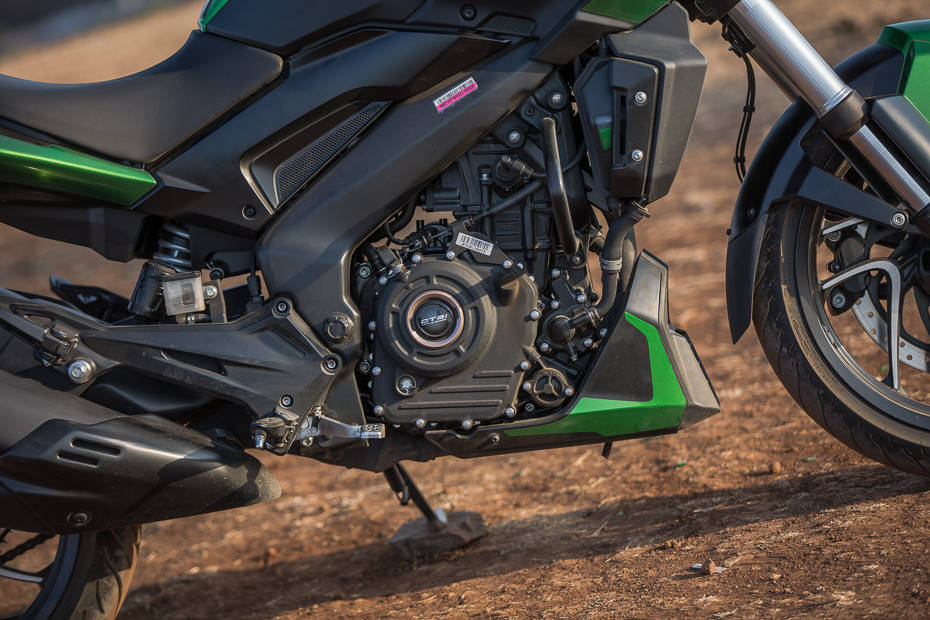 While both bikes uses the same KTM-derived 373.2 liquid cooled single-cylinder motor, they have been reworked to suit each bike's individual characteristics. On the KTM 390 Duke, the motor has a higher state of tune and like most KTMs, feels frantic. It makes 43.5PS at 9000rpm and 37Nm of torque at 7000rpm. It gets ride-by-wire which makes the throttle smoother and more precise. This is a rev-happy motor and eggs you to keep it at the upper reaches of the rev band. The high-strung motor isn't particularly happy dawdling at low speeds and needs constant downshifts to keep it from baulking in lower gears. While the 390 Duke's motor doesn't feel as tractable as the Dominar 400, it manages to post quicker roll-on times due to its power advantage and the fact that it weighs a whopping 21kg less. This also allows the 390 Duke to post quicker acceleration times than the Dominar 400.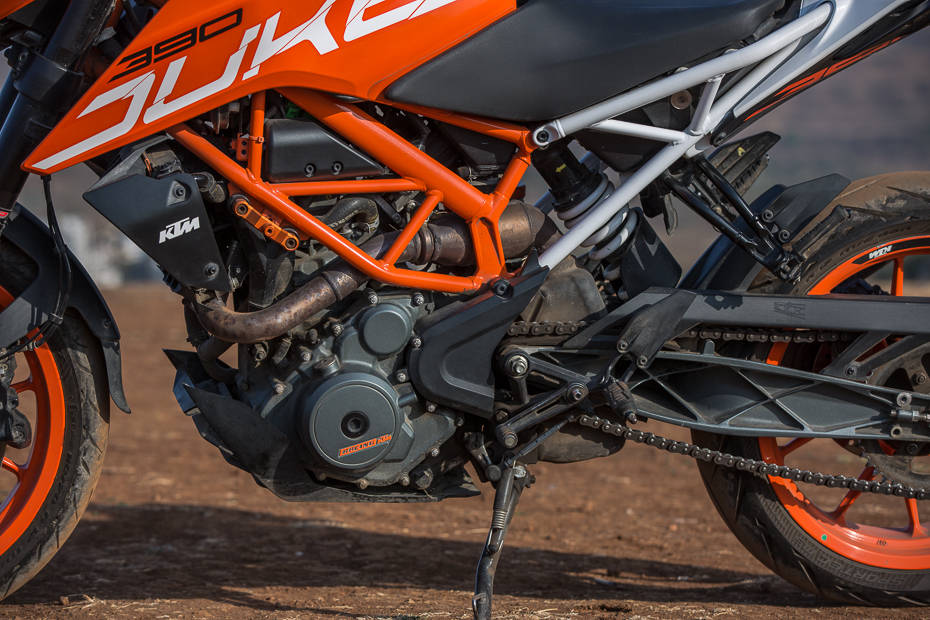 | | | |
| --- | --- | --- |
| Fuel efficiency | KTM 390 Duke | 2019 Bajaj Dominar 400 |
| City | 25.70kmpl | 25.59kmpl |
| Highway | 28.50kmpl | 32.29kmpl |
| Highway range (approx) | 382km | 420km |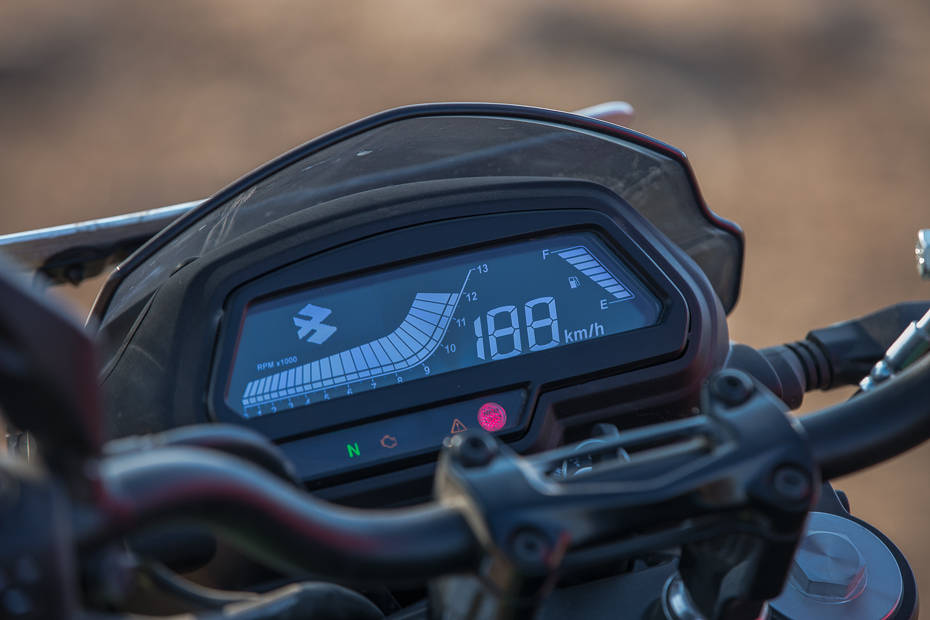 In comparison, the Dominar 400's motor makes 40PS at 8650rpm and 35Nm at 7000rpm. It feels gruntier at low and mid revs but requires downshifts to keep things moving in the city as well. The frequency of gearshifts, though, is less than that on the KTM. Out on the highway is where the new Dominar 400 shines. While both bikes here are competent performers, the Dominar's new DOHC setup allows it to breathe better and feel relaxed at highway speeds. That allows it to post a better highway fuel efficiency figure than the KTM and by extension offer better range despite having a slightly smaller fuel tank. Bajaj has done well to contain vibrations, which only come once around the 4000rpm range. Refinement has improved a lot, with just a mild buzz felt on the fuel tank and bars at the aforementioned revs. It still is not as refined as the 390 Duke though. Another area where the Dominar impresses is its throaty exhaust note, which while not overly loud is bassy enough to make you smile.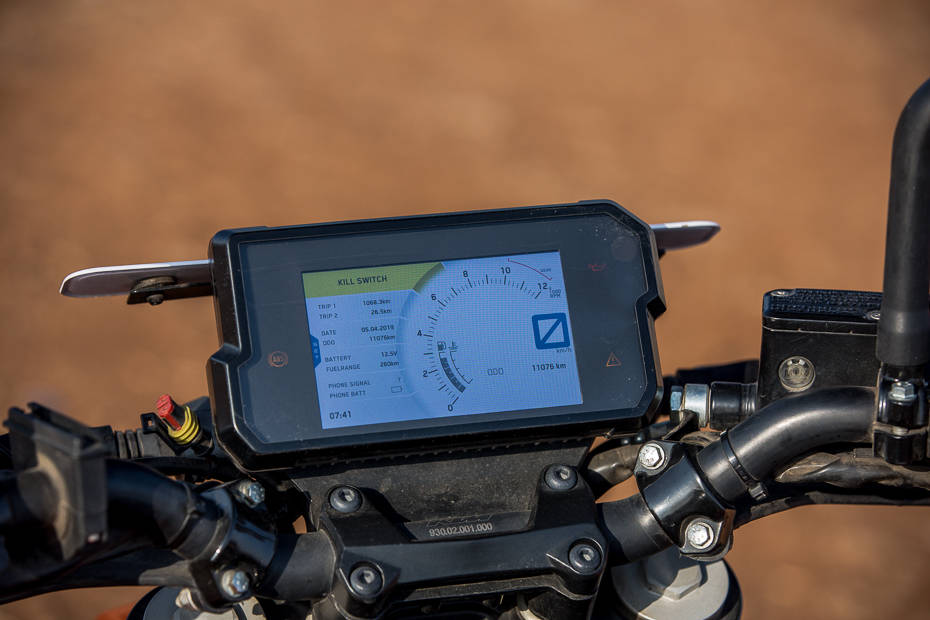 While the KTM is quicker everywhere, it needs more work in terms of gear shifts to keep the engine on the boil. The Dominar 400's motor has improved a lot in terms of refinement, low-speed performance and cruising ability. While it feels more tractable, when it comes to performance, the KTM still is able to run away from it in a drag race.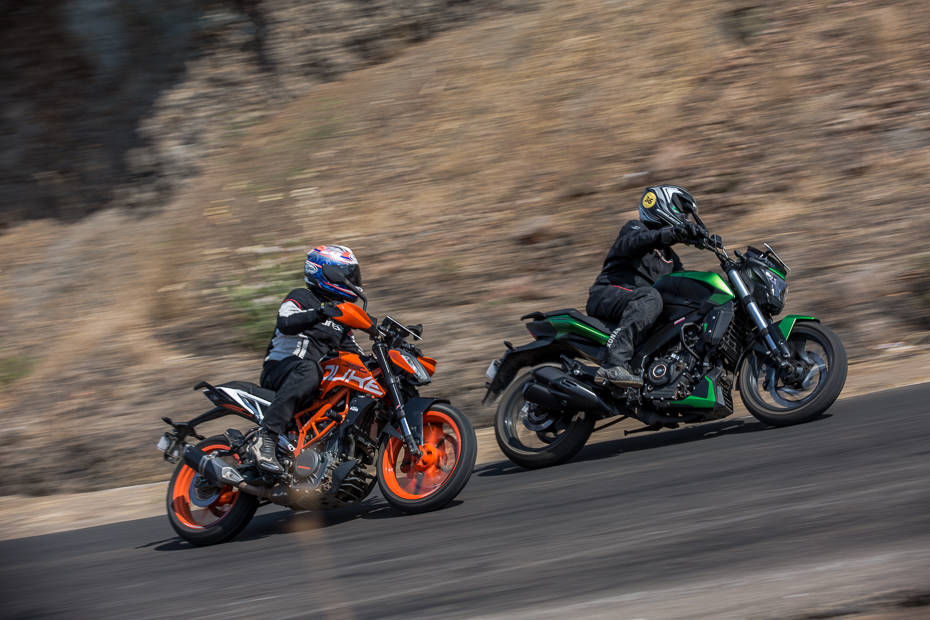 Ride and Handling:
Here's where both bikes feel worlds apart. The KTM has an upright albeit sporty riding position thanks to its flatter handlebar and rear-set foot pegs. Aboard the bike, you almost feel like you are positioned over the handlebars. While not overly aggressive, this riding position can feel cramped over long distances. At 830mm, the 390 Duke's seat height is 30mm taller than the Dominar 400 but feels manageable since it is narrow. Even moving the bike around in the parking lot isn't much trouble owing to its low kerb weight.
| | | |
| --- | --- | --- |
| | KTM 390 Duke | 2019 Bajaj Dominar 400 |
| Seat height | 830mm | 80mm |
| Kerb weight | 163kg | 184kg |
| Fuel tank capacity | 13.4 litres | 13 litres |
| Ground clearance | 185mm | 157mm |
| Wheelbase | 1357mm | 1453mm |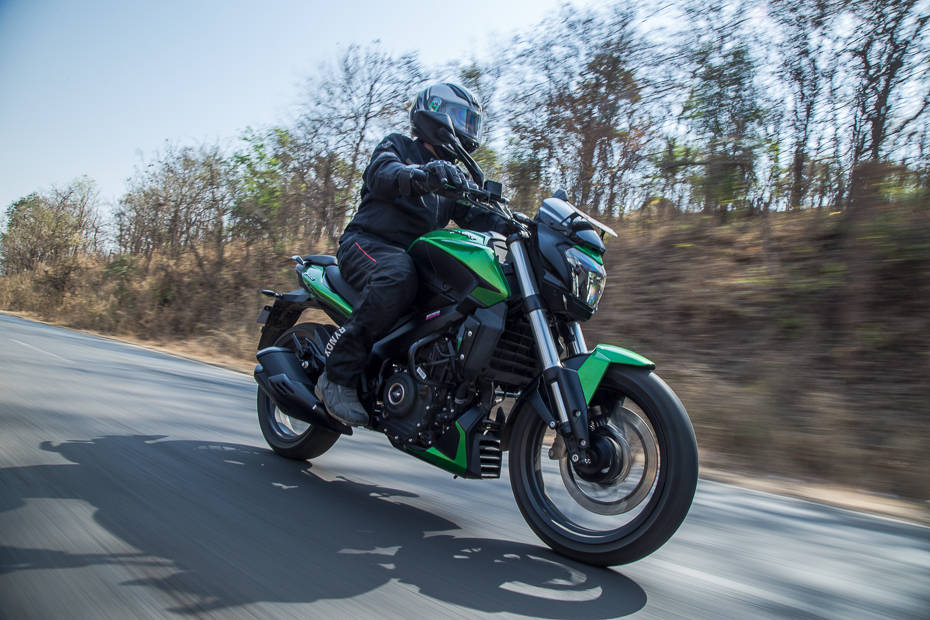 On the Dominar 400, you are sitting away from the handlebar and the low and slightly rear-set footpegs make for a sporty commuter-ish riding position that does not tire you over sustained long distance jaunts. The seat is wider than the Dominar but could do with firmer cushioning as your under thigh area does begin to feel a slight discomfort after an hour or so in the saddle. One highlight is the new mirrors which do a fantastic job with its wide viewing angle, something that the KTM lacks. Both bikes offer an acceptable amount of space for the pillion. The low pillion seat height and footpeg position on the Dominar 400 will be appreciated more though.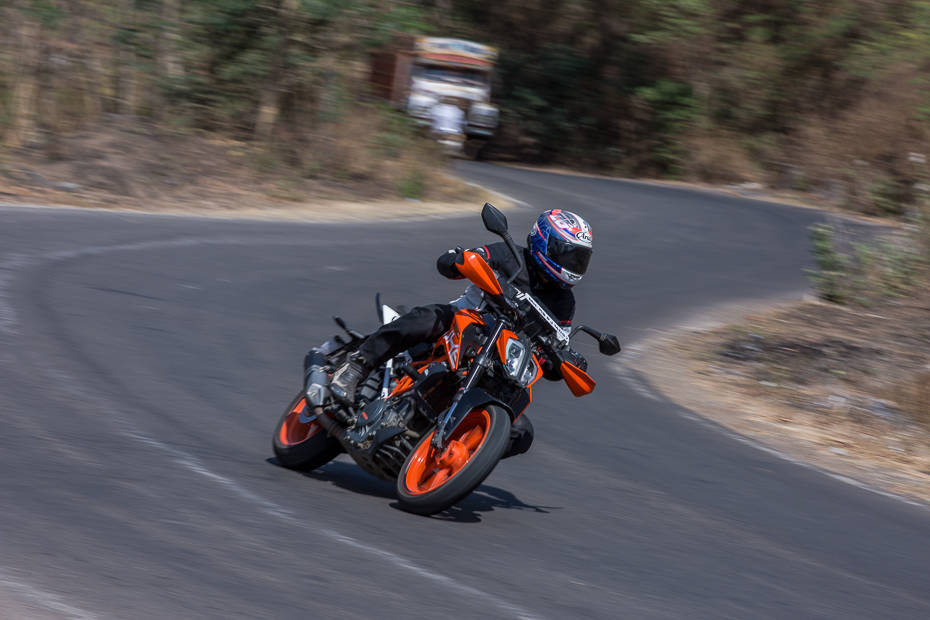 Given the riding position and narrow seat, it is easier to move around on the KTM while riding aggressively in the twisties. However, when it comes to long distance touring, you will be happier on the Dominar.
The KTM's light front end coupled with the sharp rake makes it like a scalpel while carving corners. The front feels lively and quick and requires a level of finesse to ride on the limit. It is quite rewarding but not as forgiving as the previous generation 390 Duke. Diving into a corner is a quick affair and the high spec WP 43mm front forks, rear monoshock suspension setup along with the sticky Metzeler radials help you achieve extreme lean angles.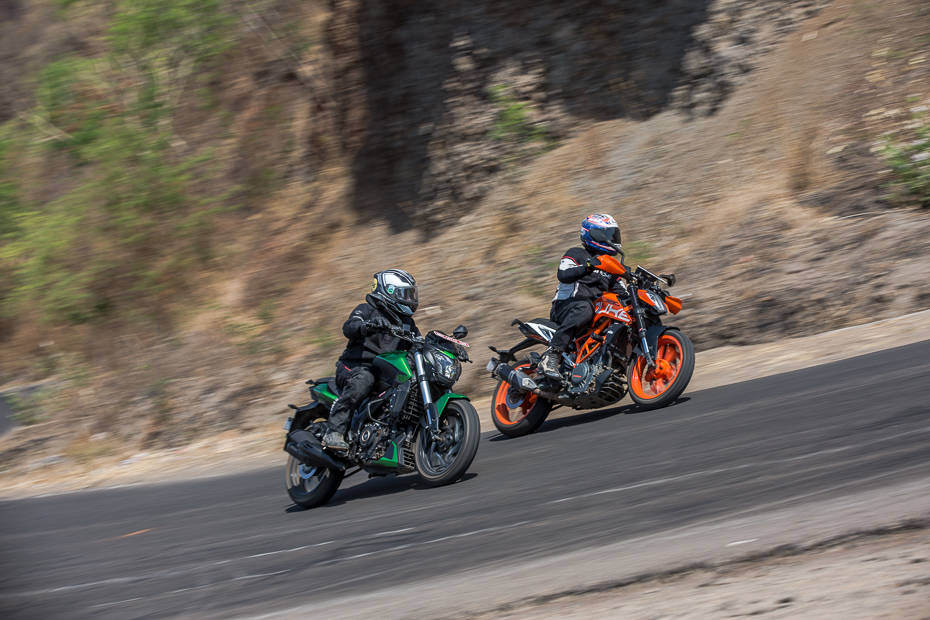 When ridden back to back, the Dominar 400's front end feels heavier and a tad slower to turn in owing to its longer rake. It does dive into corners with enthusiasm but takes a bit of effort to get back up owing to its top-heavy nature and long wheelbase. It is the same case while navigating a series of switchbacks where you need to turn from left to right or vice versa. The new 43mm upside down forks have a softer setup than before. It soaks up mid corner bumps better, making the bike feel stable in corners. Though not as sticky as the Metzelers, the MRF Revz that the Dominar came shod with gave us no reason to complain.
| | | |
| --- | --- | --- |
| Braking | KTM 390 Duke | 2019 Bajaj Dominar 400 |
| 100-0kmph | 48.38 metres | 49.42 metres |
| 80-0kmph | 29.78 metres | 31.36 metres |
| 60-0kmph | 17.95 metres | 17.38 metres |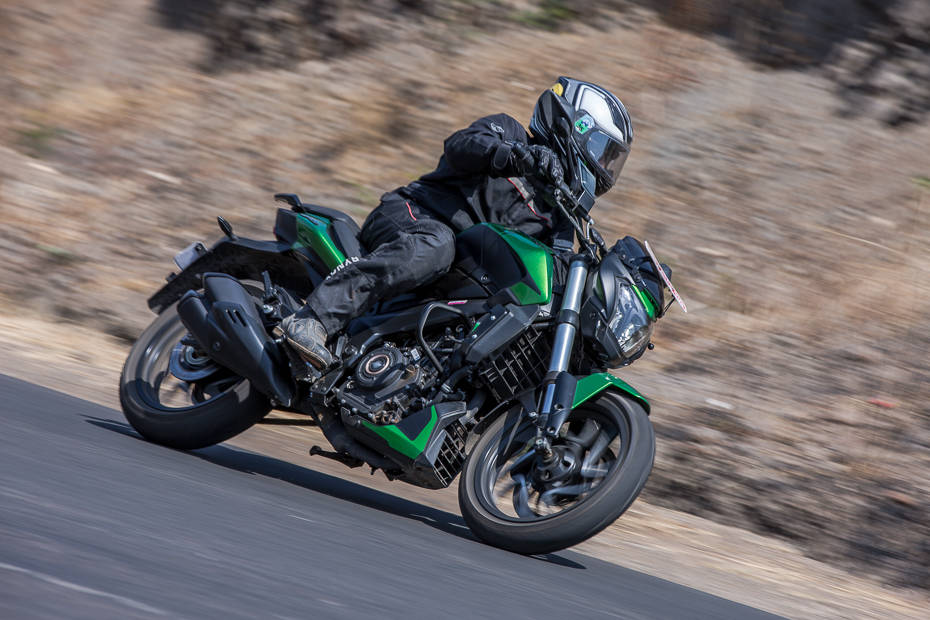 When it comes to braking, both bikes offer a strong bite. The 390 Duke, however, offers fantastic feedback from the levers and posts a better braking time than the Dominar since it is on the lighter side. The Dominar now comes with a larger 320mm front disc and radially mounted Bybre calipers. While braking distance has reduced considerably since the first-gen Dominar 400, the brake lever feels numb, like the first-gen KTM 390 Duke.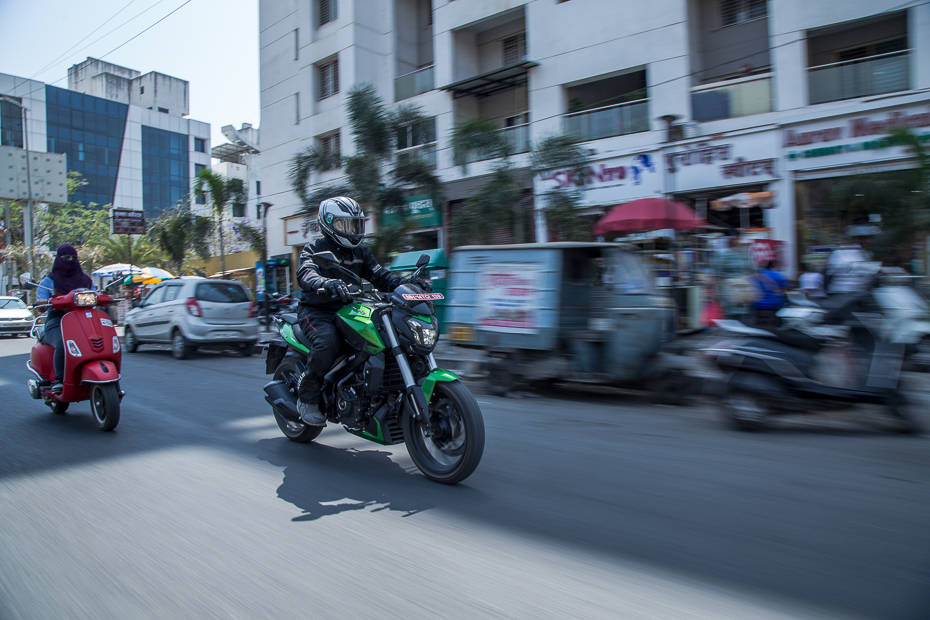 Bajaj has tuned the Dominar's suspension to a softer setup, which is a good move. The ride on the previous-gen Dominar was stiff, almost to the point of being harsh. This one then provides a good cushion over most surfaces except for sharp edges. The rear shock absorber, in particular, seems to have quicker rebound, which over sharp bumps has shocks traveling directly to the rider.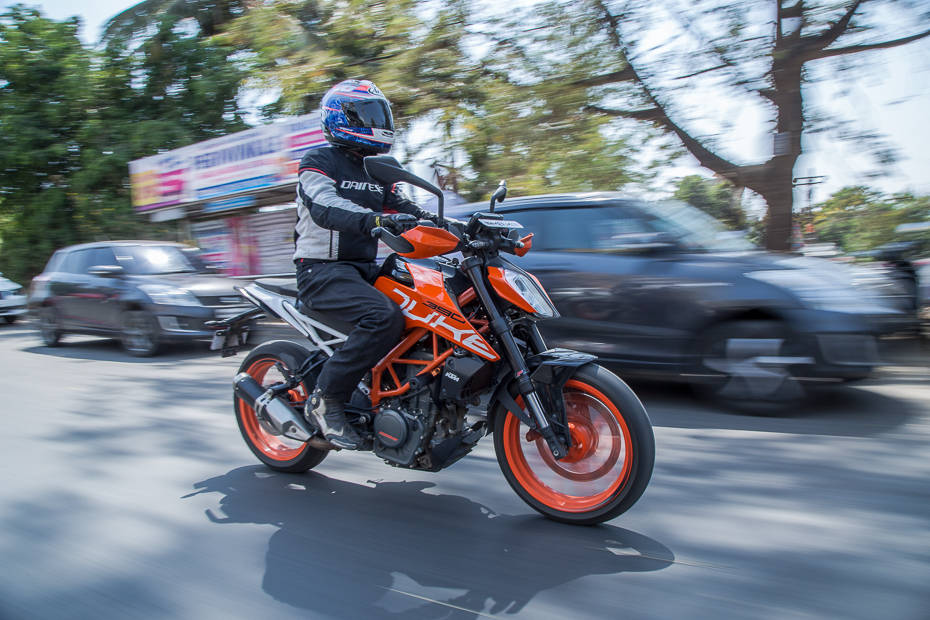 The 390 Duke is a prime example of the difference a good suspension setup makes to ride and handling. While the overall setup is softer than the Dominar 400, this one has excellent damping properties and is more adept at cushioning the rider from road imperfections.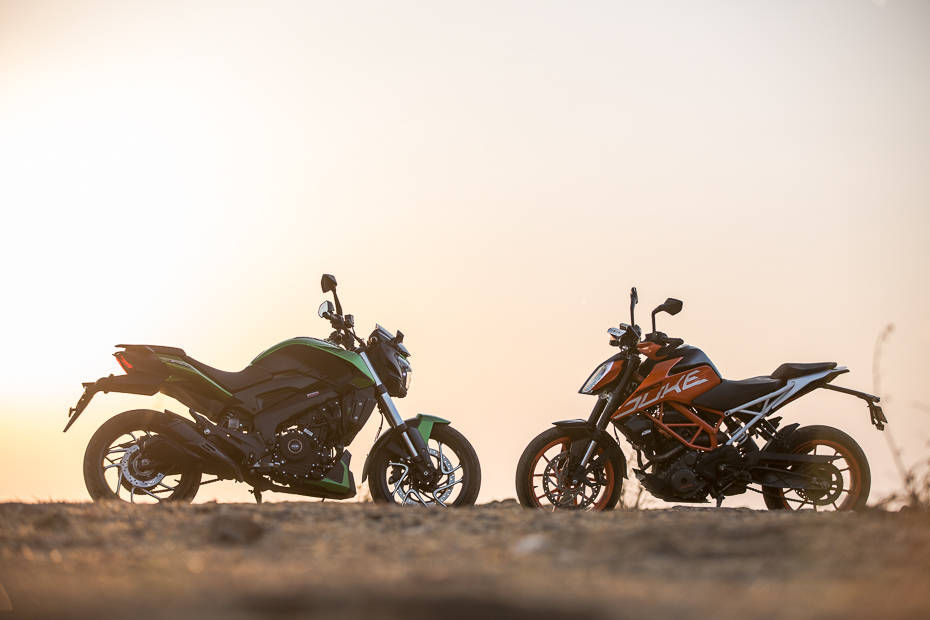 Conclusion?
The Dominar 400 ticks a lot of the right boxes. It has ample performance, is comfortable, and is a fantastic bike to munch miles on. And then the fact that it is a vast improvement over its predecessor while being priced just Rs 10,000 more makes the new Bajaj Dominar a fantastic value proposition. Is it good enough to pick over the KTM 390 Duke and save that Rs 70,000?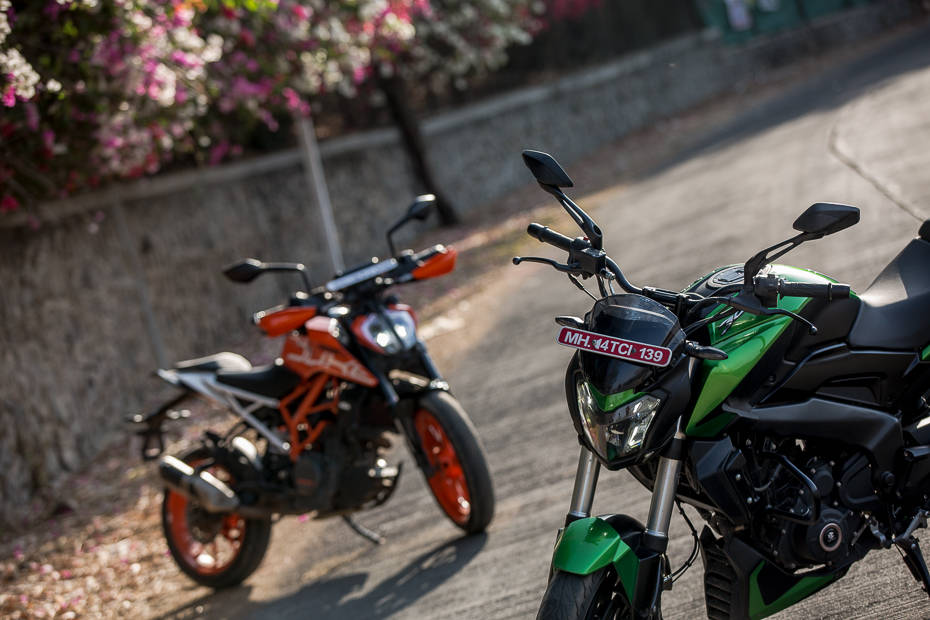 There is a reason the KTM commands the extra moolah. It gets premium kit in the form of WP suspension, Metzeler radial tyres, Bybre brakes with sintered brake pads, colour TFT instrument console and a lot more. Even when you put these aside, the 390 Duke is a bike that in the hands of a competent rider can shame bikes three times its price around a set of corners. However, the 390 Duke requires a certain degree of skill and experience to exploit its performance and its franticness can put off novice riders. Whereas the Dominar is one bike which the newbie rider can properly enjoy without getting into serious trouble. The Dominar might be the sensible choice that would take you up a winding mountain road in quick time. With the KTM though, you'd be at the top, shaking with the surge of adrenaline, and that's why the 390 Duke has you reach for the extra Rs 70 grand.