How to Prepare for Travel on Bike
Modified On Sep 19, 2019 By Naveen Soni
Call it adventure, or proclaim it as exploration. It really sounds astonishing when one says about a "Bharat bhraman", i.e, an India tour on a motorcycle. That itself sounds adventurous, isn't it? India is a vast country, full of diversities. And with touring around this big whole nation itself is an interesting, yet risky job to be done. The questions which normally come to your mind are – is touring on a motorcycle really that good as it sounds? Wouldn't a train, airway or bus be a much safer option? Is it that safe to explore new destinations without any factor of risk in mind? What are the spots to bring your ride to a halt during night time? What will be the reaction of your relatives, friends and family members, when you just proclaim this idea in front of them? But all those thoughts just hit a full stop when you begin to feel that nothing comes close to exploring the mighty Himalayas, the enchanting Ganges, the royal Rajasthani palaces, the colorful Konkan beaches, the green country sides of Vidarbh, and many more, on two wheels, with a bunch of friends and backpacks attached to the saddle. This thought sounds too exciting, and it is, in fact. Motorcycles are the best media to cover our whole motherland, where each of the street and turn tells its own share of stories. You become a part of that glorious bunch out there, who has a dream to explore the unexplored, make fair memories of the passing time, adding more kilometers of happiness to your life and not to forget, the jealous eyes with a twinkle of admiration, staring at you and drooling to become a part of your group. You have the whole rights to accomplish your all the wishes, ranging from small ones, like having a plate of Aloo Paratha at a road side Dhaba, during the monsoons, at the Western Ghats somewhere amidst the lush green hills of Mahabaleshwar, or having a cup of tea at a tea stall, somewhere while heading towards the highest motorable roads of Khardung La. India has got infinite beautiful places to visit, explore, study and make memories with, and heading towards them on your set of wheels along with your friends is nothing short of a miraculous journey filled with a lot of lovely moments. So let me remind you that you are not the only creature to dream such fantasies.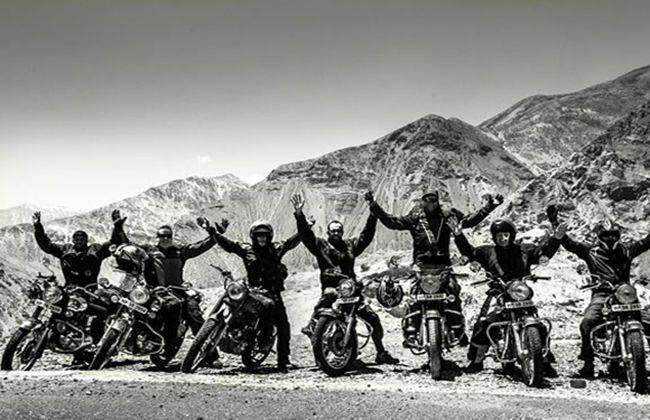 Every year, thousands of road-trip lovers head out for the most exotic locations of our Indian peninsula, which fascinated you only in photographs and movies till date. And not everyone has a single-minded goal – some pack their bags and hop on their bikes with a definite plan in their mind, such as a booked jungle safari in Corbett National Park, or some of them even unleash their crazy sides by an unplanned trip with adding the unexpected memories of exploring a hill station of Mount Abu in the desert state of Rajasthan. That's why, it's well said, India is a land of diversities. Few places are enjoyed with the intention of enjoying every minute of it, and few rides are planned to just add those kilometers of unanticipated joy as a fluke. Though accomplishing such a ride of the millennium is not an easy task, as since on our roads, you are heartily welcomed by those omnipresent chaotic rush of vehicles and the stray animals wandering even in one of the most considered 'butter-smooth' roads in our nation. But still, motorcycling on Indian roads has that unmistakable recollections you store in your mind and soul, once you are done with the ride and hopping off the saddle. Ohk, the roads may not be as silky as you expect, and there will be those 'self-proclaiming kings' in the form of those irresponsible lorry drivers. Inevitable reasons may be many, but a long road trip to any fascinating Indian locations bring out the best rider in you and give you the opportunity to bring out the best from yourselves for facing the extremist of all the challenges. So, based on the picturesque peninsula of our nation, following is the description of the best places in India to be explored on a motorcycle:-

North:-

The northern region of India is one of the most favorites of the Indian riders, as they bring out the most adventurous challenges of extreme cold temperatures, lush green fields, snow capped Shivalik mountains, the posh streets of NCR and Chandigarh and many to count on. The Delhi-Chandigarh -Shimla-Manali-Srinagar-Leh can sound one of the most happening rides ever, being the starting leg from our national capital.

Being the journey kicking off from Delhi, you might not be blessed with a glorious and calm start, thanks to the over-crowding traffic and air filled with fumes of smog on the capital streets, and the first stretch of the highway leaves a you a bit stressed at the initial stages. But, on the positive side of things, the roads are smooth, generously wide and nicely maintained enough with infinite stops for resting and chilling out.

After the state capital of Chandigarh, things seem to be calm and composed, once you enter the state of Punjab, where you are welcomed with the wide green fields of mustard. The desired roads then take a right turn towards the Himachal, where you can change your directions to either Shimla or Manali. Though, Shimla is much nearer to Chandigarh, and you can reach their within two and a half hours, through the enchanting coniferous forest roads. You may even get a company of narrow gauge toy train running alongside you, on the roads, and that's one of the good signs that you have entered the state of Himachal Pradesh.

Once you cover up your jaunt of Shimla, you can head up for Manali in two ways – one is the state highway with a mild traffic all time long, which goes straight to Bilaspur, while the other is a road less taken, the route to Tatapani, which will fascinate you more with the juicy twisties through the fir forests, which slope down to a highland jungle accompanied by some beautiful hot springs, all the way long to Pandoh, a small village near Kullu. Let me remind you that it's much better to start off your journey in the morning itself, as it is a road best taken to view some really picturesque scenery of lush forests and country side roads.

Once you hit the town of Kullu, Manali is just a distance of a downhill, which is gorgeous location in between those high pine trees, snow-capped peaks and grass and a wonderful amalgamation of Tibetan and Indian culture. Manali can prove a place for bringing your journey to a pause, as it has all those restaurants, hotels, lounges, market and many more, which may help you in sprucing up your further ride.

The real action begins from here, the next leg of the trip with the Leh as the final destination. It's a long 485 km road full of steep roads full of narrow turns, long monotonous stretch of roads, cold deserts, several snow covered passes and rough graveled surface, with the highest motoring pass being the Khardung La at 17,582 feet. Once you arrive the capital of Ladakh, i.e., Leh, you can indulge yourselves in the captivating Buddhist monasteries and those charming lakes in surrounded by high mountains, with Pangong Tso being one of them. A must visit. After exploring all the beauty of Leh and Ladakh, you can tread the same path to return back to the point from where you started.

West and south:-

If you are not that kind of guy who loves to be enthralled by the ice and charm of the Himalayas, the second option which you can chose for is a road trip to Rajasthan, covering all the historic aura, breathtaking forts and kingly palaces and colorful roads with sand dunes around you, covering up all the awe-inspiring cities of Jaipur, Jodhpur, Jaisalmer, Chittorgarh and Udaipur. The trip can be starterd well off from Delhi to Jaipur via National Highway no. 8, with a two way point, one heading towards the sand dunes of Jaisalmer and Bikaner, and the other leading you towards the historic Chittor and Udaipur, before heading forward to the neighbouring states of Madhya Pradesh, Gujarat or travelling all the way down to Maharashtra and Goa.

Unlike the creamy surface of the mountainous roads of Northern region, most of the roads and even highways in the state of Rajasthan are in poor condition, badly strucked by low maintenance and heavy traffic. With the NH-8 being one of the busiest highways in the whole country, you may probably be finding most of your time in the middle of those big trailers, Roadways buses and even some ultra-rich luxurious Audis and Range Rovers. The temperatures too are extreme in this region, so it's better enough to be prepared properly before covering this lap of ride, most preferably in the calmer seasons of February-March and September-November.

If you don't like being compared to a man with the exploration skills similar to that of an archaeologist and want your most of the quality time to be spent near the uber cool beaches and green high cliffs, the Western Ghats in Maharashtra and Goa is the most suitable option for you. This particular part of our country has always been the dearest choice for those who love to chill out off their hectic schedules, and has a sense of relaxation and rich lifestyle in its air. You can initiate your journey towards these happening areas from Mumbai, heading in the southwards direction.

You can still extend your journey to southwards, where the spirit of engaging temples, coconut ecstacy and sea food delight starts to lighten up your mood even more. The southern states of Karnataka, Kerala and Tamil Nadu even have some nice motorable roads to engage your presence. Starting with heading towards the rocky ruins of Hampi in Karnataka, you can ride all the way long to the alluring roads of Kerala, assisted by the soothing beaches, coconut trees and Backwaters in Munnar which just pacify your ride. You are also opted with the temple towns of Tamil Nadu, which you can start off with turning south-east to Kanyakumari, the southern-most tip of India, and then heading towards north, checking out the mesmerized towns of Thiruchirapalli, Thanjavur and Madurai, for their historic temples. And if you are tired of experiencing too much of ancient bits, you are free to either turn right for the French-styled dazzling city of Puducherry or the turn left to find yourself in solace in one of the two awesome hill stations, Kodaikanal and Udagamandalam/Ooty.

East:-

Though the states of Arunachal and Meghalaya are the only options you are left when you consider travelling the eastern part of India, these are enamouring enough to give you one of the most impressive experiences you ever had in your life.

Starting the journey off from Kolkata towards north-east via Darjeeling, the roads are spectacular enough to cover the best of Himalayan mountains, lakes and wet terrains, with the Arunachal giving you the most scintillating treats for off-roaders with its twitchy passes, and Meghalaya offering you the best scenes post a day full of showering raindrops, along with the stunning monastries and splendid baagaans (roadside gardens/lawns) in the middle of your trip.

When to go?

> Thanks to the varying terrains, climatic conditions and monsoon schedules in all the parts of India, the planning of road trip should be done well enough in accordance with the time table given below

> Northern region – Himachal and Ladakh: June to September

> Western region – Rajasthan, Gujarat and Northern Maharashtra: September to March

> Southern region – Goa, Karnataka, Kerala and Tamil Nadu: October to April

> Eastern region – Arunachal and Meghalaya: September to May

Getting a bike:-

We in India are spoilt with choices for the perfect ride for a road trip, ranging from the classic retro and comfortable Vespas (Yes! They are superb for long trips) to the roomy tourers in the faces of CBRs and Karizmas, with even some street nakeds like Pulsars and FZs doing the job with ease. But, nothing comes close to the sturdy Royal Enfields in this business, which have torquey machines in the Electra and Classics and cozy cruisers as Thunderbirds in their stable.

There are many organizations and travelling agencies in India, which give motorcycles on rent in affordable price, or you the option of purchasing a used motorcycle from them and later, you can resell them once you have accomplished your trip at a reasonable cash return. Usually, the average money required for taking a motorcycle on rent ranges from Rs.14,000-18,000, depending upon the duration and kilometers of your trip. Needless to say, you can nail your deal with suitable bargaining.

For buying a used Bullet/Royal Enfield, the agencies and sellers will set you back by Rs.35-40,000 for the 350cc versions and Rs.50-60,000 for the 500cc models. Obviously, you can opt for other make and models too, at indispensable pricing, according to your riding style and type of journey. If you are clocking in some serious amount of kilometers, it is better that you opt for a used model, which should not be more than 10 years old, otherwise you may end up destroying your experience by frequently ailing your bike at service points in the middle of the trip.