Hayate : A value packed bike
Suzuki announces Salman Khan as its first ever official brand ambassador in India
Suzuki Motorcycle India Private Limited (SMIPL), a subsidiary of one of the world's leading two-wheeler manufacturers Suzuki Motor Corporation, Japan, today launched their new product - the Hayate, a mass segment motorcycle. The launch marks Suzuki Motorcycle India's foray into the mass motorcycle segment.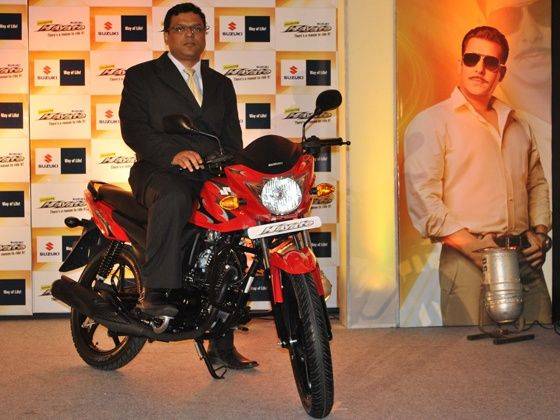 SMIPL also announced the iconic Bollywood actor Salman Khan as its first ever brand ambassador in India. The 'Dabangg' star with a massive fan-following will spearhead Suzuki's above-the-line and below-the-line initiatives with Hayate being the first Suzuki motorcycle that he endorses. For Suzuki two-wheelers, Salman Khan's national, cross-market, cross-segment appeal combines well with the Company's recently adopted brand theme of Apna Way of Life. Suzuki's latest offering scores high on both looks and performance and is sure to appeal to first time motorcycle buyers. The Hayate will be available in the market from this month.
Speaking at the launch, Mr. Atul Gupta, Vice President (Sales and Marketing), Suzuki Motorcycle India Pvt. Ltd. said, "The 100-110 cc motorcycle segment is a promising market with tremendous growth potential. With Hayate's entry, we intend to explore new opportunities and look at a larger market share in the two-wheeler segment. The launch of Hayate is an opportunity to address emerging markets in small town clusters as well as semi-urban and rural peripheries." He further added, "We are delighted to have Mr. Salman Khan associating with one of the world's most iconic two-wheeler brands. As we expand our portfolio, it was important to find a human face who can best portray and project our brand and product promise. His mass appeal, cutting across segments, complements the mass appeal of Suzuki."
According to Ms. Anu Anamika, National Head – Marketing, Suzuki Motorcycle India Pvt. Ltd., "We see the Hayate securing a significant and distinct space for itself in the Indian motorcycle market by serving the needs of the first time motorcycle owner and people with regular commuting needs. The Hayate is a great option for customers looking for both uncompromising technology and value for money. We believe that Suzuki and Salman together will make an emotional connect with all sections of customers that Suzuki's range of two-wheelers reaches out to."
HAYATE – Commute daily in style
"Hayate" is a Japanese word meaning "Fresh Breeze" or "Swift wind". Built with the thought of providing customers with a motorcycle that is comfortable and makes their daily travelling enjoyable, Hayate is a value-packed product. The 4-stroke, air-cooled, 112 cc engine makes for a peppy ride. Its 8 liter fuel tank and unbeatable mileage cuts down trips to the petrol bunk even for daily commuters. The bike comes with aluminum cast wheels and front and rear drum brakes. The aggressive headlight, new-age fender and stylish rear lights give the Hayate a sleek and contemporary look. The HAYATE is available in 5 colour options – Pearl Mirage White, Metallic Lush Green, Pearl Mira Red, Metallic Flint Grey and GL Sparkle Black.